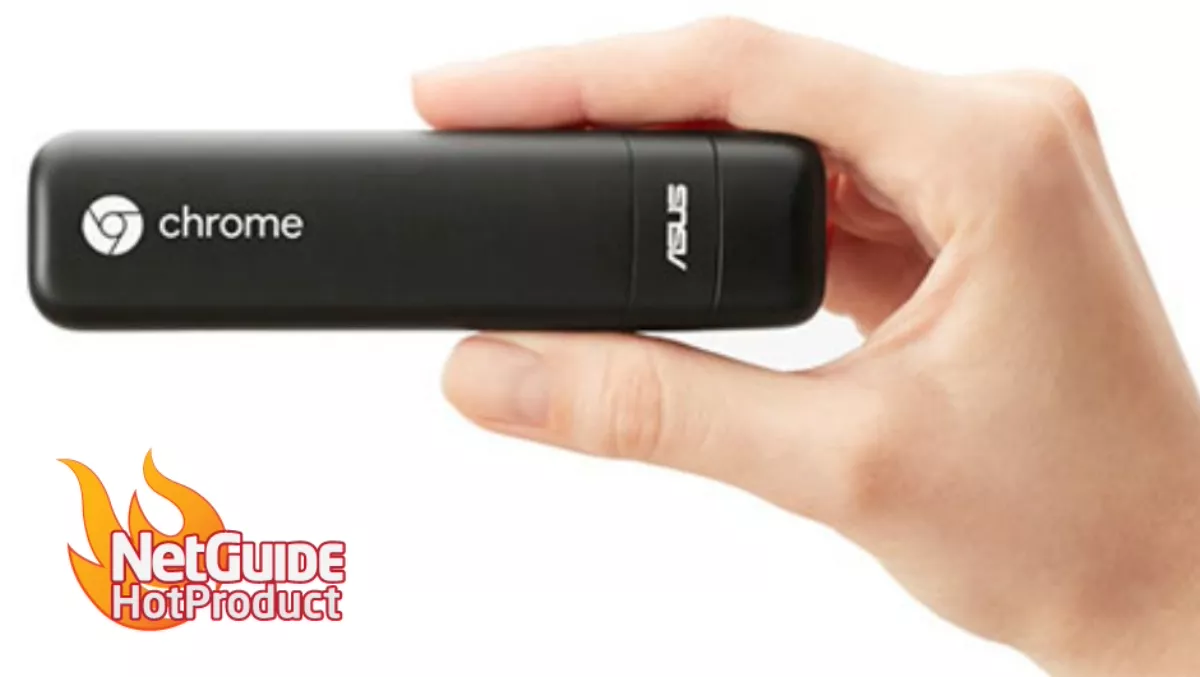 Hands-on review: Asus Chromebit CS10 - a portable PC
Thu, 27th Oct 2016
FYI, this story is more than a year old
Meet the Asus Chromebit: a little device made to turn your monitor into a cloud PC. Compatible with up to 1080p HDMI displays, this matte black fanless Chrome OS device plugs into your HDMI-capable monitor or TV for instant access to the web.
The apps
While first impressions could compare it to the Chromecast, the Chromebit actually comes with its own computing power that allows you to do a bit more in terms of working with a range of different apps, files and input.
While the Chromebit has the capability for Google Play Books and Movies, it won't download or play Google Play Games as yet. Chromebit is expected to support Android apps at a later date.
At this stage, you can use it like any other Chromebox or Chromebook - boot up Google Chrome and use the Web Store to control applications through your browser. YouTube, Netflix, Google Drive and Docs are the normal ones, but there's also third party Word and Excel, Spotify, DuoLingo, Google Hangouts, Google Classroom and other web-based games such as Sparta: War of Empires and DarkOrbit, to name a couple. These all ran with no trouble or lag.
If you're on a YouTube binge watch (which is an easy feat), the Chromebit will play them back seamlessly, and in high quality.
And of course, Chrome works as a standard web browser for all your email, browsing and social media needs, just like PCs.
Bear in mind that the quality is also dependent on the type of monitor or TV you use. The better resolution your screen accepts, the better the Chromebit will display the content. Make sure you adjust the settings so it displays just right on your TV screen – the default settings on my device left everything a little too crisp, but adjustment soon fixed that.
The specs
At the heart of the Chromebit is a passively cooled Rockchip Quad-Core RK3288C Processor, and ARM-Mali T764 GPU. This gives it the processing power to handle easy tasks like playing videos, doing work, surfing the web and browsing photos with ease. However, don't be fooled into thinking it's going to transform your workspace.
While the official specs state that it has a 2 GB 1066MHz LPDDR3 memory, its performance wasn't really an issue for me. As mentioned, this isn't built for heavy games or applications, but it can handle typical tasks such as presentations and videos with no nasty memory freezes.
With no internal battery, the Chromebit runs entirely by AC power. Depending on your setup, the cord could be long enough to be snaked around your monitors and equipment to the nearest power-points alongside your existing cables. It's also lightweight and 12cm long – the official comparison is to a candy bar - although longer if you use the Flex Connect extension.
If the HDMI port on your TV or monitor is too hard to reach, Asus has kindly included the 'flex connect' – a bendable rubber HDMI extension piece that can help you manoeuvre the device into the slot. There's a decent amount of flexibility – I'm guessing about 60 degrees – but it should be enough. There is also another softer HDMI extension cable in the package if you are not intending to hide it behind the display.
Storage wise, Chromebit comes with 16GB local storage (supplemented with 100GB of Google Drive for two years), which gives you plenty of room to transfer files between devices.
In terms of connectivity, the Chromebit also features the latest dual band 802.11ac WiFi and Bluetooth 4.0; useful for fast and convenient connection with your other devices including Bluetooth mice and keyboards. You'll probably need them, unless you have a combined dongle or a USB extension port capable of connecting all your USB devices. Fortunatelt, the Chromebit actually scans and attempts to pair with your Bluetooth keyboard and mouse upon first boot, ironing out the need for USB input devices before pairing.
Overall, the Chromebit may not be sufficient to replace your desktop 100 percent due to being originally designed for commercial purposes. However, if you are looking for a plug and play device for light applications within limited space, the Chromebit can definitely be an attractive option.