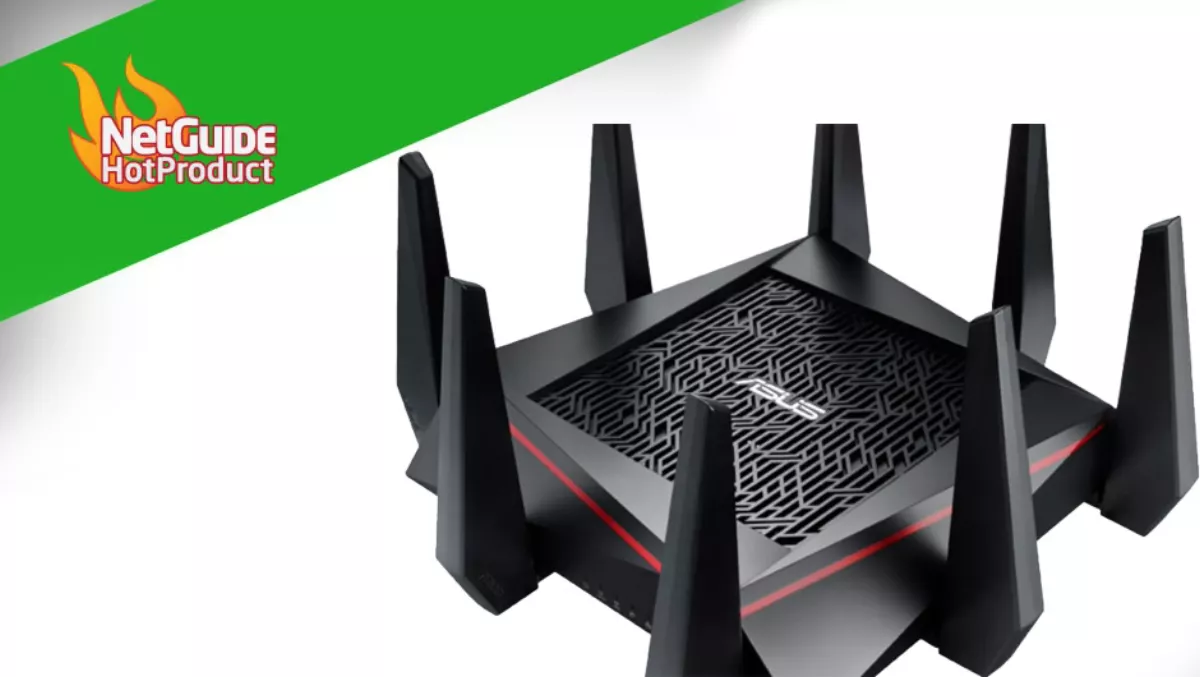 Hands-on review: ASUS RT-AC5300 Wireless Tri-Band Gigabit Router
By Sara Barker,
04 Feb 2016
FYI, this story is more than a year old
This router looks like the belly of a spider that can conjure up a portal to another world. And that's not far from the truth.
The ASUS RT-AC5300 is a powerful wireless tri-band router primarily built for improving internet speed for online gaming, so your coverage can be strong and reliable during those critical moments.
Performance-wise, the ASUS RT-AC5300 offered a small improvement for general internet use. Through my internet connection, my LAN ping was 18ms through the router and 22ms through my standard modem.
This is a negligible amount, though this will vary depending on your internet connection and provider. The router also did a great job of sorting its signals. The traffic from the LAN wired signal didn't interfere too much with the 2.4ghz and 5ghz wireless bands and all maintained constant speed.
The router offers a range of services, but there are three standout features accessible in the router's settings.
Game Boost
'Internet Game Boost' is one of the main selling points of the RT-AC5300. The Gamers Private Network can offer faster network response times and less latency. This works with a large variety of games including World of Warcraft, Dota 2 and Grand Theft Auto.
Registering for the Gamers Private Network gives you access to the WTFast software. This software connects you to online game servers based on location or shortest ping time. My closest server gave a ping of 33ms for Grand Theft Auto IV. Sorting these servers using location and ping criteria is crucial and there's a 14-day free trial of the paid advanced subscription to see if it works for you.
'LAN Boost' is the router's own internet traffic management system and it does a good job of throttling your bandwidth usage in other areas to give priority to your online games.
AiCloud 2.0
You can use this router in conjunction with media that can be streamed through cloud websites. You can also set up remote access to PCs and synchronised storage.
USB application
With its two USB 3.0 ports, the router can stream USB content through all networked computers and mobile devices. You can also use your wireless dongles, phones as modems and much more.
Mobile apps
The ASUS Router app is handy and does almost everything that the router's computer-based GUI settings can do. The layout is well-designed and easy to use. In addition, the AiCloud app enables you to access your cloud or USB-based content streamed via the router.
On the whole, the ASUS RT-AC5300's design and dynamic multi-use range of options make this a good router for online game optimisation, bandwidth control and USB streaming.
As an internet booster for gaming, it really depends on your location and internet connection. It offered a small improvement for my purposes – but since I had the advantage of being centrally-located in Auckland, maybe users in rural or regional areas will find that the router provides better speed-boosting capabilities.
To find out more about the ASUS RT-AC5300 gaming router, click here.