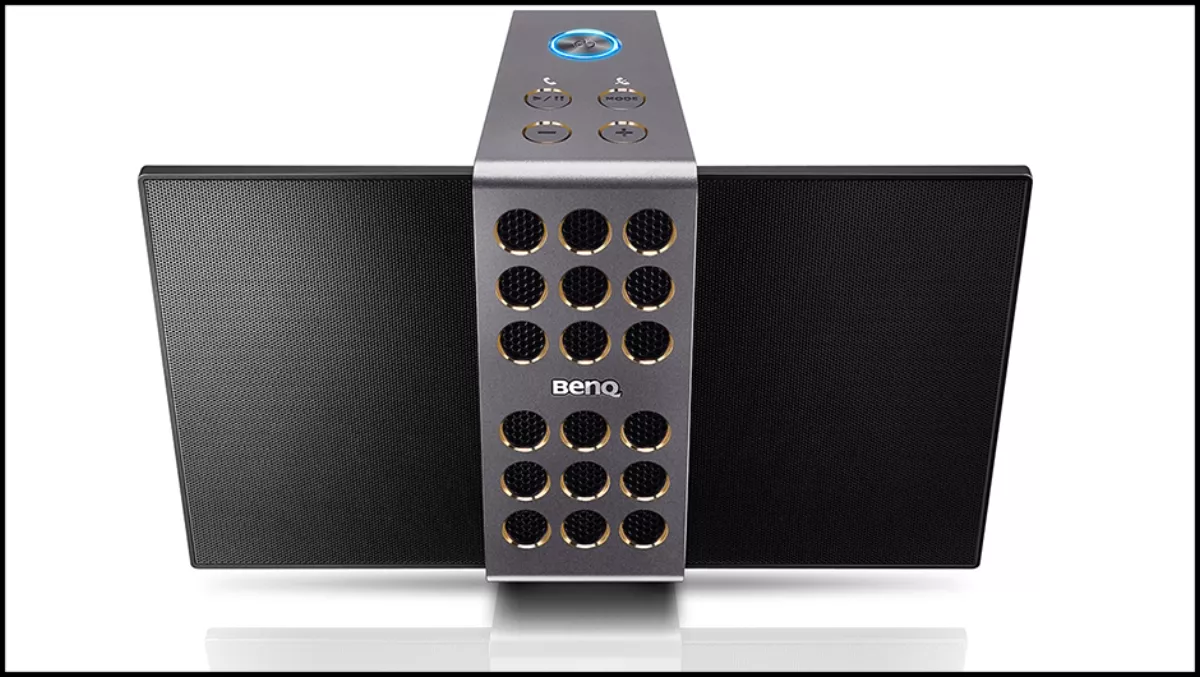 Hands-on review: BenQ Trevolo Bluetooth speaker
FYI, this story is more than a year old
There are a lot of players pushing portable Bluetooth speakers at the moment. This means that gaining mindshare when you're late to the party is going to be tough. This must have been on the minds of the folks at BenQ when they launched the Trevolo Bluetooth speaker.
They decided not to launch a me-too offering, opting for a design that incorporates Electrostatic drivers. Electrostatic speakers have long been popular with audiophiles with good reason. They not only produce uncoloured accurate audio, but also have an amazing transient response.
Look and Feel
The Electrostatic drivers are wafer thin. This meant BenQ could avoid the clichéd tube/speaker design. The Trevolo instead has a bass/mid driver body with two spreadable electrostatic drivers. This also means that the Trevolo can fold up into something more compact when used for travel.
Where other makers have opted for simplistic designs, BenQ pushed the boat out. They added lots of small flourishes that convey a premium feel. This shows through with details like Gold edged holes in the aluminium panel that adorns the main driver case.
Initial concerns that the electrostatic driver panels could be flimsy proved unfounded. In use, they proved to be quite durable.
On top of the Trevolo are a bunch of controls. These include power, volume, play/pause, call answer. The mode button offers up three different equaliser presets. These include a flat sound, a "warm" mode with less highs and more bass, plus a "vivid" mode that emphasises upper mids.
All told, the Trevolo is an eye-catching portable Bluetooth speaker. It doesn't just avoid a me-too look, but also gives other audio makers something to aspire towards.
Under the Hood
Electrostatic drivers work by moving a flat and thin driver using electrostatic forces. These ultra-thin membranes equate to greater responsiveness, efficiency and more accurate audio reproduction. Electrostatic drivers don't generate much bottom-end so the Trevolo uses two 2.5" drivers and passive radiators, which hide behind the electrostatic panels. This setup is powered by a 4-channel D Class amp that cranks out 10 watts.
The Trevolo also supports Bluetooth 4.1 which saw it lasting a day and a bit. To make up for the deficiencies of audio over Bluetooth, BenQ included aptX to wring higher quality audio from compatible devices.
Performance
The Trevolo won't shake your house off its foundations. But it still delivers. The electrostatic drivers deliver crisp detail in the highs and mids. The audio seemed precise even though it was delivered over a Bluetooth connection. What was surprising was the lower mids and upper bass.
Lower mids seemed warm and engaging. There was enough bass hinted at to help create a vivid sound stage. Cranking up the Trevolo to full volume saw some distortion creeping into the audio, but this was fixed once I dropped the volume down several notches.
I could hear the Trevolo throughout my house. While it isn't intended for use at a night club, it is ideal for casual listening or background music.
Verdict
From a design perspective the Trevolo is a peeper pleasing piece of gear. The use of electrostatic drivers plus passive radiators/active drivers plus some clever signal processing generates accurate audio that bats above the Trevolo's pint-sized form factor.