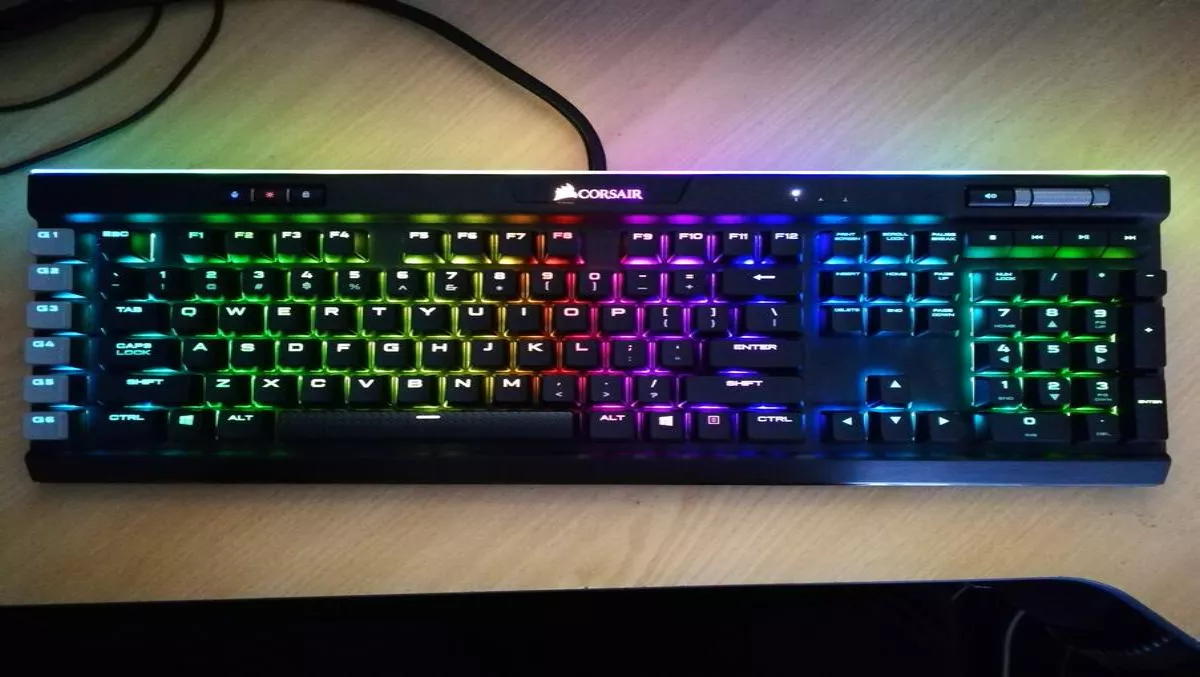 The Corsair K95 RGB Platinum, the gaming keyboard you've always dreamed of
Thu, 18th May 2017
FYI, this story is more than a year old
By Alex Crossan, Contributor
The K95 Platinum represents the pinnacle of gaming keyboards. The luxurious mechanical keyboard is stacked with everything you could ever need to satisfy your gaming needs. The highlights include the super-responsive Cherry MX Speed mechanical key switches, a full array of customisable RGB lights, customisable macro keys and on-board memory for easy saving of user profiles.
The aircraft-grade aluminium body feels very solid yet surprisingly light, and the dimensions of the keyboard feel much larger than they actually are. It will fit on even the most modest-sized desk, and in a pinch it would not be uncomfortable to use from your lap.
Media controls at the top of the keyboard allow for easy volume or track changing in the middle of even the most intense gaming session. I didn't realise how important this was for someone like myself, who has specific songs that get me in the zone.
The detachable palm rest is an understated but appreciated addition. It's super comfortable due to the reversible rubberised strip and allows you to play on without having to reluctantly take breaks for the sake of your wrist.
Six customisable macro keys on the left-hand side of the K95 truly let you play your way. There's not a single game that isn't made better with the addition of extra macro keys. They make spellcasting and other specific actions much more streamlined, and can be the difference between winning and losing, life and death.
The keyboard's software is standout. The Corsair Utility Engine is intuitive, detailed and extremely user friendly while offering a whole other level of customisation. Usually I would just set the keyboard to a single colour and be done with it, but I had a lot of fun tweaking and customising to create some complex backlight setups.
The Cherry MX Speed mechanical key switches are incredibly responsive - like no other keys I've ever used. To illicit a response from a key push, all you need is 1.2mm of movement and 45g of actuation force.
While reactive, there are no drawbacks for regular typing.Compared to other gaming mechanical keyboards, the K95 keys are aligned and spaced perfectly and reduce uncharacteristic typos when switching from a standard keyboard. There was next to no adjustment period, as using the keyboard felt very natural right away.
For gaming, this keyboard can not be beat. The sensitivity and reactiveness of the keys is ideal for FPS and MOBA games, where every millisecond you can shave off your reaction time is essential. I legitimately felt a boost in performance playing games like Overwatch, PlayerUnknown's Battlegrounds and Counter Strike: Global Offensive. The macro keys were wonderful to use for games like World of Warcraft and Dota 2. It wouldn't surprise me to see the K95 being picked up by eSports pros looking to elevate their game.