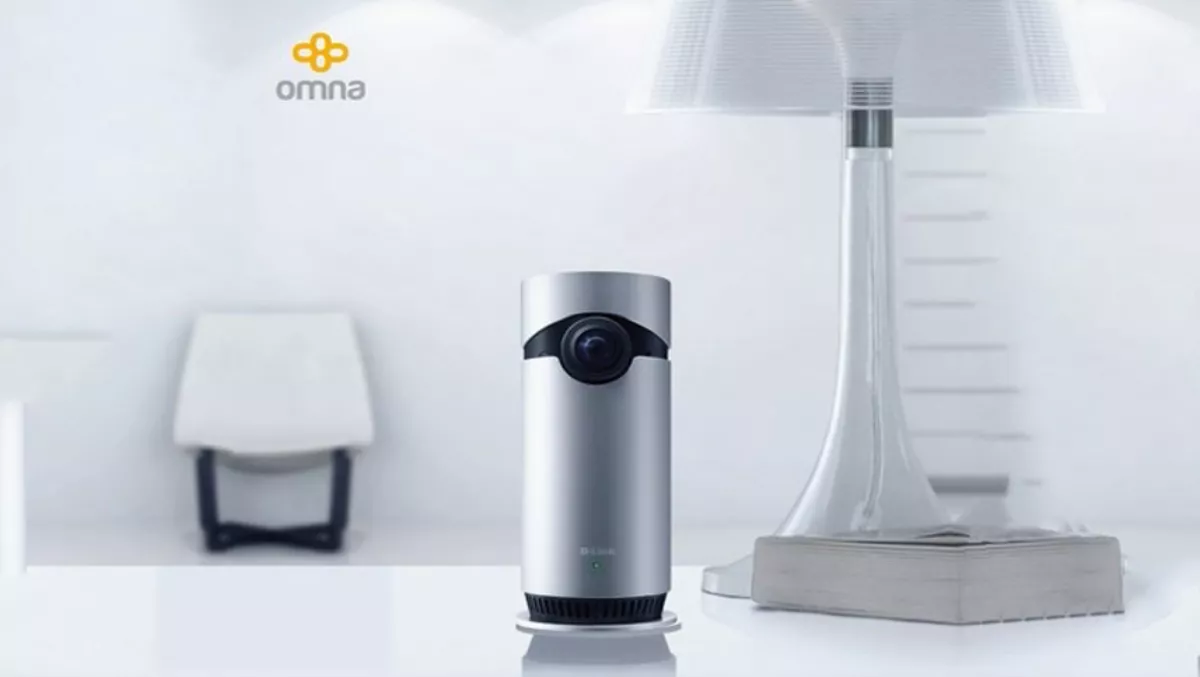 Hands-on review: D-Link Omna 180 Cam HD (DSH-C310)
By Darren Price,
Mon 15 May 17
FYI, this story is more than a year old
Looking like the love-child of a fancy air freshener and HAL 9000 from 2001: A Space Odyssey, you can't help but admire D-Link's new Apple HomeKit camera.
Elegantly packaged in a neat box, the Omna is a far cry from D-Link's more functional-looking PC/Android Wi-Fi camera. Instead of looking like a baby monitor, the Omna's modern design, blends nicely into your living space.
That's not to say I've not been impressed with D-Link's home security/home automation products. Over the last year or so I've checked out a number of their mydlink-enabled devices, allowing me to monitor my home and switch on appliances remotely via the internet.
Apple's Homekit system takes things one step further, offering a range of peripherals from a variety of vendors allowing you to take control of your home from your Apple device.
The Omna is part of the family of Apple HomeKit products. The device functions via the Apple Cloud and the Home app on your Apple devices. Setup is easy- you just scan the code on the side of the Omna and your iPhone or iPad, connects up to it.
The camera gives you a full 180-degree view of your room up to 1080p with audio. If you want to record the video, there's a microSD slot which you can stick a (not-included) card into.
The camera also has night vision and, bizarrely, a speaker. So you can use the camera as a two-way communications system or personally tell your burglar to bugger off.
Many of the Apple Homekit devices, like the Philips Hue lightbulb kits, are remotely controlled whilst you are present in the house. That's the whole point of an autonomous home, allow you to control your environment from one central hub, your Apple device.
Something like a 180 degree camera is, unless you are creepily spying on your guests, best put to use when checking the house whilst you are away. Unlike D-link's other Wi-Fi cameras that utilise mydlink, Omna connects via your Apple device and your iCloud. This means that in order to view the camera remotely you are going to need an Apple device at home to relay the video to your iPhone or iPad.
If you want to operate and observe streamed video from the Omna away from home, you are going to need an 4th generation Apple TV (with tvOS 10.1) or, according to D-Link, an iPad with iOS 10.1 or later. I couldn't get the iPad to act as a hub. But really, who leaves their iPad at home, anyway. Apple die-hards are likely to have invested in an Apple TV box, which will also do the job. The rest of us may have to leave the iPad at home in order to keep an eye on the house.
I utterly fail to understand why the Omna can't just connect directly to a cloud service and work the same as other D-Link products via the mydlink app or similar. Obviously, if you are willing to lay down NZ$350 for an Omna, you are already probably very committed to Apple, and likely to own an Apple TV, already. Hopefully a version of the Omna will be released in the future that's compatible with Android.
With the selection of AppleKit products slowly increasing, if you are looking to use Apple as the backbone of your home automation solution, the Omna makes sense. It's an easy to use, very classy and high quality product, that's going to fit right in on your shelf.
I'm still not really sure what the Omna is for. Especially if you've not got an Apple TV or other device to relay the video for viewing remotely. You could use it for monitoring the kids or a sleeping baby, but you really need a better reason to part with your cash than that.
The D-Link Omna is, technically, a superb and smart-looking device, let down by the early days of Homekit and the Apple exclusivity. It's expensive, but it does what it says on the tin, and does it very well, indeed.