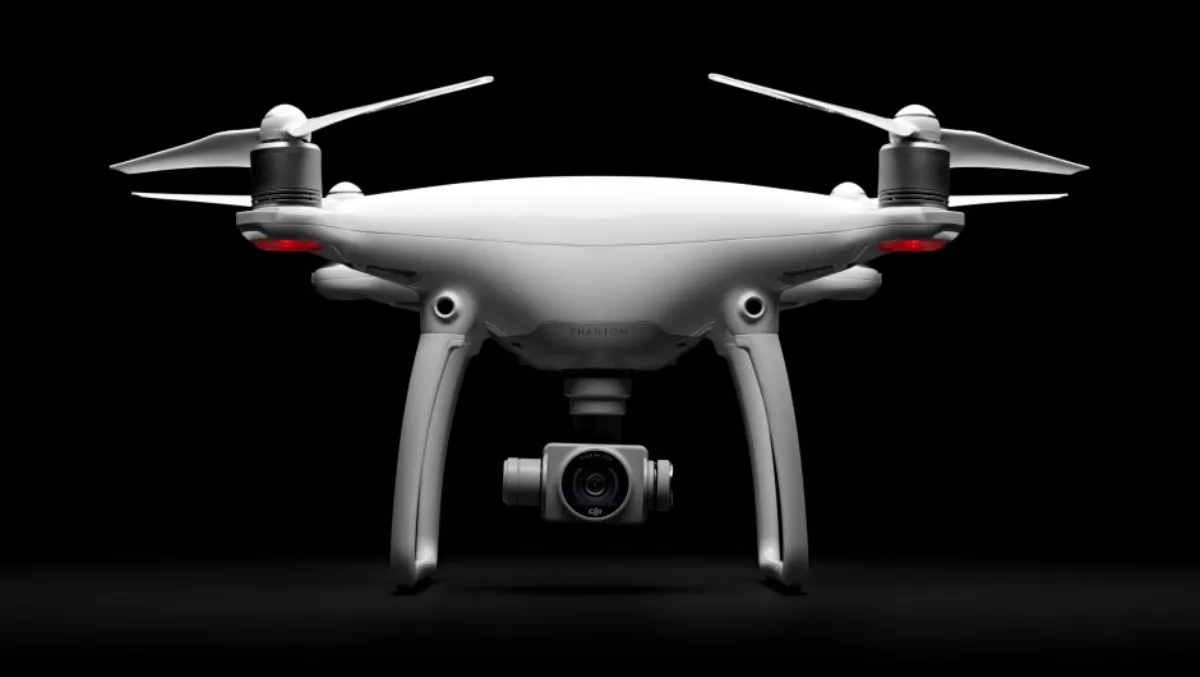 Hands-on review: DJI Phantom 4 Drone
By Owen McCarthy,
Fri 15 Apr 2016
FYI, this story is more than a year old
I love things technological, but here I must freely admit that I've never, ever seen the need to use a drone - this week of testing and researching has completely changed my mind.
If I was still teaching, this would be an integral piece of equipment when it comes to multimedia tools. If I sold real estate for a living, I would see this as part of the toolkit I'd use when it comes to presenting a property. If I had any involvement in promoting adventure sports, I'd probably carry this little number with me wherever I go.
When I opened up the box (which is a nifty work of art in its own right), I was blown away by the cute and sexy looks of the DJI Phantom 4. I was prepared for a battle assembling it, but just two minutes later I was ready to fly. The hardest part was removing the plastic and making sure I put the colour-coded wings in the right positions. However I did find one minor problem. The power cable for the charger is the American two-pronged type. A rummage around in the study found a suitable replacement, but I'm sure suppliers will take care of this for the consumer.
Then I noticed that I'd need to attach my smart-phone to the remote control. Thirty seconds or so later, I'd downloaded the DJI app and I was ready to go!
While the torrential rain fell, I did something I generally never do. I read the instruction booklet. Connecting my iPhone to the drone enabled the latest firmware to be updated. It also enabled me to register my drone.
The sun was finally shining, the batteries were charged, firmware updated and I was ready to fly. This was the moment I'd been dreading since picking up the Phantom from the NetGuide office. I immediately fell in love with "tap to fly" which is detailed below.
There are three features that make the Phantom 4 stand out from the crowd:
1. TAP TO FLY
Flying is now for everyone. Just double tap and you're up in the air while the new Obstacle Sensing System keeps your Phantom clear of any objects in the way with innovative obstacle avoidance technology. With another tap, Smart Return Home brings it back.
2. VISUAL TRACKING
ActiveTrack makes tracking a moving subject as effortless as a few taps on the app to select the subject to be tracked. The drone locks on to the object and and starts tracking it automatically from a safe distance.
3. SPORT MODE
In the new Sport Mode, the Phantom 4 provides best-in-class flight control. Maximum speed is increased by 25% while all positioning systems are kept on for a safer and better controlled flight.
The Phantom 4 also has an extended flight time (28 minutes, a 25% improvement over the already impressive Phantom 3).
If you are in the market for a drone, I can happily recommend the DJI Phantom 4 (there's some pretty sweet videos here) even if you're a rank beginner. It is super easy to assemble, and while you learn the ins and outs you can simply allow the technology to fill the gaps in your flight skills.
You can find the the DJI Phantom 4 Drone at PB Tech, New Zealand's largest computing and IT retailer. Click here if you would like to know more.