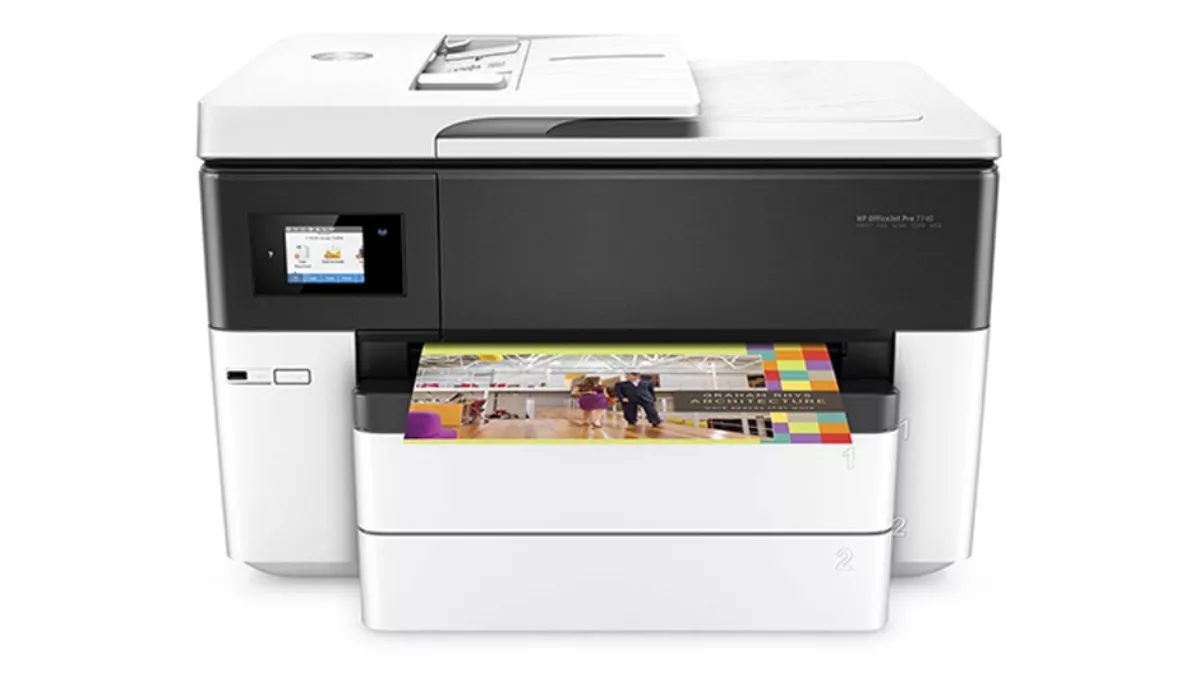 Hands-on review: HP OfficeJet Pro 7740 Wide Format All-in-One - Making me fall in love again
FYI, this story is more than a year old
In a very few days I've become enamoured of the HP OfficeJet Pro 7740 Wide Format All-in-One. For a printer with a relatively small footprint it packs a lot in! Boasting a reasonable RRP and consumables ranging from $30-$55, this printer is very cost-effective. (Don't tell anyone but one reseller has it on special for $329 with limited stocks left.)
Wide-format options make your printer capable of a broader range of options: Handy for those of you into design and graphics. The 7740 is equipped with two paper trays. When you examine them they appear identical, but a clever design (something HP seem rather good at) means you can expand a tray to take A3 paper. As I type I have it set up with A4 in Tray 1 and A3 in Tray 2, but I could easily swap it around. A handy feature, and if I'd had more time I would have experimented with A5 paper as well.
Like the other printers in the Pro range it includes a range of features that make it compare well to its pricier competitors. The touch-screen LCD panel makes inputting a breeze, even for those of us blessed with fat fingers. The printer also doubles as a fax machine and scanner. A handy front-positioned USB port means you can scan or copy directly to file in a choice of file formats. The printer also comes with ReadIris Pro, OCR software that comes in handy when scanning a photocopied or printed document to file.
The printer is easy to connect to a network via Ethernet or Wireless connections. Those of you only needing a standalone can use the USB printer connection. This time around I personalised my Airprint options, meaning that I can print from my mobile devices no matter where I am in the world. With a 35 page single-pass, two-sided automatic document feeder, you can handle a plethora of paper.
I'm about to print a 155-page manual just to check that print times are constant. Print quality is excellent with no discernable colour bleed, and graphics are of good quality. I'd have loved more time to experiment with photo printing, especially with the borderless printing options this machine has.
Ever since I fell in love with HP's Spectre I've really sat up and taken note of the design of HP products. Remember I mentioned the small footprint earlier? This would be the most inconspicuous of all the HP printers I've reviewed. The expandable paper trays are a clever design and if you're like my wife and opposed to clutter, this printer will fit easily into your home office.
I would be remiss not to mention just how ridiculously easy this printer is to set up. The provided CD requires Internet connection and it gently but firmly guides you on your way. I'll conclude by saying that a business or home with small to medium printing needs need look no further. You'll be pushed to find another printer boasting two trays for a similar cost.