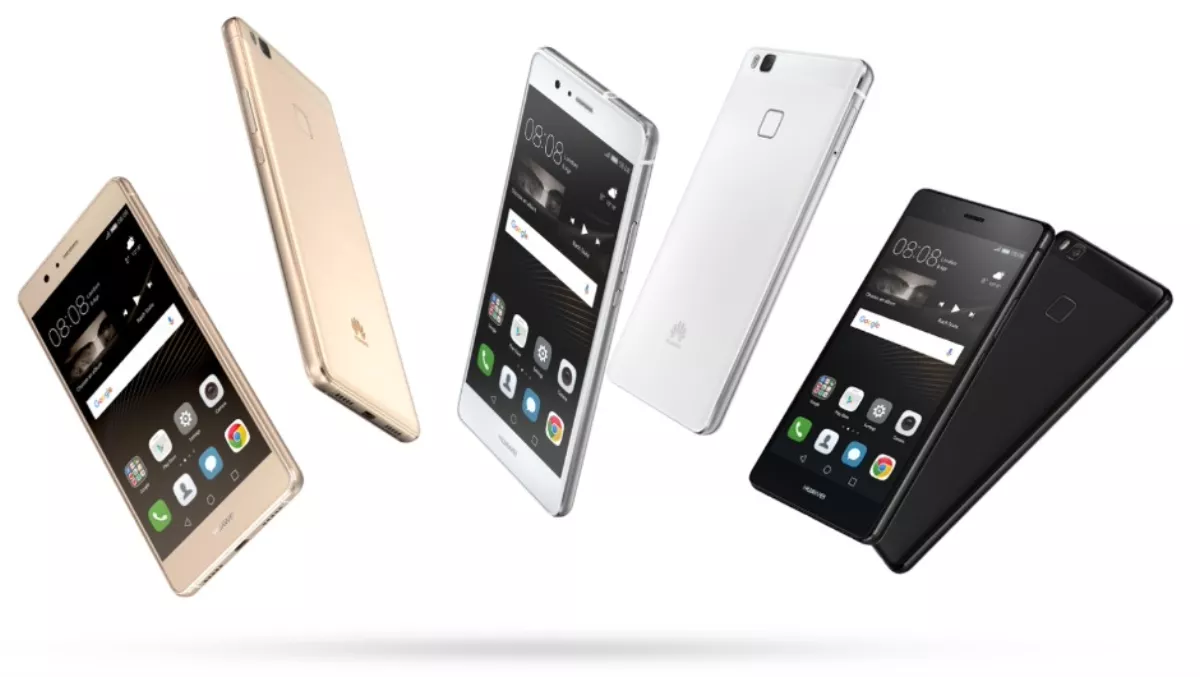 Hands-on review: Huawei P9 Lite - the perfect balance of price and features
FYI, this story is more than a year old
It's been a big year for Huawei. Their growing smartphone presence sees them well positioned to take advantage of competitor's missteps. Having launched the P9 amidst considerable fanfare, they've followed it with the P9 Lite. Priced at a pocket pleasing $499, it is also far more affordable than the P9 and P9 plus. Price aside, how does the P9 Lite compare to other budget phones?
Look and Feel
Available in gold, white and black, the P9 Lite is affordable without compromises on design and spec.
Design-wise, the Huawei P9 Lite pretty much speaks the same design language as the rest of P9 range. Huawei have used an aluminiumwith a polycarbonate back. A metallic finish on its rear means that its plastic back isn't all that obvious. That aside, the design feels good and solid. On looks alone, you'd have a hard time picking that the P9 Lite was a budget smartphone.
Like its more upmarket siblings, there's a small band on the top of its back. This houses its camera. Huawei have opted not to use a dual camera setup. Instead the P9 Lite comes with a capable 13 MP rear shooter, along with a dual two tone LED flash. Further down is the same fingerprint sensor as used on the rest of the P9 range.
Spinning the P9 Lite around reveals a front fascia that is like that used with the P9 and P9 plus. The display of the P9 Lite is also full HD. Some may grizzle that it isn't 4k. The reality is that HD represents a sensible compromise between resolution and battery life. On the P9 Lite's underside, there's two speaker grills. This may look like stereo, but there is only one speaker.
The top of the P9 Lite houses a 3.5mm headphone jack while a SIM and microSD card slot are down its left-hand side. The P9 Lite mightn't be water proof, but it feels as thin as the iPhone 7 and can play nice with corded cans.
Huawei have used InCell display technology. This helps keep its waistline petite. On a more practical level this also means there's no air gap between the LCD display and the glass screen. This means dust doesn't accumulate between both layers. The P9 Lite's screen is 5.2" and delivers a peeper pleasing 424PPI.
All told, the P9 Lite's display impressed. Its colours are accurate and vivid. Solid contrast levels mean on-screen blacks are dark and whites bright. Colour temperature is tweakable while viewing angles are also good.
Bells and Whistles
Stock Android fans may not like the P9 Lites EMUI UI. Its similarity to IOS and lack of an app drawer could see it appeal to iPhone users wanting to move to Android (and a 3.5mm ear socket!). There are a tonne of downloadable themes that provide a quick and easy means of customisation too. Android fans can download the "stockify EMUI" app. It gives EMUI a stock Android flavour.
The rear mounted fingerprint sensor also deserves special mention. It sits where my dabs are when I'm holding the phone. This means I can pick it up and unlock it in one action. Best of all, it's multi-functional. Swiping downwards on sensor opens the notification drop down. It can also accept or end phone calls and act as a camera shutter button. Swiping left to right lets you scroll through photos in the image gallery.
Huawei also optimised the hardware/software of the P9 Lite. In use this meant there was no noticeable lag and that the P9 Lite ran like a cut cat even when under load.
Much of this comes down to the Huawei-developed HiSilicon Kirin 650 CPU. It's an octa-core beast. It has 4 cores designed for energy efficiency (clocking in at up to 1.7ghz). The other 4 cores run at up to 2.0 GHz for heavy duty chores.
There's also a Mali T830 graphics chip, 3 GB of RAM and 16 GB of internal memory (expandable to up to 128GB via microSD). It's a slick setup and in use makes the P9 Lite ideal for games. Its low storage limits its appeal as a media playback device - unless you're prepared to spend up on a large micro SD card.
In Use
The P9 Lite might lack the dual shooters of its more upmarket counterparts, but its camera does a great job. In use, it feels a lot like its well-received predecessor, the P8.
This gets helped along by the P9 Lite's camera app which is one of the more flexible and intuitive available. Its image processing chops are also pretty solid. Under most daylight conditions, the P9 Lite's camera did a decent job.
A real test for any digital camera comes in the form of scenes with a combination of dark and bright areas. This can result in overexposed or underexposed photos with detail lost in shadows. The P9 Lite's camera delivered crisp and well exposed photos in the majority of test scenarios. This said, some pixel noise was noticeable when shooting at night.
As with the P9 range there is also a full manual mode. ISO, exposure, white balance and focus are all tweakable. There's also a swag of other shooting modes available. These include a quirky (and fun to use) light painting mode. Video gets captured in full HD. Huawei have also included a manual video mode - white balance, focus and exposure are adjustable.
The front shooter uses an 8 MP sensor with an aperture of f / 2.0. It can shoot selfies with the fingerprint sensor acting as a shutter button.
All told, there's a lot to like about the P9 Lite's photographic chops. The P9 Lite is streets ahead of other budget smartphones in the camera department.
Another pleasant surprise is its 3,000 mAh battery. This and the Kirin 650 CPU saw the P9 Lite deliver close to two days' use before needing a charge. Even after constant use while out and about for an entire day, the P9 Lite showed just over 40% battery charge in the evening. Most other budget smartphones are usually dead or dying before I've even made it home.
Verdict
Huawei have pulled off that difficult task of balancing price against features/quality. Not only does the P9 Lite feel solid and well crafted, it also looks good. A Full HD display and excellent cameras also makes using it an enjoyable experience. Where most budget phones choke with games, the P9 has plenty of horses under its hood. This hasn't hurt its battery life either, thanks to a generous battery.
Budget smartphones used to translate into Tupperware and poor performance. Not so with the P9 Lite. If you're after an affordable Android smartphone - check the P9 Lite out.