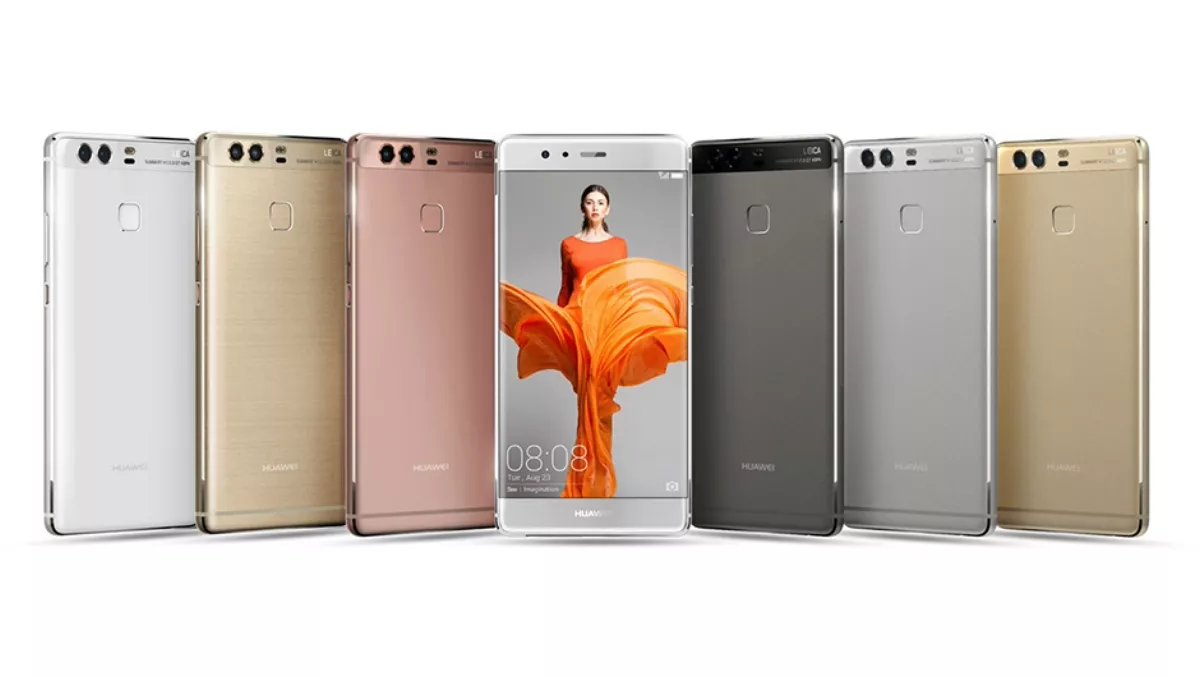 Hands-on review: Huawei P9 Plus - all the bells and whistles
FYI, this story is more than a year old
Since I managed to get hold of it a few months back, I've made Huawei's latest flagship phone, the P9 Plus my daily driver. Doing this allowed me to get a feel for what makes it tick.
Look and Feel
The P9 Plus looks and feels like a million bucks in the hand. This is due to a well-crafted alloy chassis. Lots of details such as the knurled finish on the power button and its chamfered glass screen help too. The attention to detail gives the P9 Plus a high-end feel that is more Mont Blanc than smartphone.
One of the least hyped (and most useful) features of the P9 Plus is its rear fingerprint scanner. Its placement makes unlocking the P9 a single seamless action. The scanner is where my index finger usually sits. In short there's no fumbling about looking for it. The fingerprint scanner did well in my usual test. Eight out of ten times I was able to unlock it after washing a sink-full of dishes. This compares well with other phones I've tested with this method.
A much-hyped feature is the pressure-sensitive screen. It works along similar lines to Apple's. Applying more pressure on app icons sees a menu pop up that'll take you to a specific part of an app. I found myself using this to zoom in to photos in the gallery app.
Speaking of screens, the OLED 5.5" 1080p AMOLED display on the P9 Plus impresses. It isn't in the same league as Samsung's QHD S7 Edge, but its contrast levels and colours are superb. While some may bemoan the lack of QHD resolution, 1080 is a sensible option. There's enough resolution so things look crisp. It also won't flog the battery powering pixels you can't even see.
Display customisation is a welcome addition. Aside from being able to set viewing modes, you can also tweak the colour temperature. In a nod to battery life, you can drop the screen resolution to 720p.
Bells and Whistles
The P9 Plus battery is non removable and its SIM tray also acts a microSD card slot. The P9 Plus comes with 64GB of storage.
One feature many smartphone makers are leaving out is the IR blaster. It mimics infra-red remotes. The P9 Plus has a pre-installed app that'll let you control your TV, home cinema and other widgets. It was useful for shutting down TVs in airport lounges and pubs - this alone makes the P9 Plus a keeper in my books.
The P9 Plus uses Android Marshmallow overlaid with Huawei's custom EMUI launcher. It does not have an app drawer and uses large icons to create a clean, simple and uncluttered look. It won't be everyone's cup of tea, and those wanting a stock Android look can use the Google Now Launcher.
There is also a themes app so you can tweak wallpapers and icons. Swiping your finger down from the top half of the screen fires up a search utility which speeds up locating an app.
Those with large media collections won't just appreciate its ample storage. The P9 Plus also does a stellar job with audio. It uses a "DTS" processing mode for audio by default. This fills out the mid-range, adding a hint of body to bass and widens the sound-stage.
Gamers will also like the P9 Plus thanks to its HiSilicon Kirin 955 CPU. Paired with 4GB of RAM, the 955's octa-core is on par with the Samsung Galaxy S7's Exynos. Another performance enhancing tweak is the use of dual-channel DDR4 RAM. This moves data around at 12200MB/s compared to 8-9000MB/s on single-channel RAM equipped phones.
The stellar battery life of the P9 Plus isn't just due to its energy efficient CPU and OS. A large 3400mAh battery also helps. With daily use I got two and a half days' use.
The Camera
The star of the P9 Plus show is its cameras. It packs two rear shooters. Both are 12MP Sony IMX286 sensors with Leica designed optics. One is colour, the other mono.
The rationale for this is that colour sensors use a filter to split light into red, green and blue. Some light gets lost, resulting in lost detail and lower contrast levels.
A separate mono sensor has no filter. Because of this, the photo benefits from higher light sensitivity levels. Another side benefit is less noise in low-light shots. Colour image information gets combined with data from the mono sensor. This results in sharper and more detailed photos. This gets helped along by laser focusing and phase detection pixels too.
Techno babble and marketing hype aside, the proof is in the photos. The P9 Plus doesn't disappoint. Its photos are as good (if not better) than most high-end compact cameras.
It isn't just its clever dual sensor system that impressed. The P9 Plus camera app (also co-designed by Leica), will feel familiar to Leica camera users. The attention to detail is great - even the shutter sound mimics Leica's legendary M10.
Another side benefit of the camera app is that image post-processing is intuitive. There's also tons of shooting options to choose from.
Its front mounted 8MP shooter (with an f/1.9 lens) also takes great selfies. Skin tones look natural, detail is crisp.
Verdict
The P9 Plus is a well-crafted phone that ticks all the boxes a high-end smartphone buyer is ever likely to have. A powerful CPU combines with acres of expandable storage to make it ideal for gamers. The EMUI user interface mightn't appeal to everyone but its camera is one of the best I've seen on a smartphone.