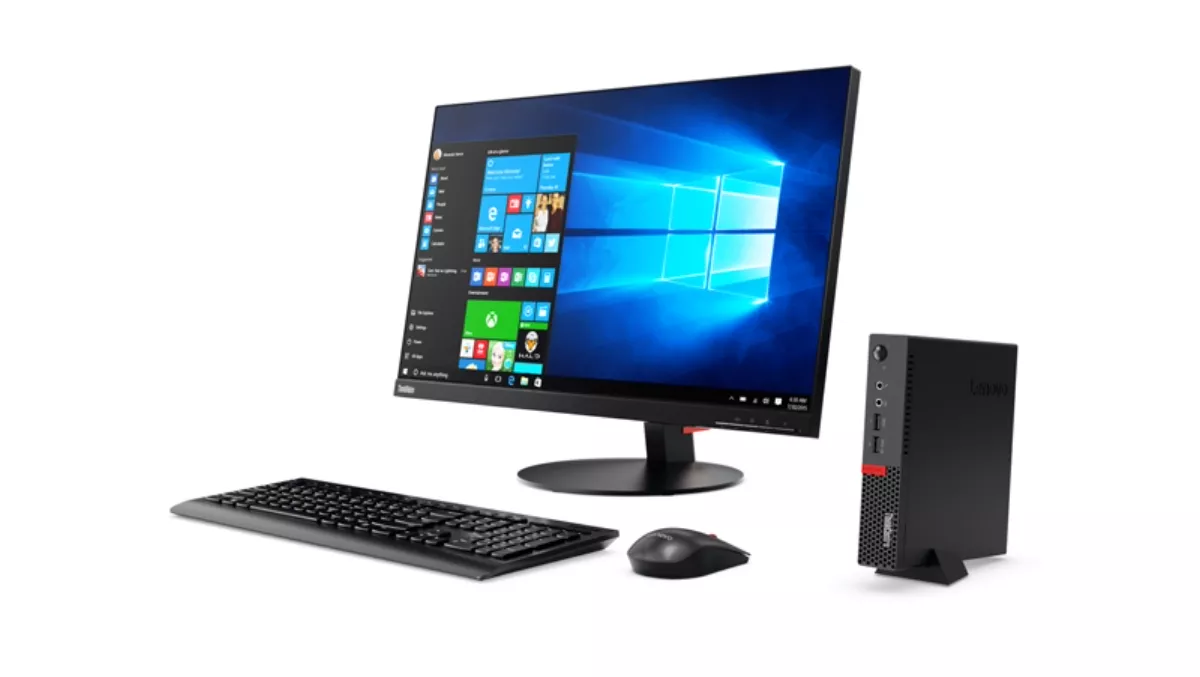 Hands-on review: Lenovo ThinkCentre M910q
FYI, this story is more than a year old
If you are reading this article, then I have succeeded beyond my wildest dreams and set up this new little product by Lenovo and got it working in a matter of minutes.
If my desk was not so cluttered, the ThinkCentre would be sitting in an environment devoid of lots of cables, and to all intents and purposes I'd have a monitor, keyboard and mouse as the only decoration on a vast expanse of mock rimu.
The ThinkCentre is madly simple to set up.
I'm currently using a simple word processing app that saves my work as a Word Document, and if I was keeping this baby, I'd have signed into my Microsoft Account and have Office up and running in a few more minutes.
The only thing left for me to do is sign into Netflix TVNZ on Demand and a few other favourites of mine, and I am away.
The ThinkCentre consists of three main parts; the monitor, the keyboard and the computer module.
This module slides into the rear of the monitor assembly and one screw tightened and you're ready to connect any other peripherals.
I screwed in the wireless aerial, but I could have easily have connected via Ethernet cable too.
The monitor assembly was also ridiculously simple to put together.
A hinged cover at the rear hides the cables and aerial.
The setup process took mere moments, the longest time being spent by me trying to remember my Microsoft Account password.
A word or two about the keyboard.
Unlike the rest of the system, the Lenovo Traditional keyboard is a bit of a throwback, to simpler clicky, clunky times, and I have grown used to today's more svelte and streamlined options.
Having said that, It does do the job, but at the expense of seeming a tad out of place with this modern design.
The monitor is clear with a simple clear resolution and a wide screen that appears to me to be a 16:4, but I'll check those specs later.
I'm not saying it's up there with Apple's Retina display, but I'm interested to see how it copes playing the latest episode of Nick Cage later.
My eyes have quickly adjusted to the simply set out Word Processor window that opened up.
Now to the litmus test.
How does it handle multimedia, games, etc?
I'm about to pause, open a new tab, and have a round or two of Stick Cricket.
You'll have to excuse me, but a reviewer's life is not all play, you know!
OK I'm back again with a discovery.
I can play my game on the Edge browser, but in mid flight, as I was once again being pounded by inswingers and finger-spin, I was asked to install Adobe Flash.
On Chrome I was stuck in a never ending "Game loading.. skip Ad" screen.
Playing the game, lag was quite noticeable, although less charitable readers could be tempted to attribute my lack of success to my cricketing skill-set.
My Lenovo companion, which was very easy to set up, tells me that I have no hardware or operating system issues, and as this is out of the box, I'm relieved to hear it.
With an Intel(R) Core(™) i5-7500T CPU @2.7GHz up to a max 3.3Ghz (e-oe here people) with 8GM of SK Hynix RAM, The THinkCentre is an excellent modular all in one that will keep you computing happily.
While I am a fan of the modular concept, and think that in this case Lenovo have executed it well, I could understand why others may prefer a more traditional desktop setup.
However, if your desk space is at a cluttered premium, the ThinkCentre makes for excellent thinking.