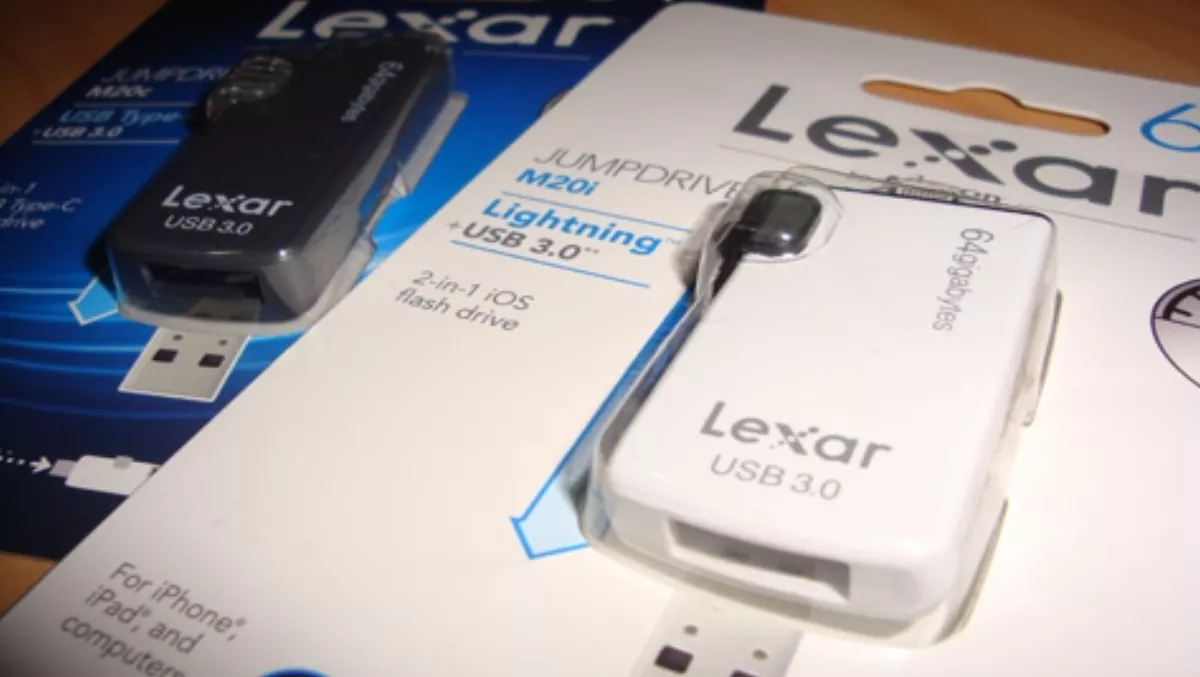 Hands-on review: Lexar JumpDrive M20i and JumpDrive M20c
FYI, this story is more than a year old
Netguide's tech guru, Darren Price, puts Lexar's next-generation of flash drives, the JumpDrive M20i and the JumpDrive M20c, through their paces.
The old adage that you can never have too much storage space has never been more true. As our internet speed and computing power increases, we don't blink when downloading, creating and moving huge files.
The need for a fast convenient way to take these files with us means that the days of burning CDs, DVDs and even Blu-Rays are now, thankfully, a thing of the past thanks to modern flash drive technology.
Lexar are a brand that been synonymous with solid-state portable storage solutions since the beginning. Now part of Micron Technology, who also produce Crucial desktop memory solutions, Lexar have just release two very interesting fast, large-capacity flash drives.
First up the Lexar JumpDrive M20i. Primarily designed as a portable storage solution for iPhone and iPad, the M20i sports both a Lightening and USB 3.0 connector. This allows the flash drive to be used by both Apple mobile devices as well as PCs and other USB 2.0/3.0-equipped devices. Both connectors conveniently slide away into the body of the drive which means no annoying caps to fiddle with (or lose).
The M20i 2-in-1 iOS flash drive comes in three flavours: 16GB, 32GB and 64GB. All three boast read speeds of up to 95MB/s with the 32GB and 64GB having a stated max write speed of 20MB/s and the 16GB 10MB/s.
Testing a 64GB M20i with Crystal Mark 5 on a Windows 10 PC got me a top read-speed of 84.56 MB/s and a write-speed of 29.13MB/s which isn't bad at all. In real terms, a 3GB movie will transfer across in about a minute, compared to the 4 minutes that it takes using my old UBS 2.0 thumb drive.
With file sizes ever-increasing, the access speed of storage solutions is becoming more important, especially if you are streaming media from the flash drive. Similarly, nobody wants to be waiting for an age whilst any files transfer from a flash drive.
The Lexar M20i provides users with a handy, fast, large-capacity portable storage solution that is especially useful if you use Apple mobile products and Windows PCs.
Lexar's JumpDrive M20c features a standard USB 3.0 connector and a new USB Type-C connector. This is great, as not only is the Type-C connector reversible- in that it doesn't care which way up it is inserted, the USB Type-C is also the connection port of the future.
Expect all of your devices from desktops to phones soon feature this neat bit of technology. USB Type-C will replace USB 3.0 and can be used to connect displays as well, replacing HMDI and DisplayPort connector. It can even be used as a power connector.
Like the M20i, the JumpDrive M20c comes in three sizes: 16GB, 32GB and 64GB. For these flash drives Lexar boasts some phenomenal speeds. The 32GB and 64GB version has transfer speeds of up to 150MB/s read and 60MB/s write, with the 16GB version still impressive with 130MS/s read and 25MB/s write.
I tested the 64GB version using Crystal Mark 5 on a Windows 10 machine and achieved a max read-speed of 137.9 MB/s and a write-speed of 76MB/s, which is up there with my desktop's Western Digital Black hard drive.
For fast transfer of large files, especially media files, I'd easily recommend the JumpDrive M20c. With both USB 3.0 and USB Type-C connectors, the M30c is compatible with the new generation of Type-C equipped devices like the new ultra-thin MacBook, future-proofing your portable storage investment.
Both the Lexar JumpDrive M20i and the M20c are very impressive flash drives. The M20i is useful if you need to transfer data between Apple devices and your PC, whilst the faster M20c is going to be very handy for early adopters of the new USB Type-C equipped devices.
Related stories
Top stories