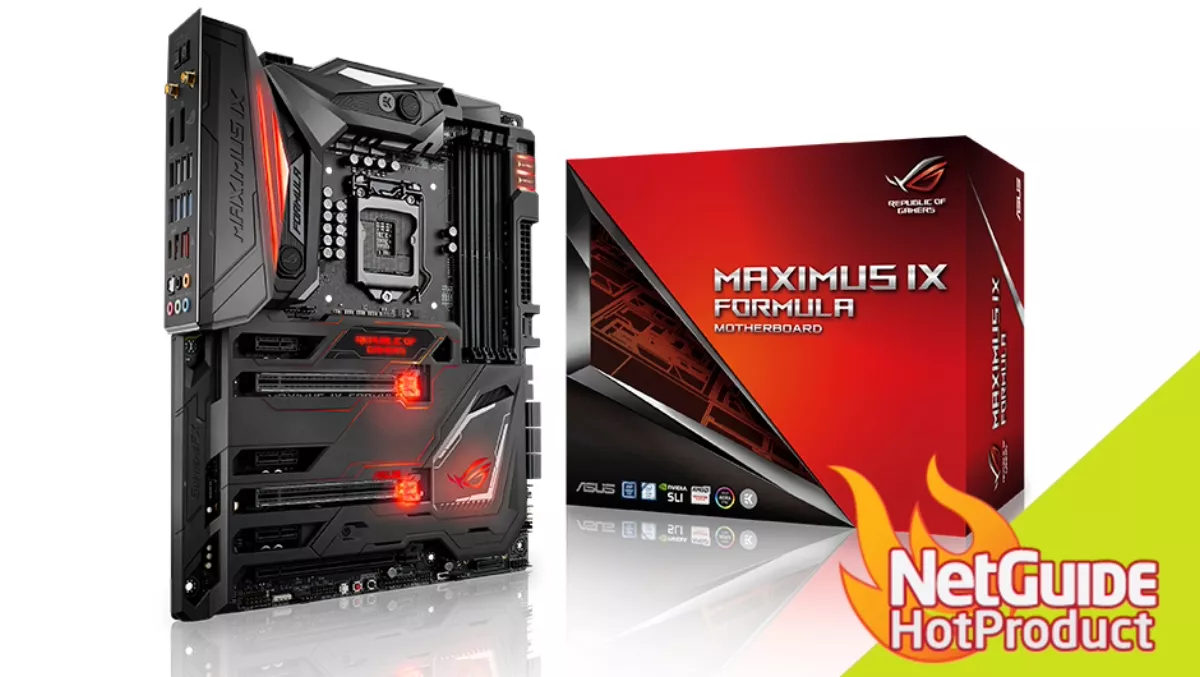 Hands-on review: The motherboard of motherboards - Maximus IX Formula
Wed, 1st Feb 2017
FYI, this story is more than a year old
What we have in the lab today is the latest flagship motherboard from ASUS's renowned Republic of Gamers range, the Maximus IX Formula.
The first thing we have noticed is the absolute clean look of the ROG ARMOR, which not only looks great, but also helps to provide better cooling, better prevention to damage due to improper installation, and of course, board bending over time. Together with the safe slot design across all PCI Express x16 slots, you are guarded in all angles during transportation.
Turning the motherboard to the side is their patented Pre-mounted I/O Shield design. This is no doubt a nice to have, seeing so many people needed to redo the motherboard fitting only to get the motherboard into the chassis without sorting any I/O ports.
Also on the Back I/O is the Clear CMOS and USB BIOS Flashback button, which enables you to update BIOS without a working environment. In fact, you can even update BIOS while assembling your system, quite a convenient gadget. Next to them is the AC1200 MU-MIMO Wi-Fi + BT 4.1 connection, the HDMI 1.4b and DP 1.2 digital display, the GameFirst IV boosted Intel® i219v Gigabit LAN, and a massive array of USB ports in the forms of type A and C, followed by the audio jacks.
The ROG motherboards are well-known for having the best gaming audio. The Maximus IX Formula is of course not an exception. At the core of the design is the exclusive SupremeFX S1220 codec co-developed with Realtek. Despite the similar naming to Realtek's very own ALC1220, the spec and performance is totally different, yielding a solid 5dB better in SNR against ALC1220 based audio.
They have added in a stand-alone high-precision clock to ensure the audio stays crisp and clear even under heavy overclock and load environment. The front headphone is driven by a separate audio DAC the ESS9023P, which is can often be found in high end Hi-Fi audio equipment.
While having RC4580 Hi-Fi buffer to ensure stable driving to headsets up to 600ohms, they have also included a massive array of MOSFET switches to prevent the big BANG to your headsets when turning the system on and off. Software-wise, apart from making the source sound better with EQ and pre-calibrated headphone profiles, it also enables users to output different audio stream to various outputs, quite useful I must say.
The other unique design we have spotted is the extremely custom water cooling-friendly inclusion. On the top it has a pre-fitted EK hybrid water chamber (CrossChill EK) at the voltage regulator module section that works great with both water and air. It also come with 8 fan headers, 5 temperature probe location, dedicated water pump power sources, and special connectors for water temperature and water flow meters.
You can even purchase their fan extension module to add 4 more fans to your system, connects to the total of 12 fans. Fan speed management wise, you can choose to calibrate and manage with either the BIOS based Q'Fan function or the Windows based AiSuite 3 for more extended control.
Networking wise, users can also combine the throughput of up to four network devices to form a superfast network gateway via both the wired and wireless connection. This can be the built-in Intel LAN, additional network card, built-in Wi-Fi, and even your 3G/4G dongle you use on the go.
Users demanding the latest and fastest storage will rejoice, as the Maximus IX Formula comes with 2 M.2 PCIe (up to GEN3x4 each in NVMe) with RAID support for internal storage. One stand up, and the other under the ROG Armor.
We recommend using the standup one for in chassis environment with intake ventilation from the front of your chassis, or the other if there is limited ventilation inside your chassis. External wise, it offers both front and rear USB 3.1 GEN2 in both type A and C, which can be further boosted with ASUS's own USB 3.1 Boost feature.
It is quite amazing seeing how ROG motherboards have evolved over the years with its continuous innovation. We're definitely looking forward to see what ROG has to offer in the years to come.