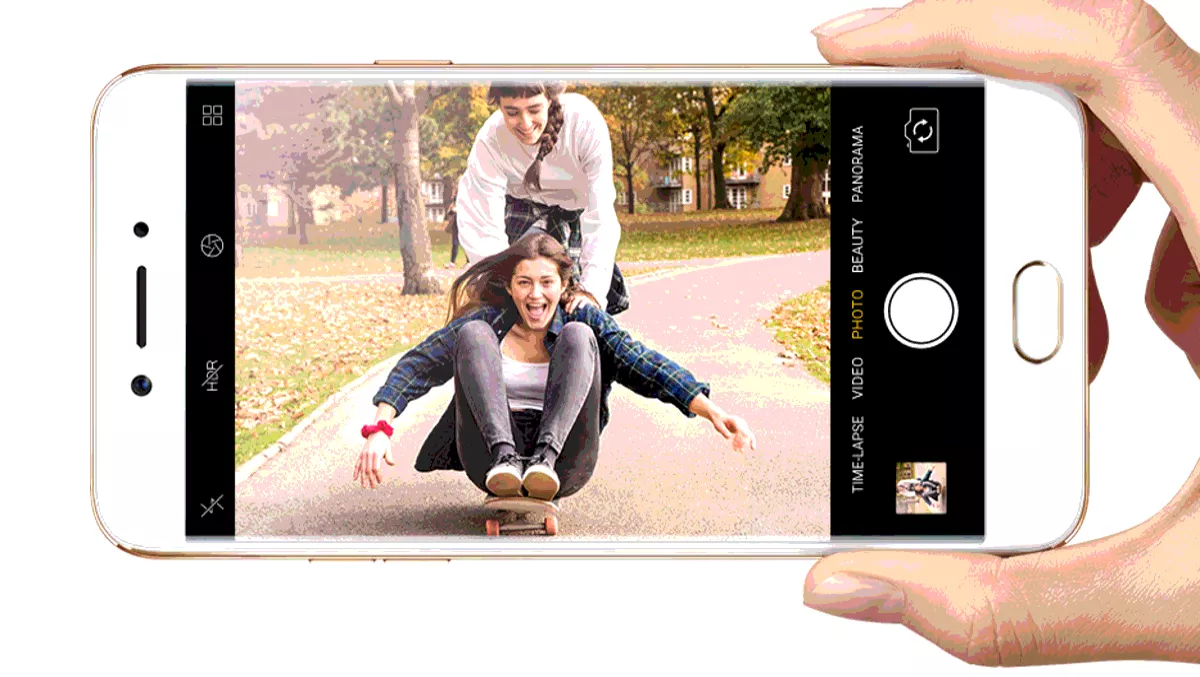 Hands-on review: The Oppo A77 is an affordable alternative to iOS
FYI, this story is more than a year old
The Oppo A77 is a reasonably affordable Android phone that is skinned to look like iOS, making it a great choice for people who like the iPhone style, but prefer a less restricted OS.
The Oppo A77 has a 5.5-inch 1080p display, making it very clear and easy to look at. It also has a very iPhone-like design, except for a non-circular home button.
The Oppo A77 also keeps the 3.5mm headphone jack, for anyone who dislikes the idea of using Bluetooth headphones.
The Oppo A77 can run the latest version of Android, which is Android 7.1 (Nougat). This allows it to support all the latest features of the Android OS, including Data Saver mode, Multiview/Split-screen mode, Google Assistant, and more.
It also offers dual-SIM support with 4G capability, but if you don't need two SIMs, you can use the second slot for an SD card up to 256GB for extra storage.
I myself have a 128GB SD card in my personal phone and find it very useful for downloading Netflix shows to as I never have to worry about running out of space, and still have plenty of space on it to move some larger apps over if I find myself running out of internal storage.
It has a 13MP primary camera and 16MP secondary camera for sharp and clear photos. The 16MP secondary camera is a big plus, as most phones, including my Samsung Galaxy S7 Edge, only have around 5MP for a secondary camera. However, for video recording, the Oppo A77 only supports 1080p@30FPS, whereas many phones have several options for resolution/FPS, such as 720P@240FPS.
It also has an octa-core processor which allows it to run very smoothly, as well as allowing it to play most games relatively smoothly.
It also sports a fingerprint scanner for extra security which can be set up for things such as lock screen, file encryption, and app logins.
One sensor it is missing, however, which is important for Augmented Reality applications, is a Gyroscope. While the data from a Gyroscope can be roughly approximated using other sensors such as the Accelerometer and Compass, most apps don't do this and instead opt to just use the Gyroscope, as that provides more accurate data, and accuracy is important for Augmented Reality.
In conclusion, costing only around $500 NZD, the Oppo A77 would be a great phone for someone who is looking for a less restricted OS, but really enjoys the design and style of iPhone and iOS and doesn't want to spend a fortune on a new phone.
Also, since it runs Android, you can customise it to whatever you want if you get bored of the iOS look by installing custom launchers and icon packs.
Product overview:
Runs Android skinned to look like iOS
5.5-inch 1080p display
Supports up to Android 7.1 (Nougat)
Dual-SIM support, and supports 4G
Supports up to 256GB SD card
13MP primary camera and 16MP secondary camera
Fingerprint scanner
Octa-core CPU
Related stories
Top stories