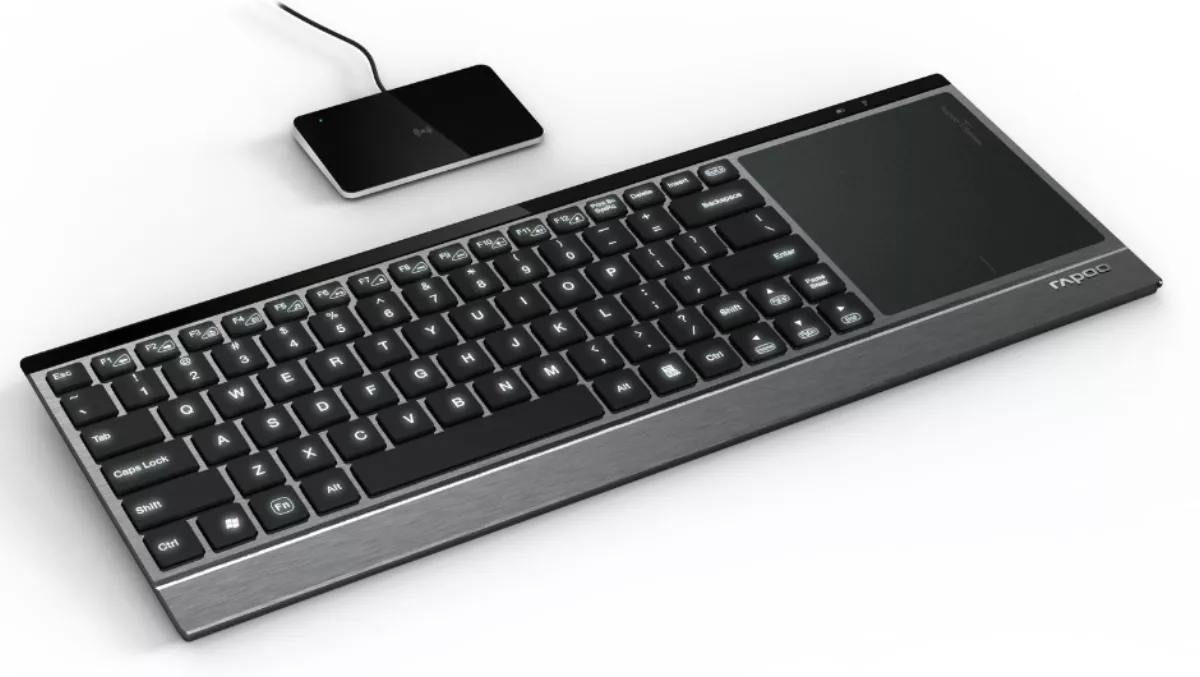 Hands-on review: Rapoo E9090P Wireless Keyboard
Tue, 22nd Mar 2016
FYI, this story is more than a year old
Intended for use with the home theatre PC, Rapoo's E9090P keyboard ticks a lot of boxes. For a start it's illuminated, wireless, has wireless charging and a huge trackpad. When asked if I wanted to review one, I leapt at the chance.
The one of many features that proved useful is wireless charging. Juicing up a widget using a wireless charging pad mightn't be all that new, but boy is it convenient. Even better still, Rapoo's E9090P keyboard uses the Qi standard wireless charging standard. This means some smartphones should also be able to use the E9090P's wireless charging pad.
Look and Feel
Let's face it. Keyboards may not be the most exciting bit of kit, but the E9090P definitely has got looks to spare. This comes down to both its build and Rapoo's choice of materials. Where a lot of keyboards are hewn out of Tupperware, the E9090P has an aluminium chassis. Not only does this lend the E9090P a solid feel, but it looks great too.
The E9090P is both thin and light. This makes it ideal for home theatre PC use as it's easy to tuck out of the way, and to pick up and use. If you're a fan of the black on silver Darth Vader school of design, you'll find the E9090P attractive. It is (dare I say it), a stylish keyboard that should be at home in most living rooms.
In Use
The E9090P's Scissor key mechanism makes for a low profile design. Key travel is short. That said, they E9090P is comfortable to use for both hunt and peck as well as touch typists. Its layout is standard QWERTY laptop style fare. Multimedia functions are along the top row of function keys and are accessible via the FN key.
It's also a wireless beastie, using the 5GHz band. This means it is unlikely to interfere with other wireless widgets and will be less likely to suffer from interference.
On the right hand side of the E9090P is a large track pad which supports multi-touch gestures. In use it proved to be perfect for driving Kodi, being precise and responsive.
Getting set up with the E9090P was a doddle. Once charged, it connected up to the supplied wireless USB dongle when I powered it up. No pairing hassles, no messy driver installs. It just worked. I also found that its range was up to 10 metres (or less if walls and other objects were in the way). Unless you're lucky enough to own a 100" TV, 10 metres is going to be plenty of range.
The E9090P is also illuminated. Its brightness level switches on or off using FN + Tab keys (You can also choose two levels of brightness).
Battery life on the E9090P varied with use. On average I got 4-5 days with medium to heavy use and longer with lighter use. a wireless charging capability also made keeping the E9090P juiced up effortless.
Verdict
The E9090P wins on many fronts. Its key mechanism feels good to use. Its aluminium build translates into a good looking yet solid piece of gear. LED illuminated keys and a roomy trackpad are also definite bonuses too.
If keeping keyboards charged strikes you as a hassle, the E9090P's wireless charging capabilities will appeal, as will the ability to charge devices supporting the Qi wireless charging standard. What's not to like?
Tech specs: Rapoo E9090P
Keyboard style: Mechanical (Scissor switches)
Backlighting: Yes, white, adjustable
Connectivity: Wireless (5 GHz)
Dimensions/weight: 404 x 154 x 26 mm x 962 g