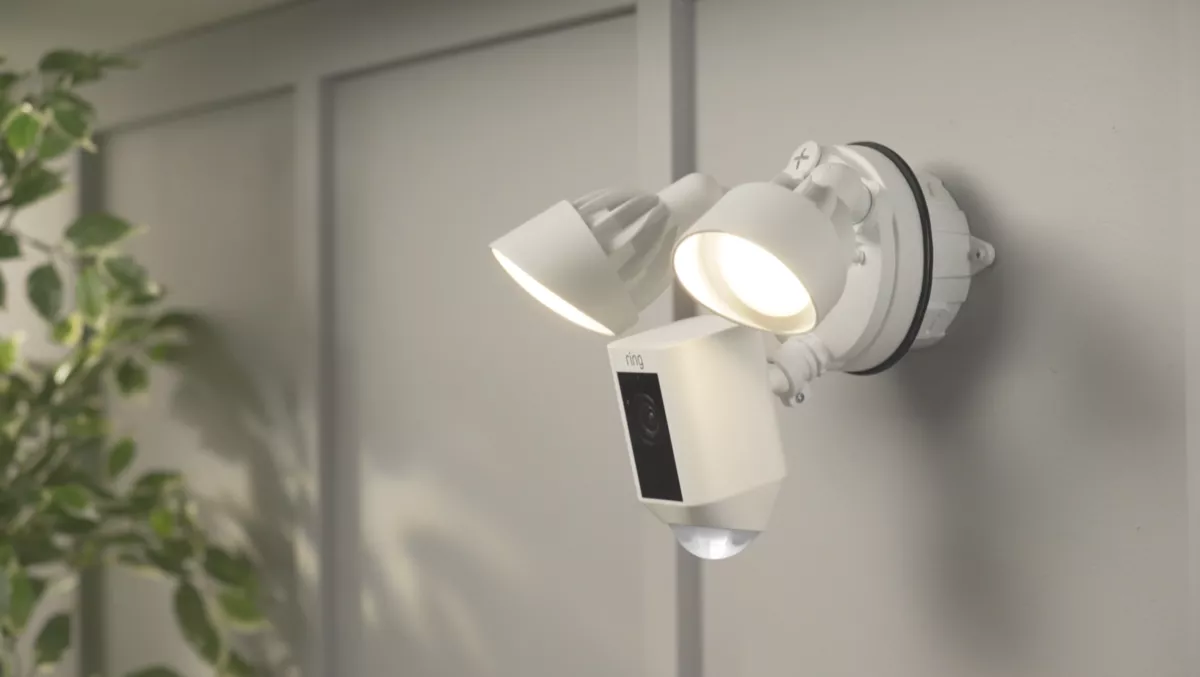 Hands-on review: Ring Floodlight Cam gives you eyes, ears and voice everywhere
Thu, 21st Sep 2017
FYI, this story is more than a year old
By Patrick Martlew, Community Editor
If you have a family home, physical home security can understandably be of utmost importance, and things like security cameras could be something that you might think about investing in.
However with IoT transforming the way we think about just about any device, security cameras have to be more than just a single camera operating to a server, they have to be smart.
Ring's Floodlight Cam is an example of how smart a security camera can be, as it is connected to the internet, and feeds data directly to your smartphone.
Ring Floodlight Cam is a device that is installed as a hard-wired security camera, almost anywhere outside your home and is connected to the internet, giving it a smart device feel, and allowing you to check in on it no matter where you are.
The camera itself is weather resistant and provides 1080P footage with a 270-degree range of motion.
The interesting design feature of the device is the addition of two considerably bright LED floodlights, that can be adjusted to point in any direction, in order to provide the best lighting in dark environments.
The device uses motion sensor technology, which was fairly effective in testing, picking up just about everything that moved in front of the device.
However, you can adjust the sensitivity of the motion sensors by selecting the range you want to target for motion sensing, as well as mapping specific areas that you want the camera to focus on.
This is designed to inhibit any false positives you might receive from things like cars and people walking along the street (if you have it set up at the front of your home), and we must say that it worked fairly well.
If the camera detects motion, it will send a notification directly to your phone, and from there, you will be able to receive a live video stream from the camera, to determine why it was set off.
Depending on the time of day, you can also set up the camera to beam the floodlights when motion is detected, giving you a full range of vision in the darkness.
The really interesting aspect of the device is its two-way talk feature, which gives you audio of the environment and lets you use your smartphone to project your voice through the camera's speaker.
This gives you the opportunity to talk to anyone that might be around the camera, and hear what they say back to you, so any unwelcome guests can be aware that you're watching them.
If all else fails, there is also an alarm built into the device that is loud enough so that neighbours will be able to hear it, which is a nice feature that gives it an 'all-in-one' feel.
The one thing that may inhibit the floodlight cam for some users is the bandwidth requirements, as while it only requires 2mbps upload speed, Ring recommends a higher speed for optimal video streaming capacity.
Aussies who are still on ADSL2+ might struggle here and might need to upgrade to the NBN for an optimal experience, but for most users it shouldn't be an issue, and testing it with a mid-tier NBN connection provided no issues with bandwidth.
The Ring floodlight cam is an interesting device, that gives homeowners a unique sense of surveillance that is fairly unobtrusive, sending alerts only when motion is detected and giving you peace of mind without having to constantly check video feeds.
It is available now in New Zealand for $429 (NZD) or in Australia for $379 (AUD).