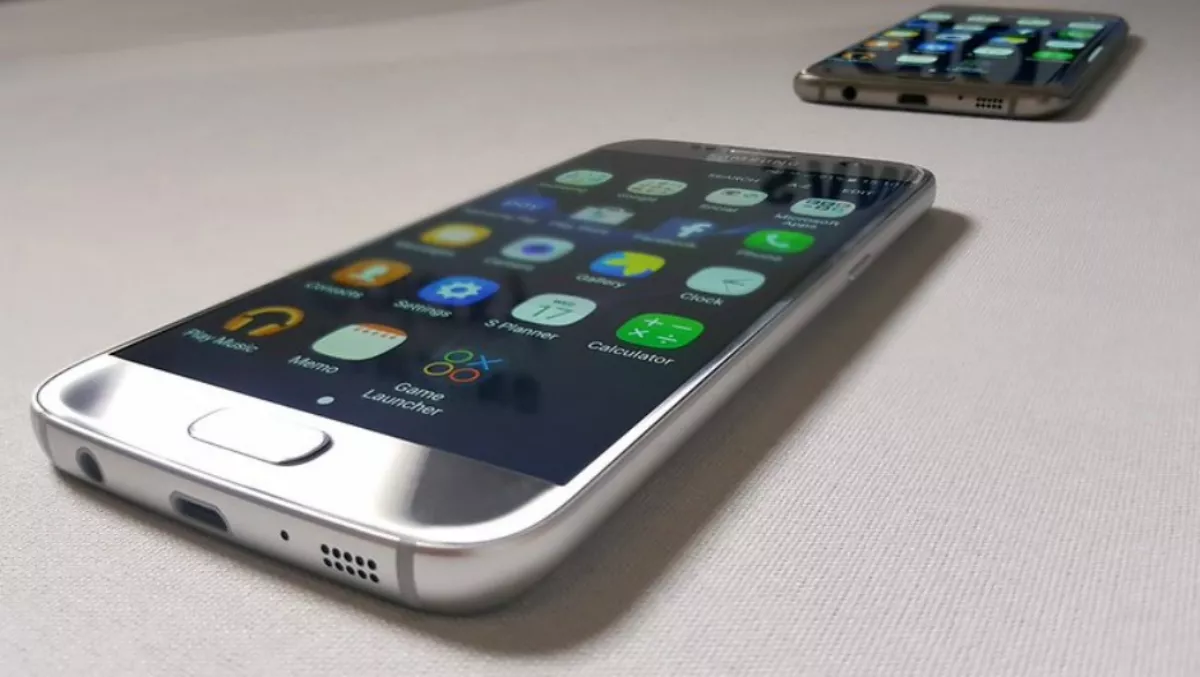 Hands-on review: Samsung Galaxy S7
FYI, this story is more than a year old
After much speculation, the Samsung Galaxy S7 is finally here. Pat Pilcher was lucky enough to get his hands on one for a week - here are his first impressions.
Look and Feel
Samsung's Galaxy S7 looks a whole lot like the Galaxy S6; it is about the same size and roughly the same shape. In the hand, though, it feels a whole lot more comfy thanks to its curved back and soft rounded edges. This translates into better grip. The S6 feels a lot less like an expensive bar of soap that could plunge to the pavement for a costly trip to the repair shop.
The S7 is also built like a brick you-know-what-house. There is not a hint of flexing and no misaligned seams. All told it feels solid. This showcases its other nifty feature - its IP68 rating. This means the S7 can take a dunking and live to phone another day. The impressive thing is that this is with no ugly and rubber flaps. The S7's USB, headphone sockets and buttons are all waterproof.
Spinning the S7 around also reveals that its rear camera sticks out less than with the Galaxy S6, jutting out a mere 0.46mm. In use this meant it didn't catch on pockets, nor did it get in the way.
Bells and whistles
The Galaxy S7 display is a 5.1" QHD (2,560 x 1440 pixels) beast. It is one of the brightest screens I've seen in a long while. Colours are vibrant. Blacks are as dark as pitch, while text is so crispy you'd think Colonel Sanders had cooked it up. In short, the Super AMOLED display is up to Sammy's usually high standard.
Spec freaks will have already noted that the Galaxy S7's snapper dropped from 16MP on the S6 to 12MP in the S7. The devil is in the detail. The camera aperture has moved from f/1.9 to f/1.7, while image sensor pixels have been up-sized from 1.12μm to 1.4μm. This lets the S7 capture 50% more light. The S7 is also the first phone to use dual-pixel auto-focus which makes for near instant focusing. Hitting the home button twice in rapid succession fires up the camera app. Thanks to its dual pixel focus smarts, the S7 is also focused and ready to rock. For anyone with kids or pets, it'll be a welcome addition.
The Galaxy S7 packs an in-house developed Exynos 8890 CPU. It is an octa-core beast with four cores clocked at 2.3 GHz for demanding tasks, and four at a less battery draining 1.6 GHz. The S7 also has 4 GB of RAM, which allows the Galaxy S7 to handle anything I could throw at it games-wise. Split-screen multitasking also worked well,
Interface-wise, the S7 will be familiar to existing Samsung owners. TouchWiz has continued to evolve, and is now pretty refined. Split-screen apps have also been baked in. Tapping a button on the top right of windows allows for on screen multi-tasking. It isn't as intuitive as a notebook PC, but it works at a pinch (or tap).
Samsung have taken a leaf out of Motorola's book and added an always on screen feature. This can display calendar, clock and other notifications on the S7's screen when it is on standby. Because AMOLED turns black pixels off, the always on screen exacts a minor penalty on battery life. Samsung says that it won't drain any more than around 1% of battery life over the course of an hour. In use this did prove to be the case.
Speaking of battery, the S7 has a 3,000 mAh. This leap in battery capacity is possible because the new battery is curved. This means it can occupy space that'd otherwise be empty space inside the S7. Fast charging and wireless charging is also baked in. Using a fast charger I was able to get from no juice to 100% in an hour and a half. Using a spare Samsung fast-wireless charger saw charging times increase by around 15 minutes.
The larger battery, Android Marshmallow and energy efficient CPU allowed the S7 to keep the lights on for a day and a half with moderate use. Heavy use translated into one day with 10% charge remaining at bed time.
The real standout feature is the S7's camera. It showcases just how effective the tweaks are that Samsung made to the lens and sensor. While the camera in the S6 was already pretty impressive, the S7's camera raises the bar yet again. Low light shooting delivers usable shots with decent colour saturation and low noise levels.
Verdict
The Galaxy S7 hasn't so much headed in a new design direction. Instead, Samsung chose to listen to feedback from S6 users. Using that feedback to inform how they should refine the design of the S7 has paid real dividends. The net result is a polished, comfortable phone that is a joy to use.
Related stories
Top stories