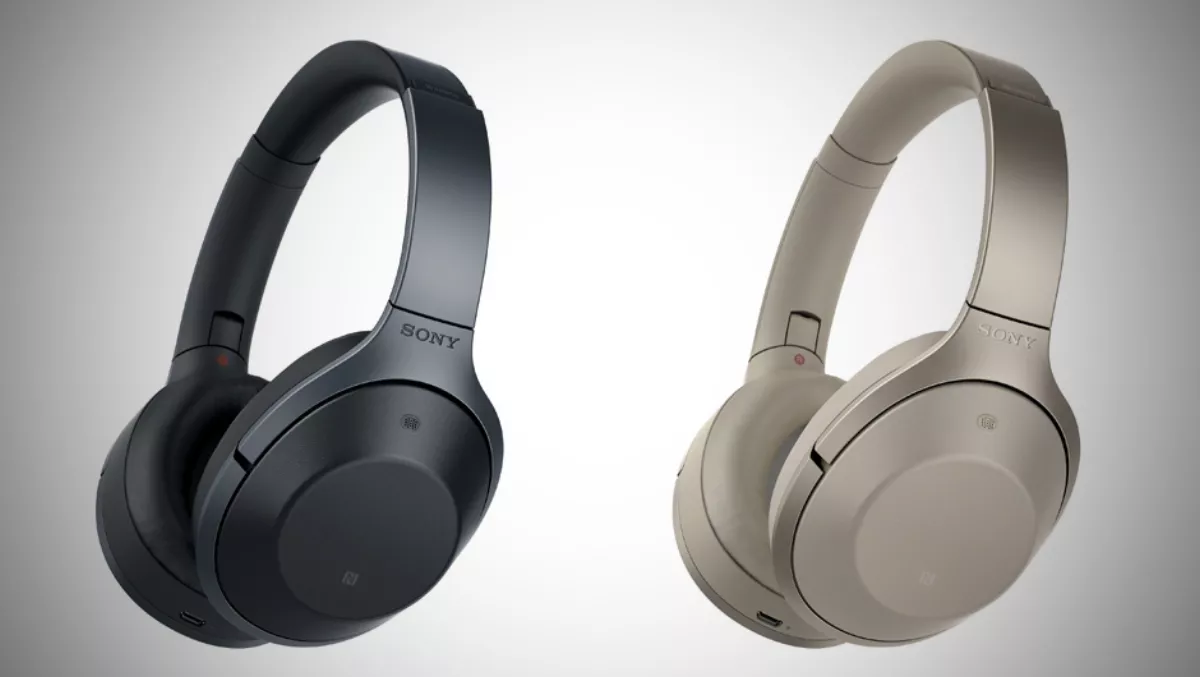 Hands-on review: Sony MDR1000x Bluetooth Headphones
FYI, this story is more than a year old
​Sony have an impeccable sense of timing. Almost straight after Apples headphone socket-less iPhone 7 launched, the MDR1000x Bluetooth headphones arrived. Here's my first impressions.
Sony has a long and impressive heritage when it comes to personal audio gear - they were the inventor of the Walkman (which amazingly happened nearly 40 years ago!). Now they're back with the MDR1000x, their flagship headphones that incorporate some very clever tech indeed.
Look and Feel
The MDR1000x's are the sort of ear gear Darth Vader wouldwear. They're no-nonsense black on black and look built to last. Petite, they're not, but solid, they definitely are.
Perhaps one of the defining characteristics of the MDR1000x cans is what you can't see. Where many other Bluetooth headphones incorporate Play/FFW/RRW, power and a host of other controls, the MDR1000x's are sparsely populated. With the exception of 3 small on off buttons for powering up, activating noise cancelling and tweaking audio and charging plus cable sockets, the MDR1000x's have a very uncluttered and clean look.
Comfort
My personal preference is for over ear headphones. This comes down to several factors, first of which is comfort. Thanks to swivelling gear cups and a soft padded, adjustable headband, the MDR1000X's feel both comfy and snug to wear. Their padded cups also do a good job at noise isolation which is made even better when active noise-cancelling is fired up.
They may look formidable, but the reality is that theMDR1000x's are one of the more comfy over ear headphones you're likely to throw on your noggin.
In Use
Pairing Bluetooth anything is about as much fun as being kicked in the nuts but Sony added NFC pairing which made the entire pairing process a tap and go experience.
NFC goodness aside, Sony have also added some clever twist to the MDR1000x cans. This takes the form of gesture control. Want to turn up the volume? Swipe upwards on the right ear cup. Need to skip a track? No problem, swipe forwards or backwards. Placing your hand over the right ear cup also allows you to shut off or enable noise cancellation.
Speaking of which, active noise cancellation is driven by four built integrated microphones. It is also pretty effective, encasing you in a surreal cone of silence. Being able to turn it on or off with a hand gesture also proved to be pretty handy when someone tried talking to me.
Gesture controls aside, several control buttons are also discretely tucked away on the underside of the left ear-cup. These consist of noise cancelling, power plus an Ambient audio button which allows you to hear environmental sound.
Don't let their minimalist design fool you. There's some very clever smarts hidden away. For a start their noise cancelling uses some particularly clever audio signal processing, allowing the MR1000x's to tweak active noise cancelling settings based on the shape of your noggin, (for instance, it'll change audio settings if it detects you're wearing glasses).
All these bells and whistles seem to have a fairly minimal impact on battery life too – Sony claim 20 hours of use is possible. In use I was averaging 17-18 hours of use spread across several listening sessions.
Audio
Fancy pants features are one thing, but the real selling point for any ear wear has to be audio quality. Sony win several metric tons of brownie points on this front too.
There's not only support for APTX, audio codecs but DAC is present too. It'll deliver near hi-res quality Bluetooth audio, which when combined with the MDR1000x's 40mm drivers results in crisp, warm and vibrant audio.
If like me most of your audio collection consists of low-fi Mp3 files,the MDR1000x also supports DSEE HX which can in theory upscale compressed music to near Hi-Res quality. There is an improvement, but I'm a bit dubious about it being comparable to hi-res audio.
Last but by no means least there's also a bundled cable for those situations where Bluetooth is not allowed (some airlines still prohibit its use in flight).
Verdict
Sony's MDR1000x cans tick a whole lot of boxes. They are not petite,but a clever folding design means they're ideal for travellers. Industrial strength noise cancelling and excellent audio combined with a comfy design sees the MDR1000x raising the bar when it comes to noise cancelling wireless ear wear
Related stories
Top stories