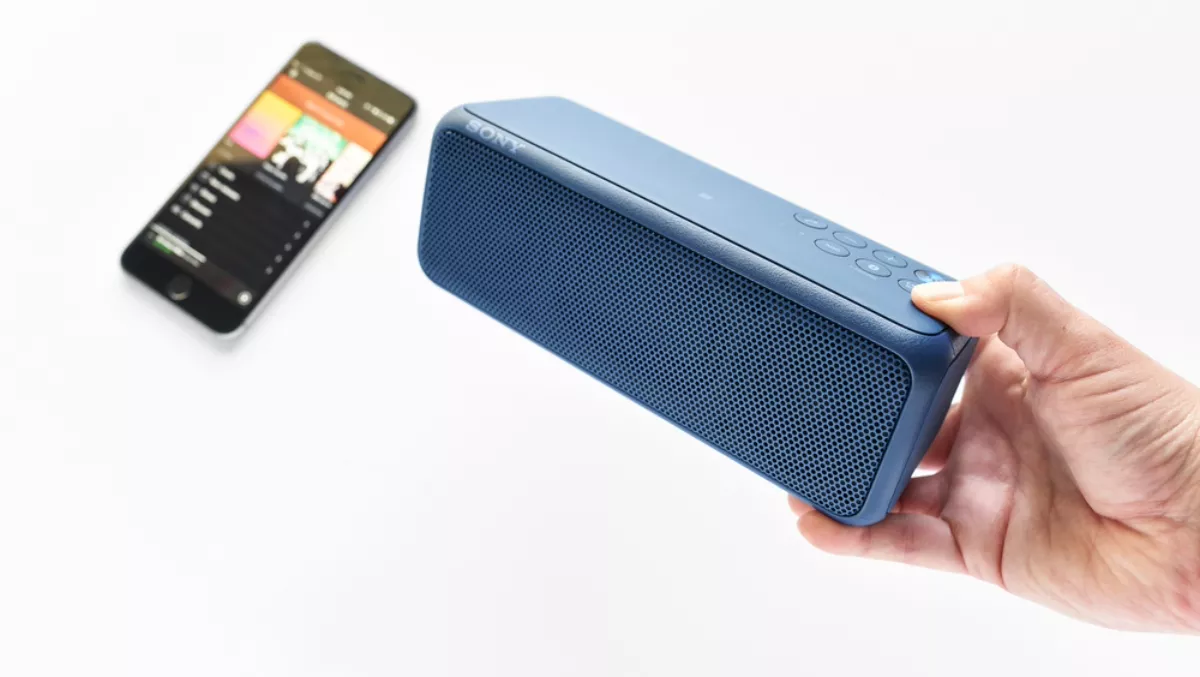 Hands-on review: Sony SRS-XB3 Bluetooth Speaker
Thu, 21st Apr 2016
FYI, this story is more than a year old
By James Fraser, Ex editor/contributor
The Sony SRS-XB3 Bluetooth speaker is a good quality, USB-chargeable, compact, multi-layout Bluetooth speaker built for bass. The supported Bluetooth codecs are AAC, LDAC, and SBC, it has a frequency range of 100 – 7,000Hz, and has Stereo mini-jack input.
Extra Bass button
Designed for bass
Volume control
Easy to pair
Can add a second for stereo sound
Compact
Nice design
Water resistant
Long battery life
Multi-layout, works standing up or lying down
USB charging
The SRS-XB3 is designed for bass. It has 'deep sound', and a button for 'extra bass'. Even with 'extra bass' disabled, it still produces a low-frequency, 'deep sound'. You essentially have a choice between a normal bass and a booming bass. To do this, it uses a 48mm large full-range speaker with an embedded magnet and long stroke to reproduce deep bass sound, combined with a light diaphragm to achieve high sound pressure to deliver a 'punchy' bass sound.
It was very easy to pair with my PC, which has built-in Bluetooth. All I had to do was turn on the speaker, press and hold the pairing button for a few seconds, then search for it on my PC. It appeared in the list immediately, and all I had to do was select it and click 'next'. My PC installed the necessary software and the speaker linked up immediately. I set it as my default speaker device and it was ready to go.
It has a volume control on the speaker, but volume can also be controlled using the device volume. I found the speaker volume was good for fine-tuning the levels for clearer audio. I set the volume on my PC to a good level, and then clicked up and down on the speaker volume a couple times until I found the right balance. I quite happily watched an episode of 'Fringe' on Netflix using the speaker, the sounds were nice and deep, but the dialogue was still perfectly clear.
You can also pair two of the speakers together for stereo sound, although it's a fairly expensive option considering these speakers cost $300 each.
The SRS-XB3 Bluetooth speaker is also fairly compact. It won't fit in your pocket, but it would be easy to carry around in a small bag. It is also water-resistant and has a long battery life of 24 hours, so it should be fairly durable. It can be used either standing upright or lying down on its side, so it can fit into different layouts or setups.
In conclusion, the Sony SRS-XB3 Bluetooth Speaker is a good high-quality speaker designed for bass, is fairly compact and portable, as well as durable. It comes in a choice of six colours: red, orange, green, blue, brown or black. It can be paired with a second speaker for stereo sound, however that will set you back a fairly hefty $600 at $300 each.