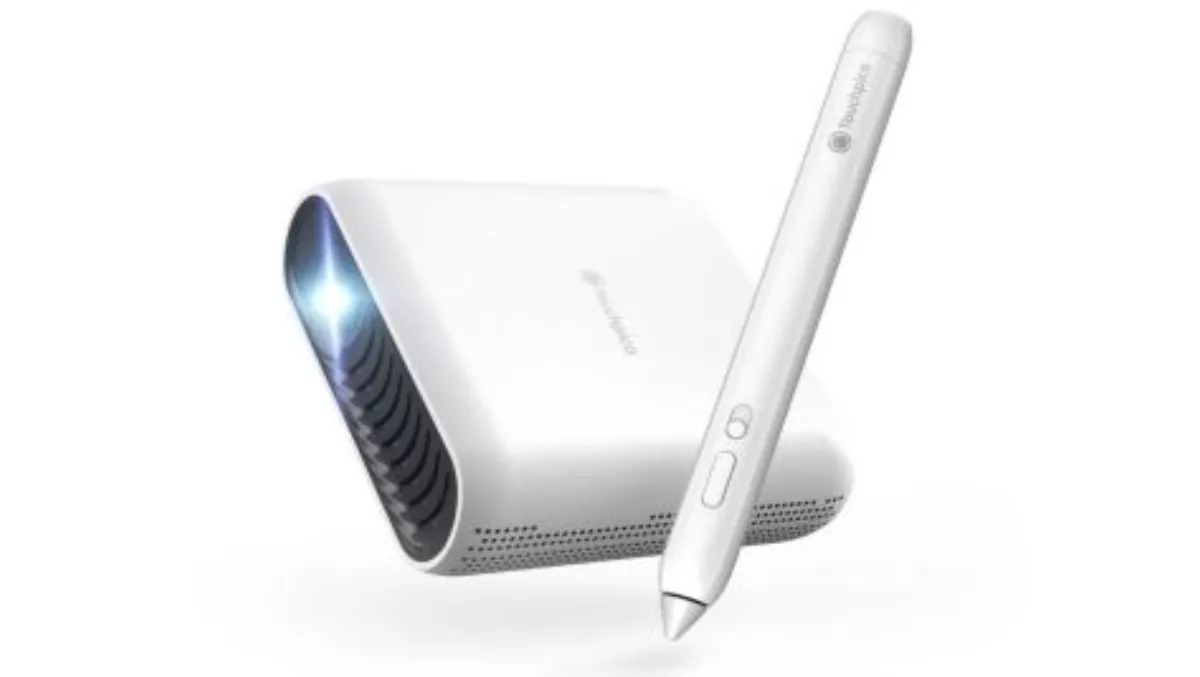 Hands-on review: Touchjet Pond TP1
By Sara Barker,
Fri 6 Nov 2015
FYI, this story is more than a year old
The Touchjet Pond is a small projector and an Android device, capable of turning any vertical surface into an 80" interactive screen.
With the ability to project documents, apps, presentations and other media, it's a useful device for learning environments, group collaboration projects and interactive settings.
There are four different ways of controlling what's on screen - some better than others. It's a fantastic device, but sometimes it's just a little bit awkward.
The Touchjet Pond runs a full Android system so you can install apps and use it as a projected tablet, featuring Bluetooth and Wi-Fi connectivity plus three ports: Micro USB, Mini-HDMI and Audio Out (3.5mm jack).
Existing education users often turn to apps like Prezi, Google Earth and mind mapping tools. For instance, one users has set up the device in a corner so small teams can use Google Earth while collaborating for a project. The pond makes an interactive aide that can be used alongside education apps such as PowerPoint, or other tools such as a whiteboard.
The manual focus adjust lever seems basic compared to the rest of the device but it works. Two styli are provided, as well as the excellent Airmouse remote.
A dark or dimly-lit room is essential for best viewing quality. The manual recommends a setting of one to two metres away from a wall, though you can project on an entire wall at reasonable quality.
The projector's sound is fine considering its size, but external speakers are essential for great sound quality. Sadly, the battery power is quite poor - it lasts two hours with moderate usage at full brightness - so the power cable is a necessary fallback.
The Airmouse
The remote also functions as an excellent Airmouse. This method offers precision, easy control and is exactly the kind of remote every projector needs.
The Stylus
The stylus can be controlled in two ways. The first is by directly touching the projected screen - this works best on a smooth surface like a whiteboard. Up to four people can use their stylus at the same time, so instructors and students can all work together.
Some of the issues with using the stylus is that sometimes your shadow blocks workspace access to the parts of the screen you need to touch, so you are constantly repositioning yourself and switching hands.
While traditional projectors also have this problem, it's compounded when you are trying to directly interact with the screen. Even after multiple calibrations, the stylus constantly hit the wrong buttons.
I found that that the smaller the projected area is, the easier it is to work with the stylus. After correcting the problems, the stylus was an adequate though awkward tool to write with, draw and control apps.
The second way to use the stylus is with gestures and motion by using your shadow as a guide. This means you aren't standing in front of the screen or touching the wall and it's a much better method of control. Luckily the Airmouse is a reliable and excellent alternative way of controlling your content.
Touchjet is on the right track with this portable, interactive projector that allows collaborative environments in smaller settings. An improvement to the projector's battery and styli would be welcome, but for now the TP1 is a decent innovation, especially for presentations and educational tools.
Another product in this family of devices is the Touchjet WAVE, which enables users to turn a TV into a giant touchscreen with finger, stylus, and remote app control. This is currently in development and has had a very successful Indiegogo funding round - check out the page here.
The Touchjet is available now in both New Zealand and Australia.
If you'd like to contact the Touchjet team, you can do so here.