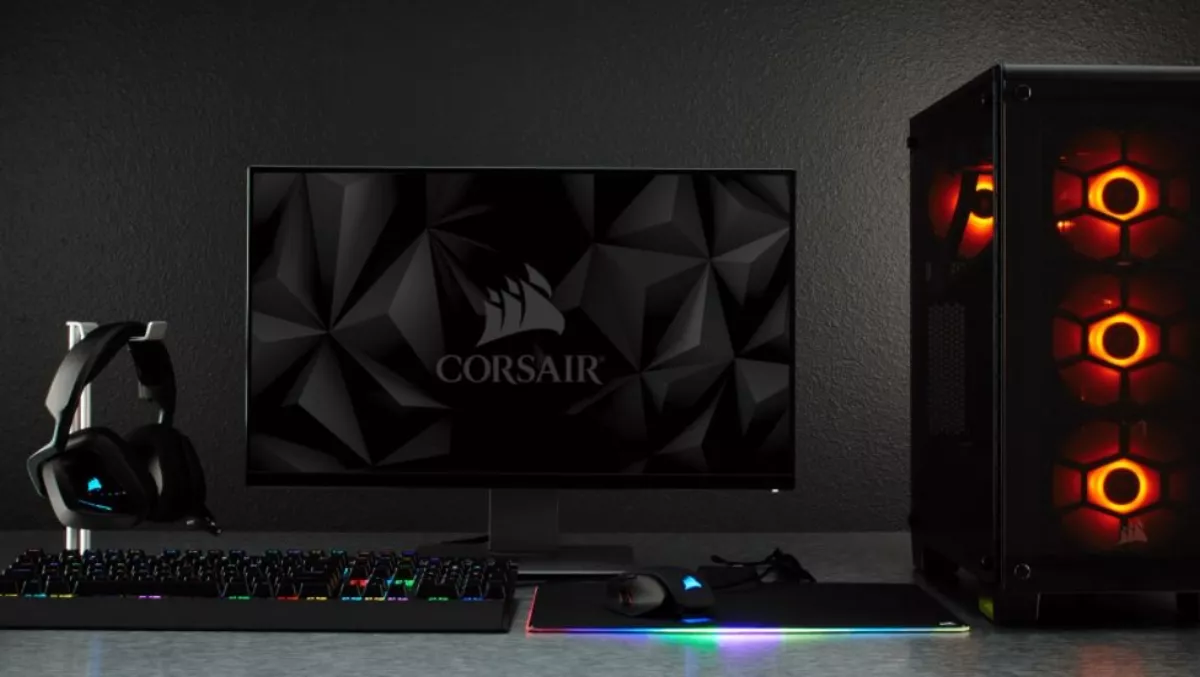 Hands-on review: The ultimate Corsair experience
Tue, 15th May 2018
FYI, this story is more than a year old
By James Fraser, Ex editor/contributor
Over the past couple of weeks, I've been using a range of Corsair products, including the K63 wireless keyboard, Dark Core SE wireless mouse, MM1000 QI wireless charging mouse pad, and the Void Pro wireless 7.1 headset.
The Void Pro wireless headset has 7.1 Dolby surround sound, with customisable lighting and EQ settings. The padding was very comfortable and I could comfortably wear it for hours.
The Audio was great for hearing just about every creak and crack within games, on top of that it performed great when listening to music.
The K63 Keyboard feels very nice when pressing the keys. It's very responsive and tactile. I'm used to a larger keyboard with a full number pad, so at first, I was mistyping quite a lot while I readjusted. The RGB backlighting is customisable, and the spacebar has an interesting texture unique to the rest of the keys.
The increased reactiveness gave me a major edge in online games where slight movements and key bindings are life or death.
The Dark Core SE mouse was very comfortable and fit my hand perfectly. It has highly customisable RGB lighting, as you can have a separate lighting effect and/or colour for the scroll wheel, side lighting, and logo. When paired with the MM1000 QI wireless charging mousepad, the movement was extremely smooth.
I especially noticed this while playing Battlefield One, where my camera movements were extremely smooth as I zoomed across the battlefront.
It also has customisable DPI from 100 up to 16,000. The only thing I would like to see is a hyper-scroll wheel as an extra feature. It's not hugely important as I've found myself using it less often on my regular mouse, but it is a nice thing to have when scrolling through web pages, and there's no reason why it couldn't have it.
The MM1000 QI wireless charging mousepad is very useful and well-made. As mentioned above, when paired with the Dark Core SE wireless mouse, the movement is extremely smooth. It does require two USB 3.0 ports, however, so you'll want to make sure your computer has at least a couple.
The Gaming Lapboard is also really well designed with little latches to secure the K63 keyboard and a spacious area for the mouse.
It's suited towards people who want to be able to stream games to a larger TV screen in the same room as their computer.
Overall experience: Headset:
Auto-mute mic:
Keyboard:
Responsive.
Tactile.
Personally, prefer a slightly larger keyboard, but I got used to it after a while.
Mouse:
Comfortable.
No hyper-scroll, which is useful to have even if you don't use it often.
Not hugely important, but no reason why it couldn't have it.
Highly customisable RGB lighting.
Very smooth on the wireless charging mouse pad.
Wireless charging mouse pad:
Works very well with the mouse.
A bit on the large side.
Can wirelessly charge any QI-enabled device.
Gaming Lapboard:
Has little latches to secure the keyboard.
Spacious area for the mouse.
Very niche use.
Where someone wants to stream a game to their larger TV screen, and their PC is still within range of the mouse and keyboard, likely in the same room.