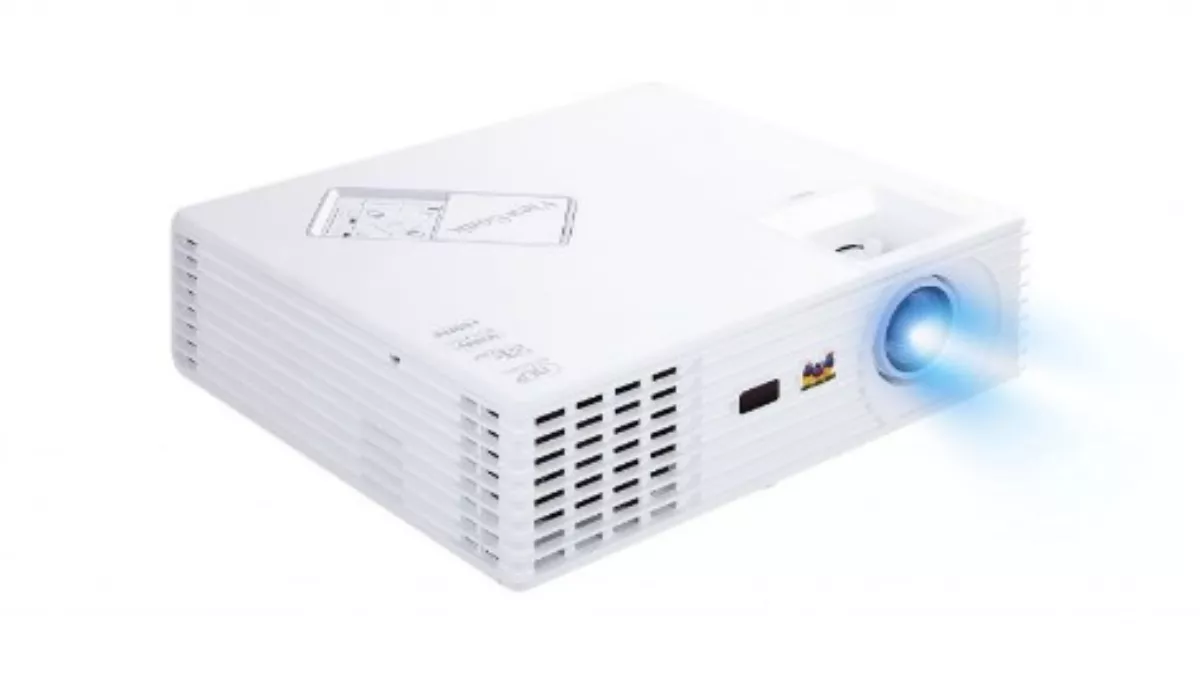 Hands-on review: ViewSonic PJD7822HDL Projector
FYI, this story is more than a year old
The PJD7822HDL projector is an amazing full HD 1080p projector.
Great resolution
Great brightness
Decent audio
SuperColor
Short throw lens allows for use in smaller rooms
First of all, it supports full HD 1080p resolution, which is what you want in any projector because it is being projected at a much larger scale, so any pixelation will be far more obvious.
I hooked it up to my Xbox 360 and tested some games, YouTube, and Netflix and the result was very impressive. The games looked amazing and there was almost no difference in quality despite the image being much larger than usual.
YouTube also had great quality, and Netflix was crystal clear once it had finished doing the standard rendering. The brightness of the screen was also fantastic; even with a few lights on, you could still see the entire picture perfectly clearly.
Secondly, the audio was decent for a projector, but you would probably still want to hook up some proper speakers or an audio system. That being said, I played some games on the Xbox 360 with the projector audio, and even though I'm used to far higher audio quality with my 7.1 Dolby surround sound headset on my PC, I was quite content with the audio quality as far as speakers go.
Another great thing about this projector is that, according to ViewSonics website, it uses SuperColor, which they say is "Best in Class Colour Accuracy". This allows the projector to display more colours than other projectors. It does this using "an exclusive colour wheel design and dynamic lamp control capabilities".
This projector also has a short throw lens, which allows it to project onto a large screen even in smaller rooms. The website says that "images 60-inches [1.5m] in width can be displayed from only 5 feet [1.5m] away". The PJD7822HDL also has a "DynamicEco" button that can dim the display by up to 70% to conserve energy. It will also automatically dim when the projector is idle.
The projector also has a 3D Blu-ray Ready HDMI port, so that it can display 3D images directly from 3D Blu-ray players, such as PCs, laptops, tablets and media players. This is a nice feature to have because it essentially means that, if you have a 3D Blu-ray capable device, you can create your own 3D Cinema experience in your own home.
It also has a powered USB port, so you can plug your Google Chromecast, Roku Streaming Stick or Amazon Fire TV Stick into the projector and play videos directly from the USB device.
Last but not least, the PJD7822HDL has a 1.3x optical zoom lens, allowing it to project images up to 20% larger than a conventional projector equipped with a 1.1x lens, according to the website.
In conclusion, the ViewSonic PJD7822HDL projector is an amazing full HD 1080p projector with plenty of device support and is very scalable to different room sizes, as well as having sharp picture quality, all while conserving energy with its DynamicEco mode. For anyone looking to set up a full HD home cinema, this projector will be perfect at a fairly reasonable price of $NZ 1100.00.
Related stories
Top stories