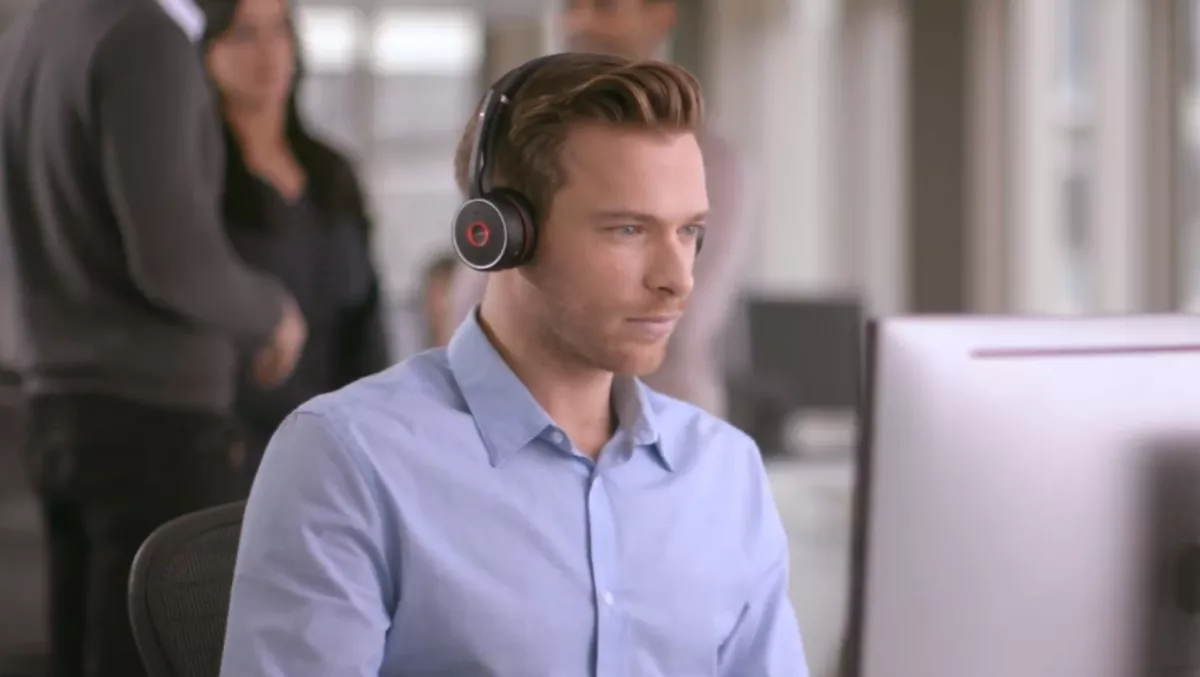 Hands-on review: Wireless headphones for the open plan office of the future
FYI, this story is more than a year old
The Jabra Evolve 75 comes with some ambitious claims, the most important being their ability to function well in a modern open-plan office. As I work from home, and the only noise I compete with is from the telly if my dear wife is watching The Chase… (much later) I can only state that other reviewers whom I may or may not have looked at may have tested them in a noisy office and found that they lived up to their claims. As you will see, however, these headphones have a lot more to offer.
The Charging Station: Charging stations can be awkward affairs but Jabra have put some thought (and style, may I add) to theirs. Once plugged into a USB port, it sits unobtrusively on your desk and neatly stores your headphones when not in use. If the friendly voice that greets you is correct, they will only need charging after a couple of days of intensive use in an office. Even in my cluttered tangle of cables and toys and paper and keyboards and mice, they are not out of place and occupy a pleasingly small footprint.
Using the Bluetooth connection took seconds to connect the headphones to my laptop. Now, I may not be hearing in all areas of the spectrum anymore, but listening to a movie trailer, I was struck by the clarity of the tones. And now, as I write, with tears making my screen rather blurry, I'm listening to Eva Cassidy's rendition of "Over the Rainbow." The tone of her voice and accompanying acoustic guitar are crystal clear, and it's a lovely song. It leaves me a little nonplussed at some other reviews that questioned the quality of these headphones. I'm not saying they're top quality, but I'm hard-pressed to tell the difference between them and my beloved Corsair headphones.
I'll report back on the gaming quality, as soon as I stop crying. Sniff… Just to see how quickly I can switch, I'm now listening to John Lennon's "Starting Over," but this time through my iPhone. Switching devices was a breeze, and if I want to change back it's a snip because the Jabra remains in my laptop's Bluetooth settings.
I did sense a slightly "muffled" quality in this song, but this may have been my winding up the volume. The muffling appeared to happen with sharper percussive sounds. Turning down the volume slightly seems to help. I'm now playing some Celine Dion, (Where does my heart beat now?) wiping my eyes, after a bit of Travelling Wilburys. Honestly, if you don't want those pesky ear pods (they always hurt my ears) these wireless headphones are comfy, and I could happily wear them for hours quite comfortably.
Active Noise Cancellation (ANC) If you work in an environment that has a lot of background noise, you will want to take advantage of this function. It may mean that you miss the boss calling your name, but hey, aren't they the ones who decided that open-plan workspaces were really cool ideas for everybody?
Today's bottom line being ergonomics tempered by cost-cutting, your employer may find the one-off cost of purchasing these high-end headphones more than pays for itself by increasing the number of bodies able to function in a work-space.
Phone Quality The headphones mean that I can interact in a hands-free environment. As long as I remember to say "Hey Siri," there's no need to use my hands at all. This means that I've been able to listen to my favourite hits, in stunning stereophonic quality, check messages, and call my wife in the living room, all while writing this review.
I mustn't close without mentioning the handy carry-case that accompanies the Jabra 75 headphones. If you like clean lines, a utilitarian and simple interface, comfort and great sound quality on your phone calls or listening to your favourite tunes, you should look at the Jabra 75 option.