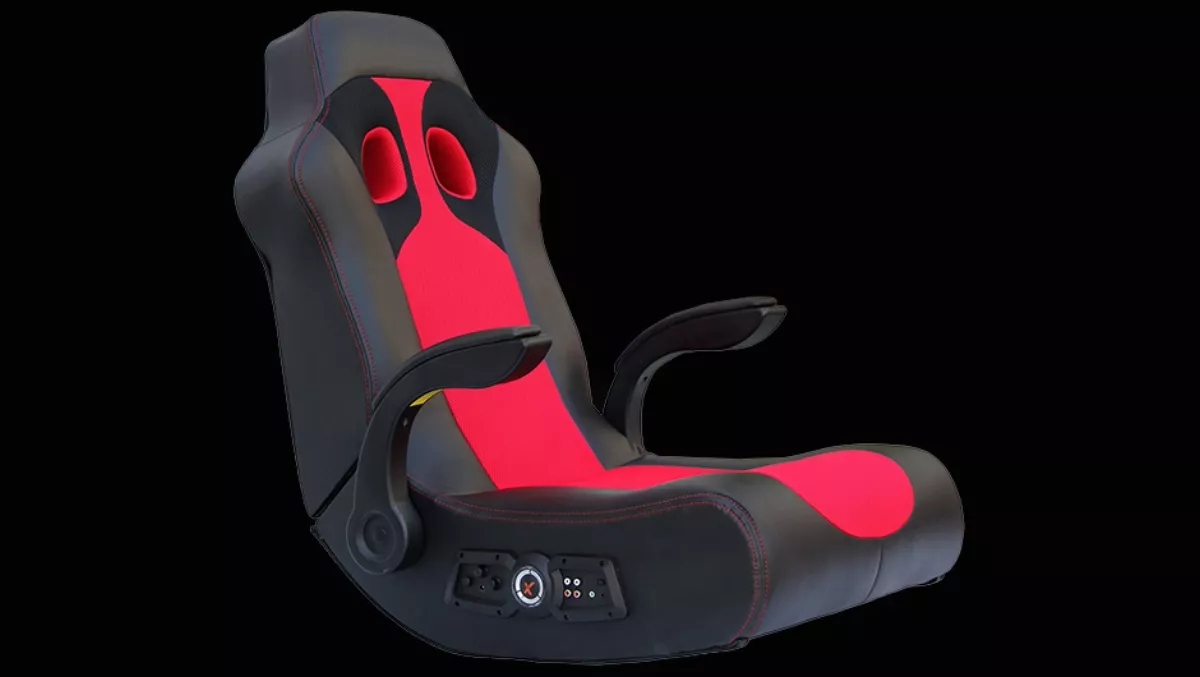 Hands-on review: X-Rocker Gaming Chairs
FYI, this story is more than a year old
X Rocker Gaming chairs are comfortable, wireless chairs with built-in speakers and vibration units. The chair I tested (the Pro Pedestal Wireless) felt very natural to sit in, extremely comfortable, and could easily be used for many hours at one time.
The Pro Pedestal has two Side-facing speakers, with a powerful subwoofer with high quality sound built right into the chair. These speakers project the sound and emulate a full surround system with amazing clarity. A wireless transmitter is included, so you can wirelessly connect to a console.
X Rocker chairs supports RCA input to enable connection to any audio source that supports RCA. The audio quality was superb - when I tried it out on the Xbox One it was hooked up to, the sound was perfectly clear with no distortion or muffling. It also has Aux and headphone jacks, which allows you to plug in an auxiliary device such as an MP3 player, iPhone or similar for listening to music. If you don't wish to disturb others, the headphone jack is also useful.
X-Rocker uses what they call Audio Force Modulation (AFM) technology to enhance the sound. Essentially, AFM incorporates the audio from the speakers and subwoofer and uses the open space inside the X Rocker - not just the- to magnify the sound quality. What this means is there is more vibrational audio, which intensifies every experience and allows you to feel it instead of just hearing it.
There are volume and bass controls on the control panel, on the side of the chair next to the input ports. The X Rocker gaming chairs easily connect to most media devices, so they don't just have to be used for gaming. They can also be used for listening to music or watching a movie, reading or even just relaxing.
The Pro Pedestal Wireless has Gunstock Arms which keep your hands in the correct position and an ergonomic design which prevents poor posture. Not only is it comfortable, but it looks good too, with durable upholstery grade vinyl, breathable mesh, adjustable armrests, and a padded headrest. The Pro Pedestal Wireless folds up for easy storage (in fact, all the X-Rocker Gaming Chairs do) and can even be used without the pedestal just on the floor so that you can rock back and forward.
Finally, on top of the vibration created from the incredible audio system, the X-Rocker gaming chairs have additional motors for enhanced vibration. These motors sync with the sound system for incredible rumble when the bass is engaged. You can feel every gunshot, car collision and impact - this also works with music.
In conclusion, the X Rocker gaming chairs are high quality, stylish, ergonomic, superbly comfortable gaming chairs that support almost all media with high quality audio. It creates a whole new experience to any gaming encounters, as it adds a whole new dimension.
In terms of the range, there is also the Alpha 2.0, which is like an Office chair which incorporates a rechargeable battery, while the other two models require a 240 volt outlet for their sound and vibration functions. Equipped with Bluetooth, side speakers, AUX pins and a headset option. You can connect your laptop or Macbook via Bluetooth, which enables you to take phone calls and allows you to freely move around while the chair projects sound from side speakers.
Also available is the VIBE, which sits on the ground, can rock back and forth, has Bluetooth, vibration motors, subwoofer, and RCA, among many other features. It shares all the features of the Pro pedestal, except the wireless function.
If you would like to know more about the family of X-Rocker Gaming Chairs, click here.
Related stories
Top stories