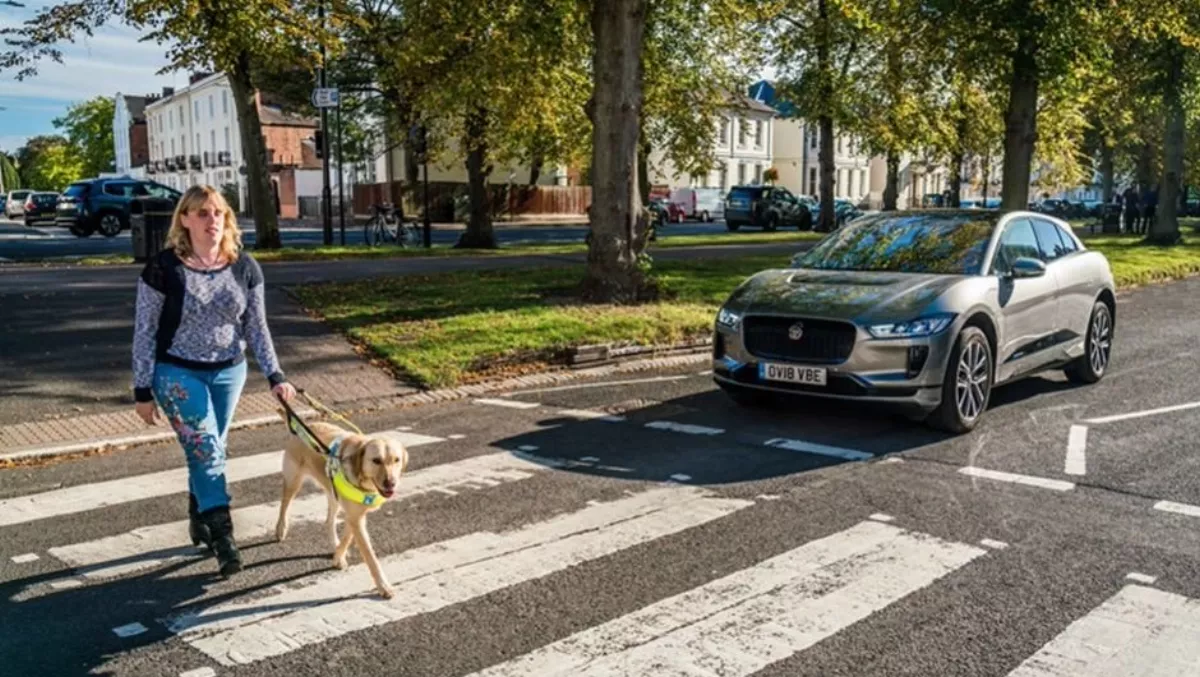 Jaguar EV's new sound alert for blind pedestrians
FYI, this story is more than a year old
If you've noticed that EVs are reasonably quieter than other vehicle types, spare a thought for those who can't see them coming.
Some people have raised concerns about the risks that EVs pose to road safety, and the lack of noise is one of them, particularly for pedestrians who are blind, visually impaired, or otherwise vulnerable.
As part of World Sight Day (October 11), Jaguar has developed an Audible Vehicle Alert System (AVAS) for its I-PACE EV. The sound alerts people to the vehicle's presence.
The sound comes from a speaker behind the car's front grille, can't be 'disengaged', and can be heard in every direction at up to speeds of 20km/h.
The alert increases in pitch and volume in line with the speed of the vehicle and, when in reverse, is accompanied by an additional tone that indicates the change in direction.
AVAS is not required at higher speeds as there is sufficient wind and tyre noise for pedestrians to hear the zero-emissions vehicle approaching.
According to Jaguar NVH technical specialist Iain Suffield, the technology could be life-saving.
"The absence of traditional engine noise from electric vehicles creates a problem for vulnerable pedestrians, such as the blind or visually impaired. This is especially true at low speeds in town centres and car parks."
How hard is it to develop the right sound? It took Jaguar engineers four years to perfect it. They were trying to create something that is audible and discreet, and can't be heard inside the vehicle.
One of the original sounds included one inspired by sci-fi spacecraft, but instead of looking at the road, pedestrians ended up looking at the sky. Good thing that one was shelved.
Jaguar also enlisted the help of the UK Guide Dogs for the Blind to test the sound out. The charity helps people affected by sight loss.
"Guide Dogs campaigned hard to make it compulsory for quiet vehicles to have sound generating systems built in and turned on, including when the vehicle is stationary at a pedestrian crossing," says Guide Dogs for the Blind's John Welsman.
"We applaud Jaguar for being the first to launch an EV which meets standards before the new legislation even comes in and look forward to working with the company more in the future."
The European Union will soon be rolling out strict legislation about warning sound alerts in July 2019, which require at least a 56dB minimum output.
The AVAS will be rolled out in Jaguar's first EV, the I-PACE. Fitted with a state-of-the-art 90kWh lithium-ion battery, two Jaguar-designed motors and a bespoke aluminium structure, the I-PACE is capable of 0-62mph in 4.5 seconds and a range of up to 292 miles (WLTP).
Related stories
Top stories