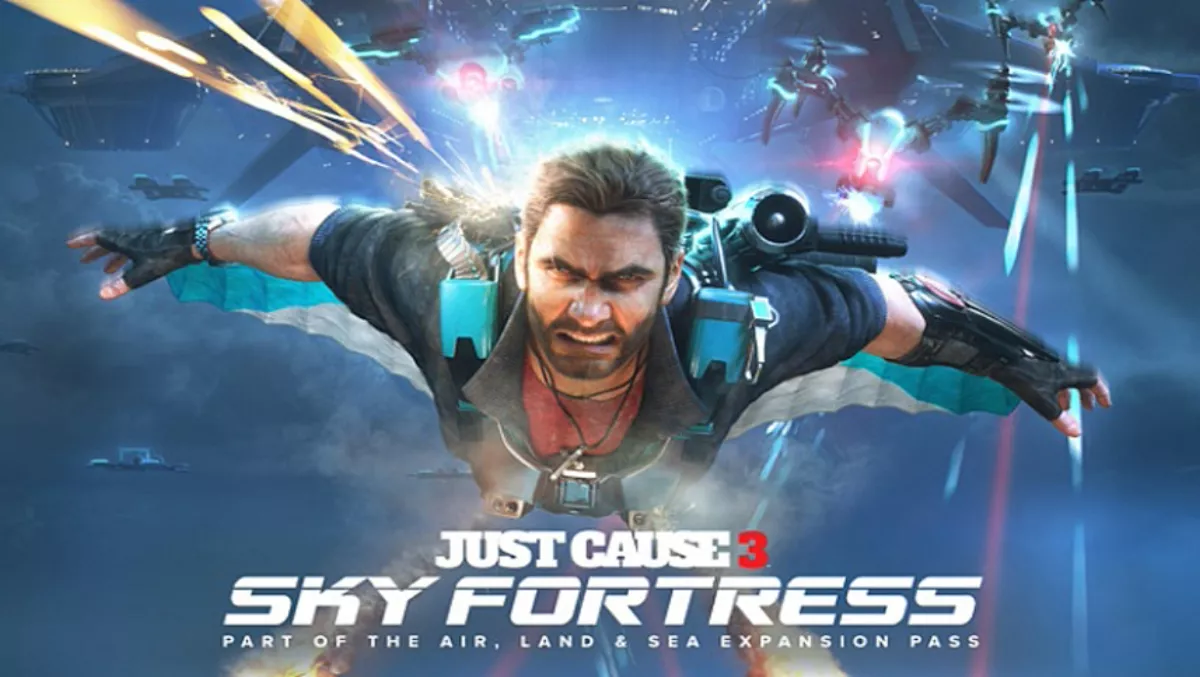 Just Cause 3 gets jet-propelled DLC
Sat, 26th Mar 2016
FYI, this story is more than a year old
Just Cause 3 gave me plenty of late nights/early mornings when it was released earlier this year. Square Enix are now extending that mayhem with the release of the first DLC expansion, Sky Fortress, available separately or as part of the Land, Air and Sea Season Pass.
The expansion introduces a new enemy in the eDEN Corporation with their hi-tech drone-based hardware. The expansion also has Rico kitted out with the jet-propelled Bavarium Wingsuit, complete with missile launcher and machine gun. Basically, this expansion gives Rico the abilities of Iron Man.
And it's awesome.
Controlling the Bavarium Wingsuit takes bit of getting used to, but it is so much fun- increasing the excitement you get from low level wing-suiting tenfold, now that you can do it at breakneck speeds. The new wingsuit comes in handy when you find yourself in the drink miles from land as the jets can be engaged in water, complete with a cool animation suggesting that Rico hasn't quite mastered water take-offs.
The other big addition is a whopping-great sky fortress (that looks a lot like a SHEILD helicarrier) floating high over Medici. Surrounded by a fleet of eDEN drones, the aerial platform offers up two new areas to conquer- feats that will take Rico inside the huge structure. The immense size of the sky fortress more than makes it up to fans that have been missing the Mile High Club from Rico's second outing.
Liberating the sky fortress opens up the new eDEN missions, which in turn unlocks new upgrades- a personal defence drone and the new Bavarium Splitter assault rifle and Bavarium Wingsuit challenges.
The Sky Fortress expansion breathes new life into a game that many will have already played to death, which is exactly what a good bit of DLC should do. With the new missions, weapons and the exhilarating Bavarium Wingsuit, this DLC should be top of the list for all fans of Just Cause 3.
Verdict: 9/10