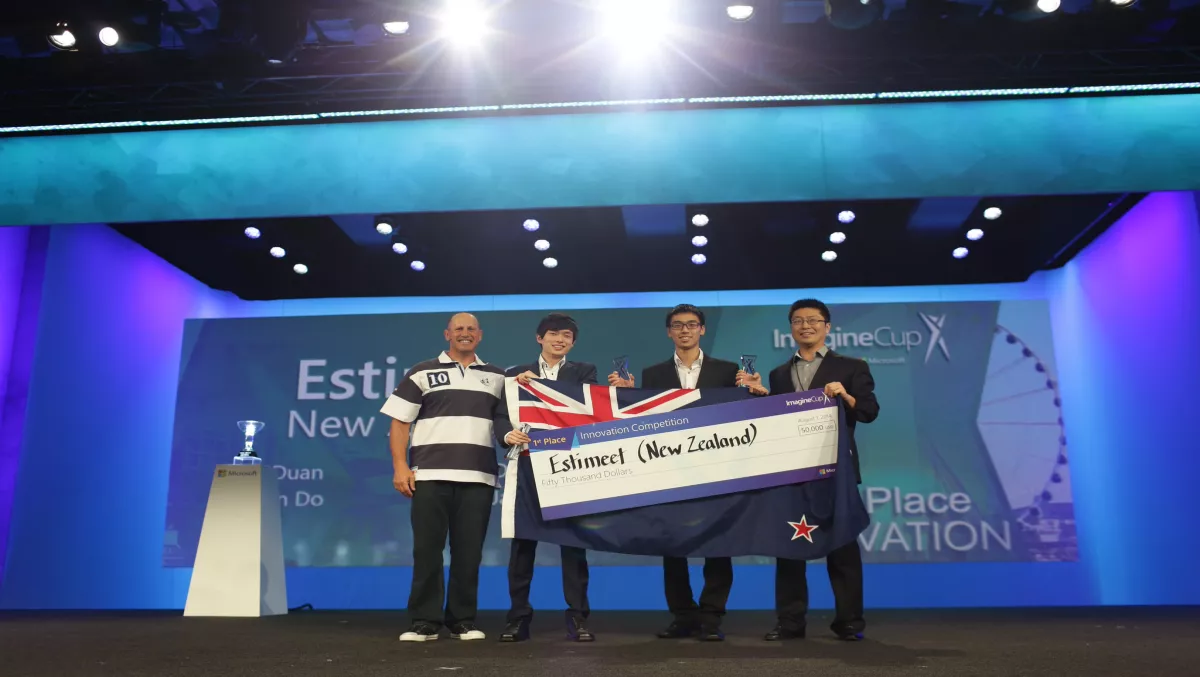 Kiwi students rule the world at Microsoft Imagine Cup Finals...
FYI, this story is more than a year old
A University of Auckland student team has won first place and a $50,000 prize in the 'Innovation' category at the Microsoft Imagine Cup World Finals in Seattle this week for their social interaction app, Estimeet.
Team Estimeet members Hayden Do (19), Jason Wei (19), Chris Duan (30), and Derek Zhu (22) designed the app to track the real-time locations of people making their way to business or social meetings.
All the competition winners were announced at the Imagine Cup World Championship ceremony during Microsoft's TechReady conference at the Washington State Convention Center, in front of an audience of 5,000 students, judges, partners and Microsoft employees.
The ceremony was the culmination of a weeklong event and celebrates the power of student innovation.
A first place team was chosen in each of the three competition categories: Games, Innovation and World Citizenship. One of those three winning teams was then named World Champion, taking home the Imagine Cup and receiving a private meeting with Bill Gates, Microsoft founder and technology advisor.
"There is not a business, vertical industry or person on the planet untouched by technology," says Satya Nadella, CEO, Microsoft.
"Imagine Cup empowers students to hack tough problems, while learning and building off the work of others.
"Student developers play a huge role in bringing new technologies to life in a mobile-first, cloud-first world. Congratulations to all the competitors for their hard work and creativity."
Thirty-four student teams representing 34 countries competed in the World Finals after winning national and online competitions around the globe.
Microsoft awarded cash and other prizes to the winning teams, valued at more than $1 million across the yearlong Imagine Cup program.
Other prizes include boot camps focused on career skills and project support, plus airfare and accommodation packages, and awards for the winning teams at the World Finals event.
The winners of the 12th annual Imagine Cup competitions are the following:
Imagine Cup World Champion:
· Imagine Cup trophy and private meeting with Bill Gates: Team Eyenaemia from Australia, Winner of the World Citizenship Category
Innovation Category:
· First Place, $50,000 prize and Microsoft Ventures Boot Camp: Team Estimeet from New Zealand
· Second Place, $10,000 prize: Team Tep from Hungary
· Third Place, $5,000 prize: Team Butterfly from Bahrain
Games Category:
· First Place, $50,000 prize and PAX Boot Camp: Team Brainy Studio from Russia
· Second Place, $10,000 prize: Team Bomon from Korea
· Third Place, $5,000 prize: Team Illogic from Egypt
World Citizenship Category:
· First Place, $50,000 prize and Microsoft YouthSpark Boot Camp: Team Eyenaemia from Australia
· Second Place, $10,000 prize: Team SMART crew from Taiwan
· Third Place, $5,000 prize: Team Access Earth from Ireland
Nigel Parker, Developer Experience Director for Microsoft New Zealand, extended his warmest congratulations to the team, which is the first New Zealand team ever to win a top category at the Imagine Cup.
"Having been involved with the Imagine Cup for a number of years in New Zealand I am continually inspired by the students who passionately disrupt the technology landscape both locally and globally as a result of their fresh thinking and entrepreneurial spirit," he says.
"New Zealand has punched above its weight placing in the top ten in the world four times in the last five years.
"We are so proud that this year's team took out the Innovation category. It's a great example of how this country is an incubator for top talent and world leading ideas."
Related stories
Top stories