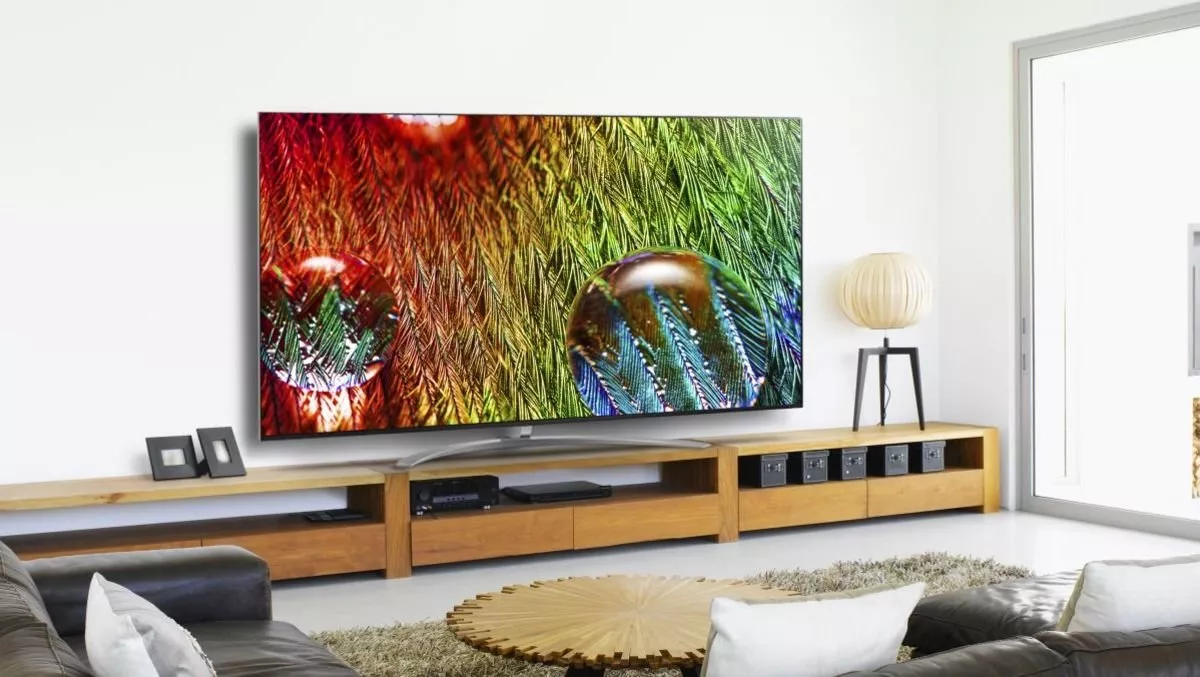 LG's first 8K TV goes on sale in Australia
FYI, this story is more than a year old
LG Australia is delivering its first 8K television starting from today, bringing the latest in LG's range of premium TVs to Australians.
"The way in which Australians consume entertainment in the home is rapidly changing, led by the demand for cinematic experiences from the comfort of your own lounge room," says LG Australia general manager of marketing Angus Jones.
"At LG, we seek to provide Australians with technology that takes advantage of content sources now and in the future, such as 8K gaming consoles expected in 2020."
The 75-inch LG NanoCell 8K features colour purity, enhanced black shades, advanced image processing, and artificial intelligence capabilities.
Powering the LG NanoCell 8K is the Alpha 9 Gen 2 Intelligent Processor and HDMI 2.1.
LG says the processor uses deep learning technology to optimise the viewing experience. Through the processor's intelligent capabilities, it can identify the quality of the source material and apply 6- step upscaling to produce the best possible audio-visual experience.
The NanoCell 8K also displays up-scaled and native 8K content consistently even in the darkest of scenes.
Equipped with Cinema HDR, users can play HDR10, HLG, Advanced HDR by Technicolour and Dolby Vision HDR as well as Dolby Atmos for a more realistic and immersive audio-visual experience.
The LG NanoCell 8K also features Cinema HDR, which plays to the benefits of a premium 4K Netflix account, where users can experience Dolby Vision and Dolby Atmos content where available.
The LG NanoCell 8K is the only current 8K TV with four HDMI 2.1 specification ports that will allow reproduction of smooth and clear motion with 60 frames per second, LG says.
In addition, through Full Array Dimming Pro featured in the 2019 LG NanoCell 8K and select LG SUPER UHD TVs, bright parts of an HDR image are brighter while dark parts are darker, which results in increased contrast on the screen.
From October 2019, the NanoCell 8K will also feature Apple AirPlay 2 and HomeKit integration. This integration is already available on LG's 4K SUPER UHD SM94 and SM86 models.
The integration means consumers can stream content from a compatible iPhone, iPad and Mac to their 2019 LG TV, including Dolby Vision titles.
LG says it is the first global TV manufacturer to support Apple HomeKit, this application enables consumers to conveniently expand their Apple ecosystem, control their smart home and turn their TV on and off with the Home app or via Siri on their compatible Apple devices.
Additionally, the NanoCell 8K will also feature Google Assistant and Amazon Alexa capability from October.
"We have entered an exciting era with the launch of our first 8K TV with LG NanoCell technology and are thrilled to equip Australian homes with future-focused technology. We also look forward to providing Australians with the ultimate screen resolution of 8K and the ultimate TV technology of OLED TV very soon," concludes Jones.
The 2019 LG NanoCell 8K is available from select stores across the country for $11,849 (RRP).
The full premium LG LED/LCD range includes:
8KNanoCell (75SM9900PTA.AAU): $11,849
SUPER UHD (86SM9400PTA.AAU): $8,329
SUPER UHD (75SM9400PTA.AAU): $5,949
SUPER UHD (65SM9450PTA.AAU): $4,199
SUPER UHD (75SM8600PTA.AAU): $4,799
SUPER UHD (65SM8600PTA.AAU): $2,759
SUPER UHD (55SM8600PTA.AAU): $2,039
SUPER UHD (65SM8100PTA.AAU): $2,279
SUPER UHD (55SM8100PTA.AAU): $1,699
SUPER UHD (49SM8100PTA.AAU): $1,419
Related stories
Top stories