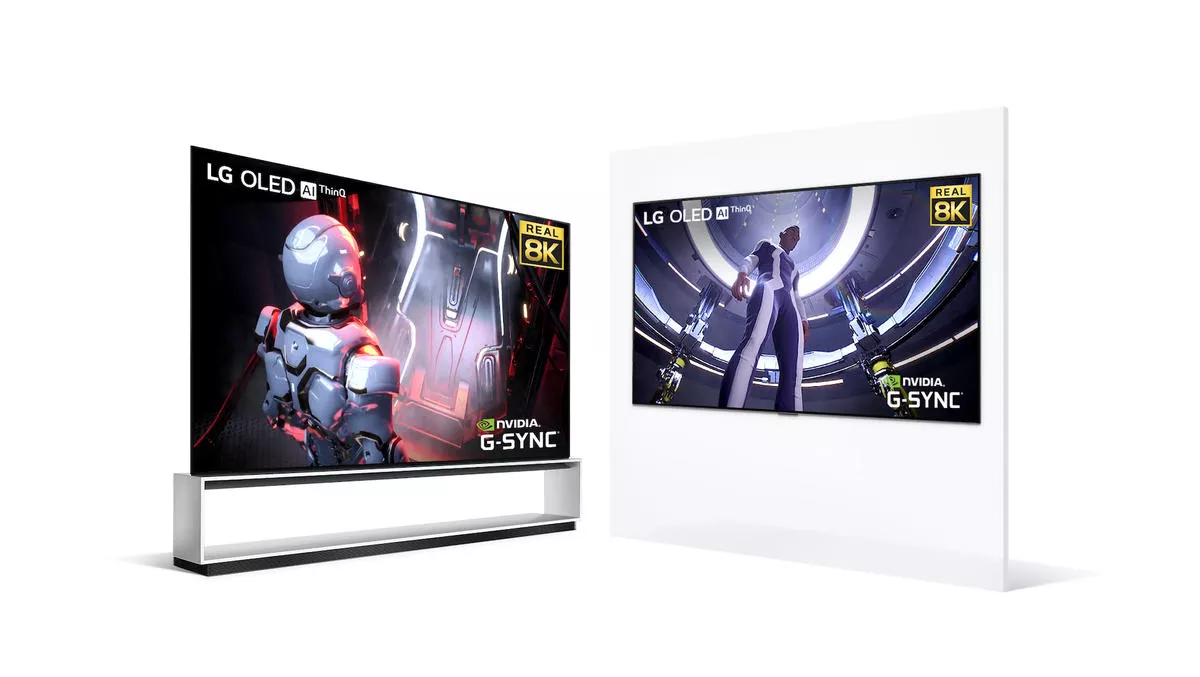 LG unveils NVIDIA RTX 30 compatible 8K OLED TVs
Mon, 7th Sep 2020
FYI, this story is more than a year old
LG Electronics (LG) has announced the world's first 8K TVs to support the new NVIDIA GeForce RTX 30 Series GPU.
Powered by the company's α9 (Alpha) Gen 3 AI processor, capable of delivering 8K full bandwidth support, the 2020 LG 8K OLED TV offers gameplay on premium displays with over 33 million self-lit pixels.
With the increasing merge of PC and TV gaming, those who are looking for top of the line quality in their front-room or dedicated gaming space, and don't mind parting with tens of thousands of dollars for the experience, will see this as a major boost.
HDMI DSC (display stream compression) functionality is to be added via a firmware upgrade later this year.
OLED TVs have some of the most advanced gaming specifications such as variable refresh rate (VRR), ultra-fast pixel response time and auto low latency mode (ALLM).
Since LG OLED TVs are NVIDIA G-SYNC compatible, LG customers can enjoy their favourite games with GeForce RTX 20 Series and GTX 16 Series GPUs for a smooth gaming experience without virtually no flicker, tearing or stuttering.
The α9 (Alpha) Gen 3 AI processor built-in to the OLED is designed for real-time ray-tracing performance and optimises picture and performance for gaming.
The TVs are able to display 8K content at up to 60 frames per second and handle 48Gbps speeds, users will experience premium gaming while playing 8K games on LG OLED TVs and a NVIDIA GeForce RTX 30 Series GPU.
"We are excited to bring GeForce RTX 30-Series GPU support to LG 2020 8K OLED TVs," says NVIDIA global GeForce marketing vice president Matt Wuebbling.
"Gamers will be blown away by the performance on these TVs when playing the latest 8K PC games featuring the most realistic ray-tracing and cutting-edge AI features powered by the GeForce RTX 3090 GPU.
LG 8K OLED TVs also support Dolby Atmos and LG deep learning-based AI acoustic tuning, which measures the acoustic environment and adjusts the sound for enhanced accuracy.
The TVs are also Bluetooth surround ready to allow two LG Bluetooth speakers to be connected simultaneously, up-mixing 2.0 channel sound to virtual 4.0 surround sound.
With LG ThinQ capability built-in, hands-free voice control is also possible.
"The combination of the LG OLED TV awe-inspiring picture quality and NVIDIA's technological prowess offers a next-level gaming experience in unbelievable 8K," says LG Home Entertainment Company TV product planning vice president S.P. Baik.
"Following last year's successful partnership with the world's top gaming hardware brand, we look forward to expanding our relationship with NVIDIA.