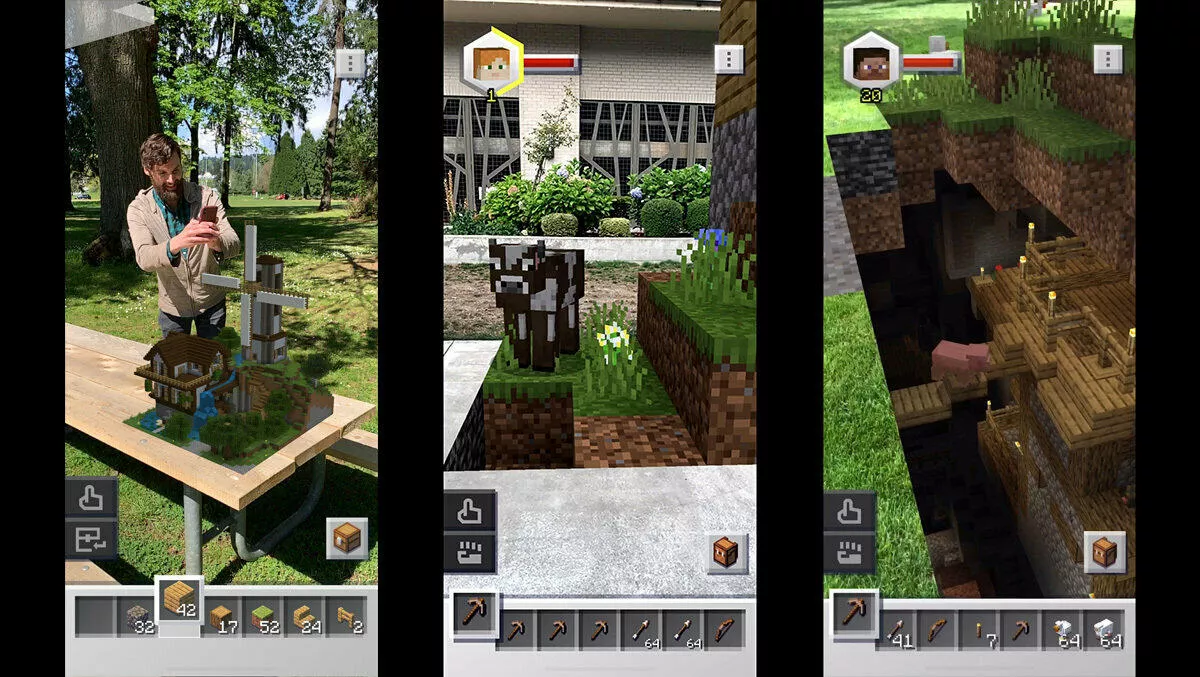 Minecraft Earth is now available in New Zealand
FYI, this story is more than a year old
Oft forgotten and left out, Kiwis can now get an early hands-on with Minecraft Earth, an augmented reality version of the popular block-based survival game. Currently in early access the free-to-play game is available in New Zealand now on both iOS and Android.
Microsoft ANZ hope to make Minecraft Earth better over time, releasing the game in early access first, adding more countries each week until its available worldwide by the end of the year. This will allow people play, test and provide feedback on the game, helping the developers shape the experience.
Minecraft Earthblends state-of-the-art AR technology with a new version of Minecraftbuilt on the Bedrock engine. Early access brings an array of features, including Minecraftworlds called Adventures, as well as new mob variants, smelting and crafting.
Adventures are small slices of procedurally generated, limited-time Minecraftworlds that can be played in life-sized augmented reality, and are optimised for social multiplayer. There are loads of new friendly and hostile mobs for players to meet like the Muddy Pig, Moobloom, Jumbo Rabbit and Cluckshroom. Through smelting, players can work ores into ingots to craft items that they need (if they have the right materials of course), instead of having to collect the items outright.
Adventures are made possible by two Microsoft technologies. Azure PlayFab's dedicated servers enable Minecraft Earth's multiplayer gameplay by hosting both Build Plates (for creating dioramas) and Adventures for players. Azure Spatial Anchors (ASA) implement shared experiences and the persistence of augmented reality content. So, when players set off to their local park and find an abandoned mine with treasures, Minecraft Earth is using the ASA service to help guide different players to the same adventure.
In order to play Minecraft Earth, mobile devices will need to be running iOS 10 and Android 7 or newer. A free Microsoft or Xbox Live account is also required. This allows players to track progress and save both builds and inventory to their individual profiles. This means that every time a player signs back on, they can pick up right where they left off. The paid Xbox Live Gold service is not required to play Minecraft Earth.
Minecraft Earth also allows players to use their favourite Minecraft Marketplace skins. Players can just click on their character's picture at the top left side of the screen and choose from any of their owned skin packs.
When players are in their Build Plate, they can hit "Invite Friend" to generate a QR code. Friends nearby that also have the game installed can scan this QR code using the "Join Friend" feature from the main Minecraft Earthmap. They'll be placed into the same Build Plate From there. Everyone can then interact with the Build Plate just as they would any Minecraft world. Players need to be in the same location to build together. When the owner of the Build Plate stops playing, all other players are disconnected. Friends can be invited to join in diorama build mode, and in life-size play mode.
It's great that Kiwis get this early opportunity to join Minecraft as it takes the leap from the screen into the AR world. Minecraft Earth is available in New Zealand now from Google Play and the Apple Store.