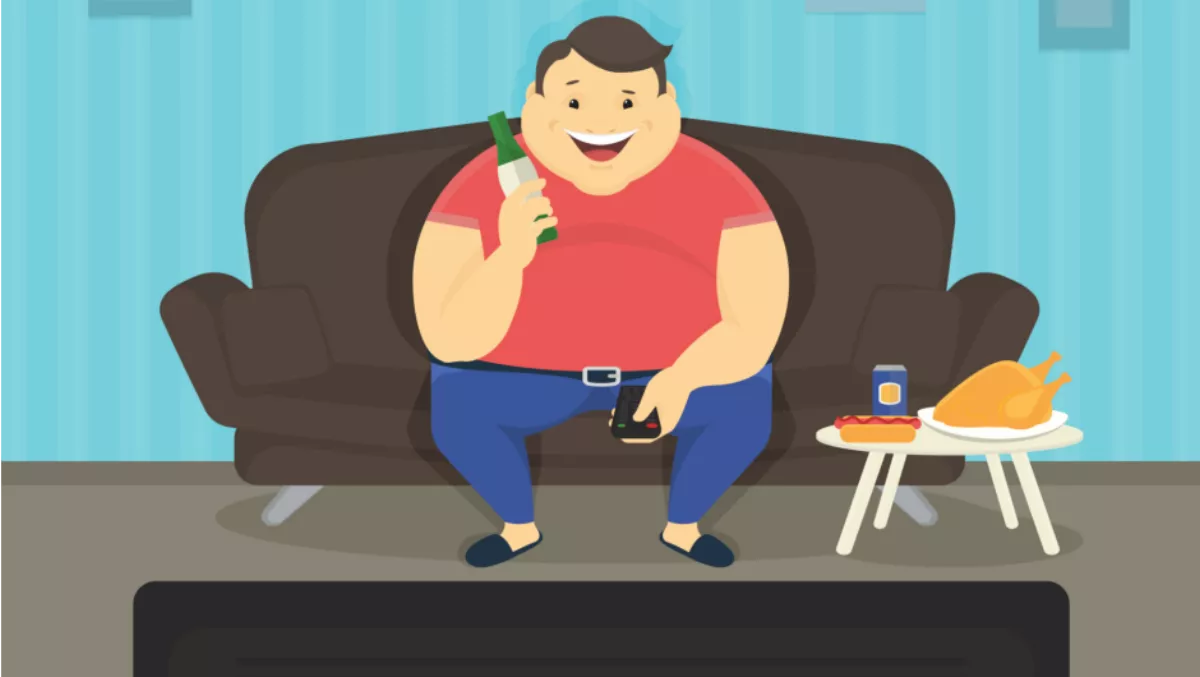 Netflix and pepperoni - lazy man's guide to Valentine's Day
FYI, this story is more than a year old
Let's be honest. If you've reached the 30 milestone the idea of a night on the town is 50 shades of a mean joke. No one gets dressed up anymore. No one wants to pay a hundred bucks for the tiniest portion of food you've ever seen. No one wants to pay 30 dollars to see a Jennifer Aniston movie.
No. No one wants any of those things. Instead, we want trackpants (or no pants, let's be honest), we want pizza delivered to our door. And we want Netflix.
So in order to help you embrace your true self this Valentine's Day, we've put together some wonderfully cheesy, hopelessly soppy films to get you in the mood as you stuff your face with Cheezels.
Grease
Nothing gets you all fired up like a little John Travolta action. Tight jeans, rolled up tees and a slick back combined with those amazing dance movies is a sure-fire recipe for a good time.
The Great Gatsby – not the Leo one, the Robert Redford one.
While Leonardo DiCaprio made a fine Gatsby in 2013, no one ever brought him to life as well as Robert Redford did in the 1974 classic. And Mia Farrow IS Daisy (sorry Carey Mulligan, you were shit). Gatsby is the ultimate tale of the one who got away, and a man's obsession with his one true love.
Life Partners
This sweet flick is more about the love between two friends than that of the romantic kind. Life Partners follows Sasha and Paige, two ladies whose friendship goes a bit haywire after Paige gets in a serious relationship. The film is progressive and is a real depiction of how two best friends can really be the Number Ones in each other's lives.
Bridget Jones
Contrary to popular belief, Bridget Jones isn't just for the single ladies. This film is hilarious and one of a kind and amazing. With a painful English accent, two annoyingly hopeless men and an ugly Christmas jumper, Bridget Jones is a classic.
Blue is the Warmest Color
This critically acclaimed tale of young love follows 15-year-old Adele, who is determined to fall in love and is obsessed with boys. But everything changes when she meets a blue-haired girl on the street.
Ghost
Ghost is a romance classic. This is for those who may not be in the mood for a cheesy Rom-Com and would rather get a bit sad and cry into their pizza. Ghost was Patrick Swayze at his most beautiful. And Demi Moore is an uber babe. The clay scene is the sexiest thing in the universe so if you don't know what I'm talking about you need to watch this right now, don't even wait for the pizza.
Anna Karenina ​
If you don't have burning hate for Keira Knightley, Anna Karenina could be your Valentine's Day culture pick. An adaptation of Tolstoy's classic tale, Anna Karenina is a 19th century Russian aristocrat who enters into a forbidden love affair with the well-heeled Count Vronsky.
50 First Dates
Drew Barrymore is Adam Sandler's only hope of being a dream boat. They really should be together in real life. 50 First Dates is a romantic comedy masterpiece – it's original, it's sweet, it's funny, and like all Adam Sandler movies, it's ridiculous. But we can all get on board this crazy train.
All these films are currently available on Netflix. Hope you've sorted out any access problems, wink wink.