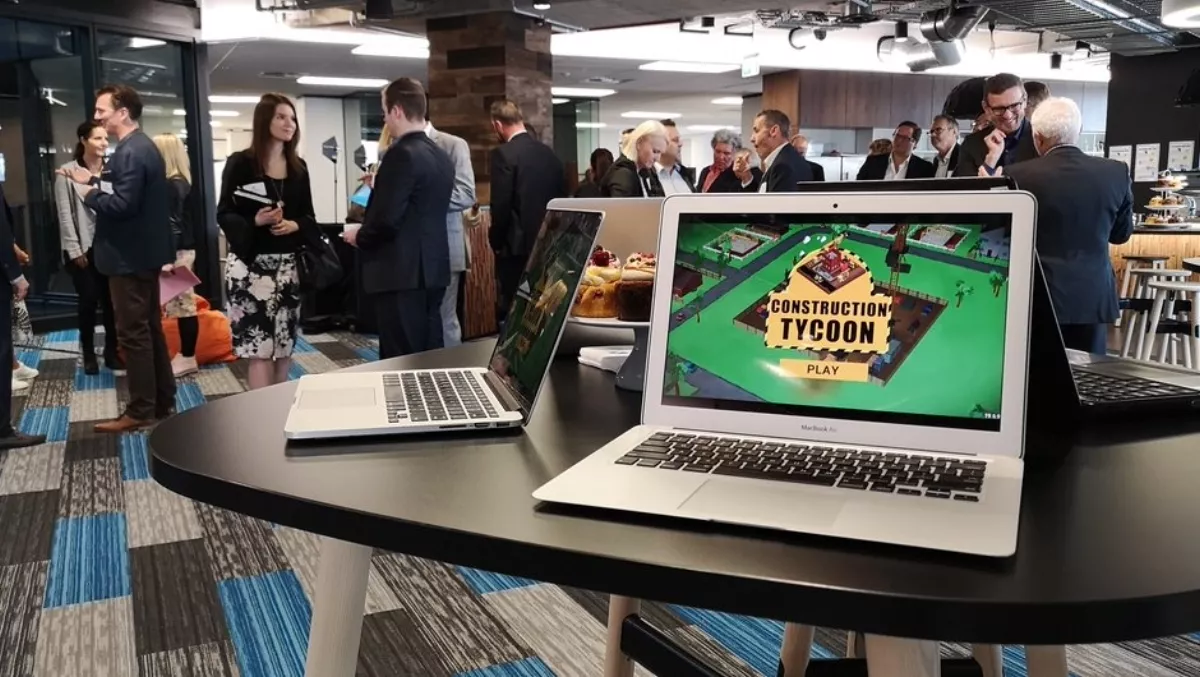 New educational game to boost construction skills shortage
FYI, this story is more than a year old
The future is in gaming – not just for fun, but also for learning.
That's according to Joy Business Academy founder James Coddington, who's company has just launched its latest offering, Construction Tycoon, to give future business people and construction workers can get a taste of what it's like to build their own company.
Created by Joy Business Academy, the Tycoon series has the backing of partners including Microsoft, Xero, Ministry of Social Development, Fletcher Building, BDO and Building Construction Industry Training Organisation (BCITO).
Construction Tycoon immerses players in the construction business. They can create their own company, build a property portfolio and put together a team strong on logistics, worksite safety, and money management – while trying to keep afloat.
According to Coddington, Construction Tycoon is the first of this type of game to provide real-world scenarios to highlight what goes on in business with real-world support within the construction industry. Support from partners includes the Xero login system, BCITO's work-ready portal, Ministry of Social Development's services, BDO's services and BNZ loans.
"The construction industry needs innovation, efficiency and talent. Construction Tycoon will help develop this. That's why all the key industry players, Ministry for Social Development and others have come together to develop the game," says Coddington.
Minister for Social Development Hon Carmel Sepuloni says these smart, innovative games can help people looking to get into a new industry.
"The Games have been designed around 10 core employability skills required for jobs in 2020, as identified by the World Economic Forum," says Sepuloni.
"The game ticks so many boxes. Small Businesses are learning about how MSD can help them hire staff, clients use it to learn about industries they want to work in, and it's being used as a successful teaching tool in schools.
Minister for Employment Hon Willie Jackson says the Government is committed to supporting the construction sector. One of the challenges the sector – which includes hundreds of small businesses – faces is getting the right people into work.
"Playing this game is a good way for businesspeople to learn about how the Ministry of Social Development can support them in finding, training and keeping good workers," says Jackson.
"We're partnering with the industry to provide different, exciting tools to help businesses and their employees thrive.
A University of Auckland study highlighted the power of gamified learning, as the research found students learnt as much in a one five-minute gamified session as they did in 25 minutes in a traditional classroom situation.
Gamified learners also have better knowledge retention, as a Joy Business Academy client found: By gamifying its induction programme in the tourism industry, learners retained 98 percent of new information when tested a month later compared to just 31 percent retention in the traditional face-to-face induction programme.
"Gamified learning also reduces risk for SME owners who can test and experience real-life exercises without a cost output. From a business viability standpoint, research shows new businesses that have proper budgets, goals, advisors and technology are 27 percent more profitable than those without," says Coddington.