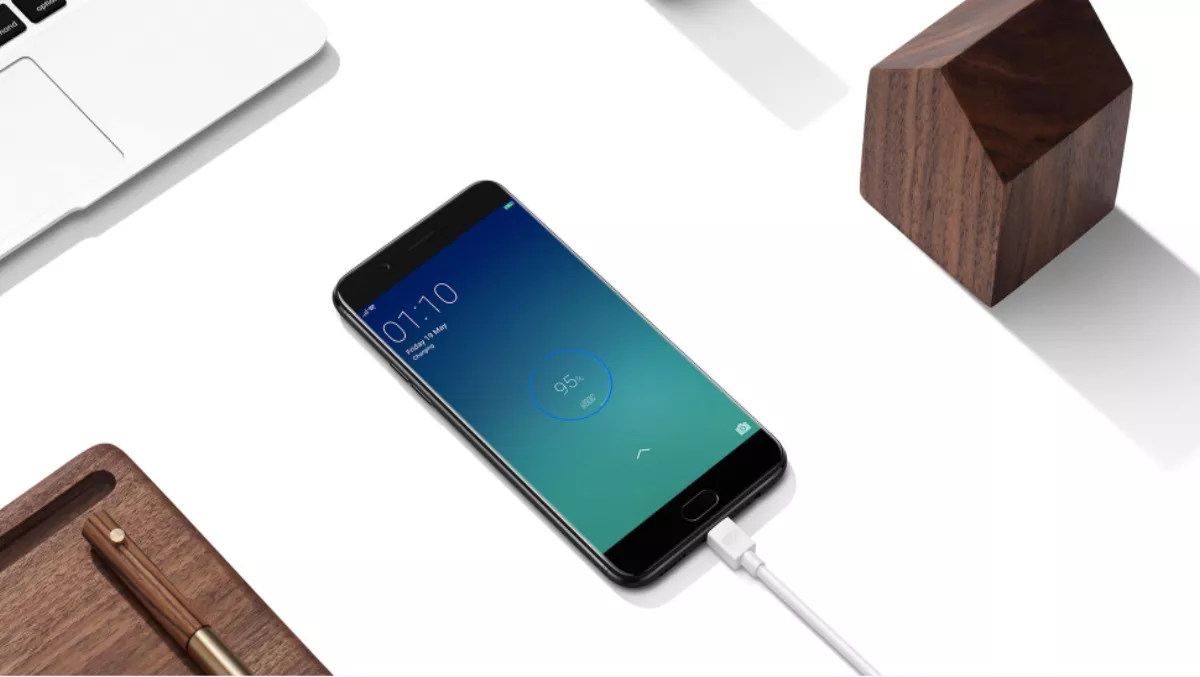 Oppo plans on taking NZ by storm with their new R11 camera phone
FYI, this story is more than a year old
The R11 is the new flagship model of the global camera phone maker, and it is now available in New Zealand.
The Oppo R11 is equipped with a high-performance and power-efficient Qualcomm Snapdragon 660 chipset as well as an upgraded ColorOS 3.1 operating system, providing a faster and more secure user experience.
Oppo promises that comprehensive hardware and software upgrades give a brand-new user experience for portrait shooting with the R11.
The R11 is Oppo's first model to sport a 20MP plus 16MP rear dual-camera, as well as a 20MP front facing camera.
Oppo worked with Qualcomm to customise a flagship image processor for the R11, the 14-bit Qualcomm Spectra 160 ISP and optimised its performance on the Snapdragon 660 Mobile Platform.
The R11 boasts faster focus speeds than the earlier R9s models, as well as vivid colours and better low light capabilities.
New software enhancements mean that the R11's rear dual camera provides a more natural effect.
The R11 intelligently adjusts exposure levels between the portrait subjects and the background by automatically identifying more than 100 everyday scene settings.
Oppo says that users can automatically shoot clear and bright portraits in very different environments by simply activating the portrait function on the camera.
They also make the bold promise that every portrait, either shot by the front camera or the rear camera, delivers an image of near-professional quality.
Terence Tan, Oppo NZ sales director says, "We came to NZ in March and within just five months Oppo phones have become available across the country, we have 150 sales points nation wide.
"Customer needs are our priority, with more than 100 million young-people using Oppo phones we are confident that Kiwis will love our camera phones."
R11 runs on ColorOS 3.1, which is based on Android 7.1, this OS is known for its security and encryption capabilities.
The R11 boasts a 5.5-inch high-definition display screen on a 1.6mm frame, giving users a solid visual display.
The phone also has 4GB of RAM, 64GB onboard storage, and supports up to a 256GB micro SD card.
The solid-state lightning-fast fingerprint identification makes unlocking the phone more precise.
The R11 comes dual-sim ready, meaning users can use more than one sim card at the same time, this is perfect for anyone who is planning on international travel.
The R11 also comes with all of the other bells-and-whistles users have come to expect from smartphones.
Kuan Li, Oppo NZ marketing director says, "The R11 builds off the success of the R9s and will quickly become a favourite among value conscious New Zealanders looking for an amazing camera phone.
"We are excited for Kiwis to get hands-on with the device and experience the improved technology, enhanced features and premium look and feel for themselves.
"Undoubtedly, the R11 will be the new camera phone favoured by young consumers for its fashionable appearance and greatly enhanced user experience.
The device also has Avast anti-virus pre-loaded as well as a licence for the service.
Unlike most smartphone companies the device comes with a two-year warranty.
The R11 device will be available from August 28.