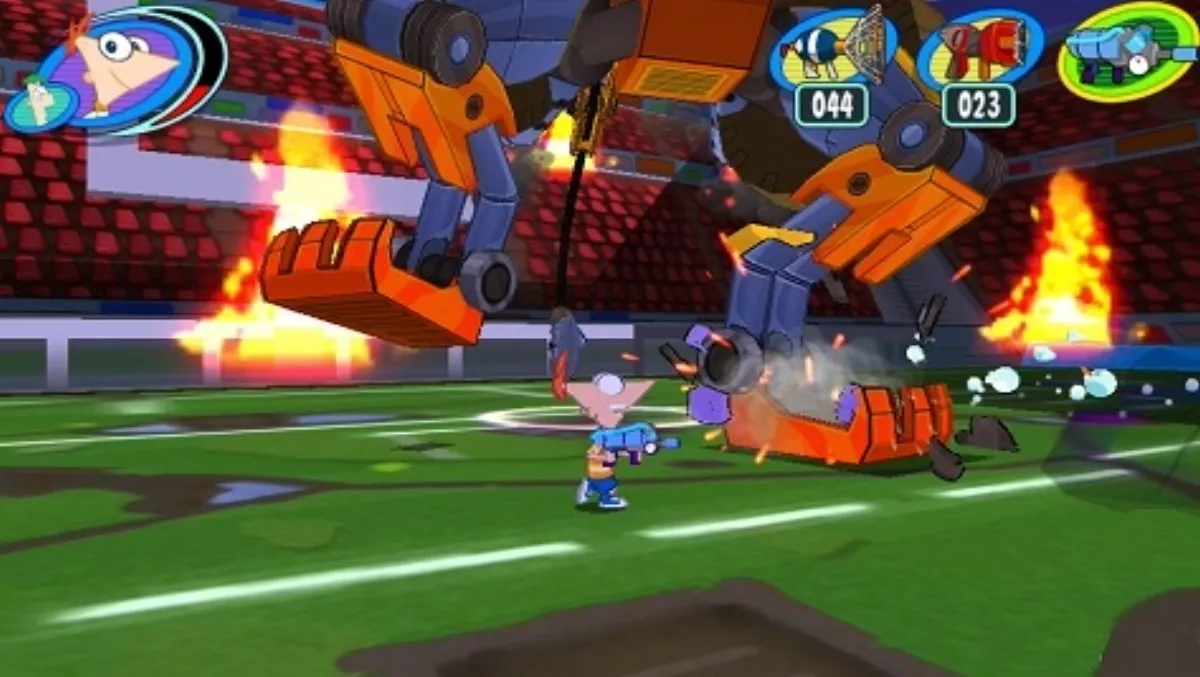 Phineas and Ferb invades the PS Vita
By Damian Seeto,
Fri 20 Nov 2015
FYI, this story is more than a year old
It's been a relatively quiet year for the PS Vita in 2015, however a new game has been released and it's called Phineas and Ferb: Day of Doofenshmirtz. Phineas and Ferb: Day of Doofenshmirtz is a rare PS Vita exclusive and it's a game based on the hit Disney animated TV show. Fans of the show will be happy to see all of their favourite characters appear in this game as well. At its core, this game is a variety of different game styles and is highly entertaining throughout. Not only can you play as both Phineas and Ferb, but some of the other characters from the show are playable here too. The game is successfully able to mesh numerous gaming genres and make it into a fun action game. It has a mix of shooting, puzzle solving, platform and side-scrolling gameplay. Mixing all of these different genres makes the game entertaining without feeling too repetitive.
Without spoiling too much of the game, I'll just describe some of the scenarios that occur in the first two chapters of Phineas and Ferb's adventure. The first chapter starts off with a bang as Phineas and Ferb has to chase down a huge robotic dinosaur that is terrorizing the city. This dinosaur is dangerous because it can also spawn lots of its own robotic minions. Thankfully, both Phineas and Ferb have access to special guns that have unique ammunition. Different ammunition is used in a variety of ways to tackle the unorthodox enemy types that attack the pair of brothers. The pair have three guns each, but the player can change the ammo type as they progress. For example, the default ammo type are tennis balls. You can then upgrade to ammo to something heavier like basketballs. The other guns have ammo like lasers and a water pistol. The latter is used to extinguish fires. Phineas and Ferb has a PSOne-like feel to it that I adore immensely. It's not a serious shooting game that dominates the video gaming genre these days, as it feels more like a classic 3D platform game from the late '90s. There is a mix of puzzle solving and jumping over platforms to do in this game as well.
The other cool thing about this game are the numerous boss battles that you will encounter too. Phineas and Ferb do have to face off against the huge robotic dinosaur and other menacing enemies in the game too. Even their friend, 'Perry the Platypus', gets in on the action as well. His missions are side-scrollers where he is piloting a plane. Presentation wise, Phineas and Ferb captures the spirit of the TV extremely well. The PS Vita manages to render a unique cartoon-style look that makes it look like you are actually watching the real TV show. The cutscenes are even played out as you are reading a comic book. There are only a few flaws that I encountered in Phineas and Ferb: Day of Doofenshmirtz. First of all, there is no voice acting in the game whatsoever. This is a bit of a downer as the voice acting was good in the TV show. Not to mention the game is quite difficult for a kid's game. Younger players may struggle to get by. Despite only a few flaws, Phineas and Ferb: Day of Doofenshmirtz is a fun game that fans of the show will enjoy immensely. Even if you are not a fan of the show, there is still fun to be had while playing this game. PS Vita owners should check it out as it's the only exclusive out there at the moment. Verdict: 8.0/10