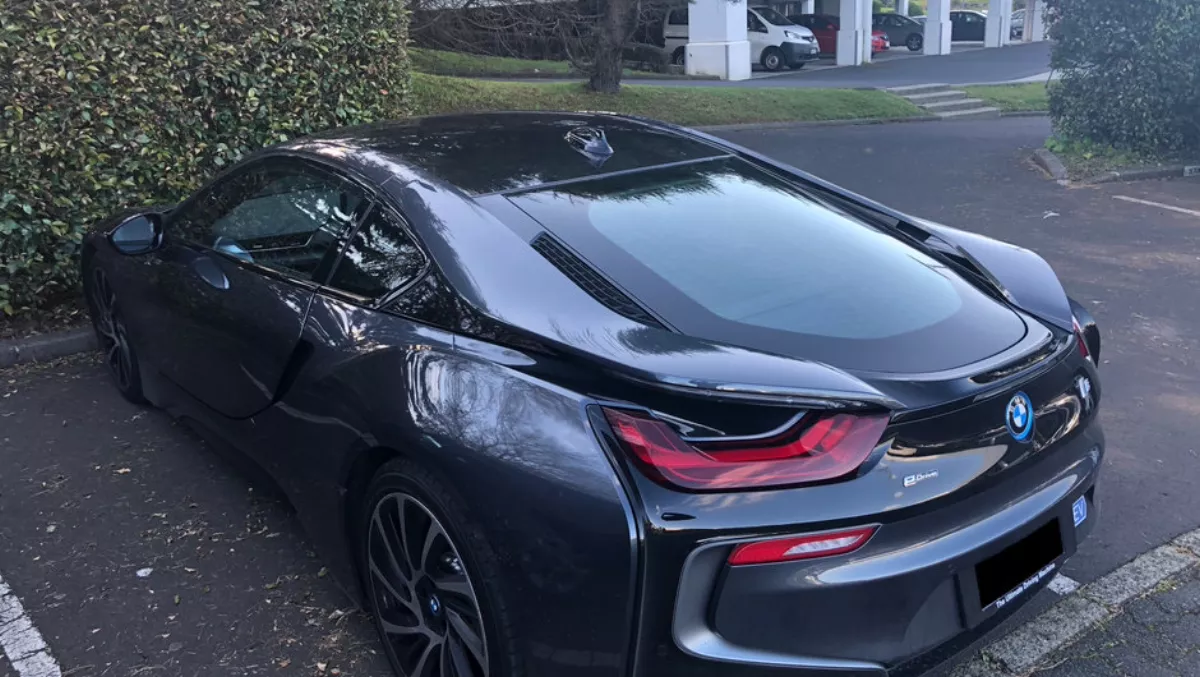 Review - BMW i8 brings flash to the electric revolution
FYI, this story is more than a year old
After being repeatedly stamped on and quashed for decades, the electric car revolution is finally sweeping the world.
Say what you want about a certain controversial CEO, there is no doubt that his engineering, design, and agile-focused cars (combined with out-of-this-world media stunts) have forced the big names in car manufacturing to rethink their approach to the market.
While most companies are releasing lines made in the image of their previous successes, BMW is taking this chance to add a radical departure from what we have seen in the past.
Even the biggest Beemer fan would never look at the i8's shell for the first time and recognise as a part of the family, although the $285,000+ price tag may look familiar.
The i8 is in the style of the classic European supercars - low and wide, sleek and sweeping, all glass and aerodynamics. It's beautiful (if a little tricky to park).
It is the kind of design that draws the eye. That most people can't help but stare at, and those who don't are being very pointed about looking away.
In this car, you will be noticed.
Despite not having the classic look of a BMW, it definitely feels like one the moment you climb inside - and I mean climb.
BMW has primarily been known as a provider of upscale comfort, hyper-personalisation and luxury. However, highlighted by the ungainly shapes you have to make as you fall inelegantly into the driver's seat, it is clearly not an easy thing to translate to a sports format.
Once you're in the seat it's not so bad. It's kind of a semi-bucket seat that I can't complain too much about - my back got a little sore after about 45 minutes of driving, but that's not unusual for me.
It was pretty hilarious watching my 6-foot tall friend try to get comfortable sitting in the back seat, but if it wasn't then it wouldn't be a supercar now would it.
The dash comes with all of the usual Beemer features: Tiptronic (aka flappy-paddle) gear shifting, inbuilt GPS, Bluetooth connection for phones for playing audio or hands-free conversations, a HUD for speed, route, and the song playing when using the steering wheel controls.
Other nice-to-haves include intuitive cruise-control, proximity warnings, status indicators for tyre pressure, and if you slam your brakes on for any reason the hazard lights give a couple of flashes without prompting.
I'm certain there are a host of other things I didn't even notice.
But what really made me smile was when I put my foot down on the accelerator.
The i8 is a hybrid, although it comes with a button that lets you switch to fully electric using the 11.6 kWh lithium-ion battery. The engine is a deceivingly small 1.5 litre, 3 cylinder job.
Together they hit 369 horses and 420 pounds of torque. Combined with the lightweight carbon fibre shell you definitely notice when you drop your foot and first discover that 0-100kph in 4.2 seconds is not an exaggeration.
With the slightest movement of the steering wheel, the i8 responds. It is in that space between reaction and anticipation that makes every lane change and tight corner feel like it's almost on rails.
I found myself constantly a little surprised and impressed every time I turned the wheel and the car was exactly where I wanted it to be with barely any effort and a satisfying roar.
You may have heard a bit about BMW's choice to include 'fake' engine sounds through the car's speakers, and I can't deny that I was a bit put out when I heard that myself but honestly, the sound design works just the same on me as a real engine. The growling rumble as the needle climbs still gives me the same rush as any gas guzzler.
Personally, I don't care that it's an illusion, it's a damn good one. That said, I can sympathise with people who will miss the slight idiosyncrasies of a real engine, the way records appeal to music lovers.
To try out the suspension and everyday usability, I took the i8 over a few speed bumps, going progressively faster and was genuinely surprised when even at 30kph it didn't scrape.
I had planned to try a few more things and take some measurements of how long the battery lasted as I drove around in eDrive (electric only) mode but my test was cut a little short when it got a flat tyre.
Noticing that the ride was significantly less smooth and the road was suddenly on a strange angle, I drove on the run-flat tyre (meaning it is designed to survive a little driving when it's flat) to the nearest gas station.
Of course, there is no spare in the i8 and I wasn't about to mess around with a $285,000+ car I didn't own, so I called the i-range support line and the representative I talked to was helpful, knowledgeable and friendly.
An hour later, the AA rep who came to help had pumped the tyre full of the puncture sealant that came in the boot and we were on our way, this time restricted to 80kph.
So, while I can't give you any specific numbers about the battery, I can tell you that I was staying about 35min north of Auckland central and on full eDrive it did not survive the trip.
I was actually a little disappointed by the fully-electric mode. Not because of the expected drop in power, but just because it didn't last.
It charges using a standard ANZ plug, and if there is an adaptor for the big plugs that you get at the charge stations, I didn't get one. This meant I could only charge it in my garage overnight, and about 90% of the time I was driving in hybrid mode.
In saying that, the amount of petrol that I used was tiny. It was a full tank when I got it, and I drove a good couple of hundred kilometres (again, no exact stats) before the tank got close to empty and I dropped just $30 to take it back up to about half a tank.
Conclusion
This is not a car for someone looking to use fully electric primarily and then flick on the petrol for a bit of fun. It seems to be going after the niche market of petrolheads who want the thrill of a supercar, without the guilt.
This could be a space that will grow as electric becomes more common due to the raising of taxes on fossil fuels and the cars that consume them. It also won't be hurt as electric tech continues creating cars that are just faster.
If you are in the market for a luxury-priced, beautifully designed car, with some comfort, impressive power and incredible fuel economy, it is worth arranging a test drive.