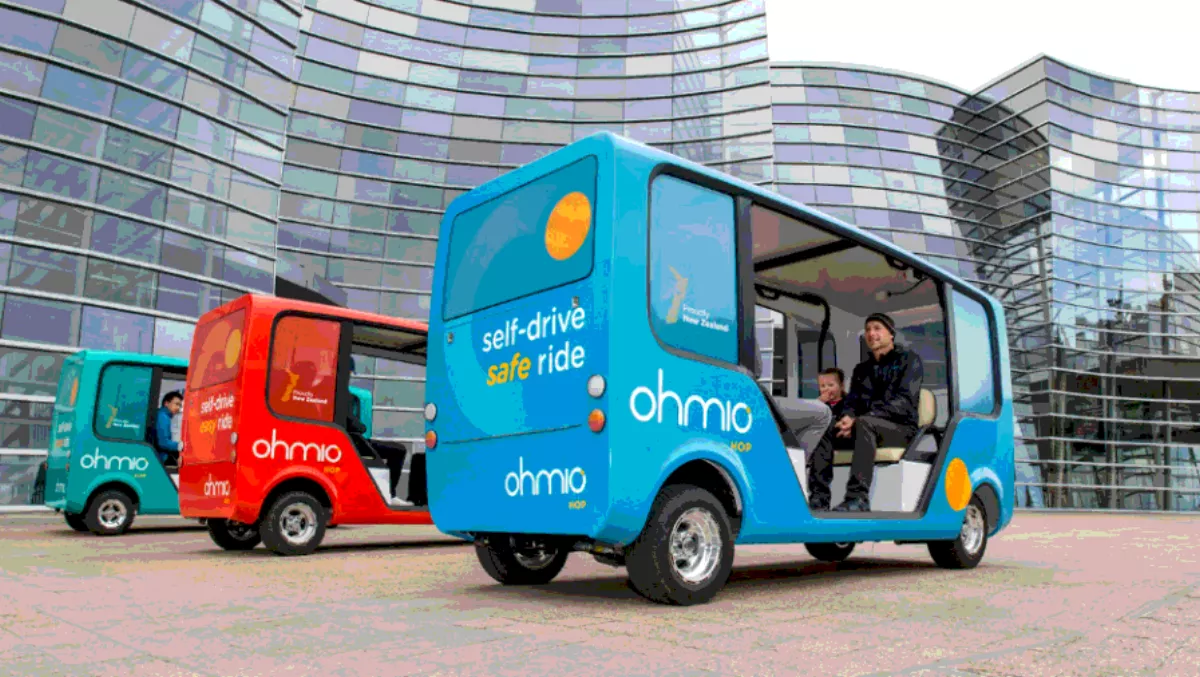 Self-driving vehicles launch in NZ – thanks in part to government
FYI, this story is more than a year old
Self-driving vehicles could be on New Zealand's roads sooner than you think, after a company dedicated to the cause launched in Christchurch on Monday.
Ohmio Automation intends to start production of self-driving vehicles in NZ and showcased the future with three shuttle buses that featured self-driving technology developed by Auckland-based HMI Technologies.
The fully operational prototypes of the electric Ohmio Hop shuttles carried passengers including school children on a circuit around the Christchurch Art Gallery.
One of its points of difference is the ability to form a connected convoy which can move extremely efficiently and safely together in formation which makes the Ohmio vehicles the world's first self-driving and scalable transport solution.
Furthermore, the Ohmio vehicles include self-mapping artificial intelligence, which means they're actively 'remembering' the route as they drive, meaning they're able to do it over and over once completed once. This means they can quickly deployed and relocated as required.
A range of four Ohmio models is planned for production before 2019 with the vehicles ranging in size from small to large shuttles and freight pods and vehicles will be customisable to suit their customer – all based on the innovative technology developed by parent company HMI Technologies.
The rapid growth of the company and the evolution of just an idea to reality has in fact been partly attributed to its geographical location.
Founder of HMI Technologies, Mohammed Hikmet says being in New Zealand offers the new company a formidable advantage.
"The testing and deployment of autonomous vehicles elsewhere is slowed down by legislation or requires special permits. Here in New Zealand, the government already allows for testing of driverless vehicles," says Hikmet.
"That gives Ohmio an advantage as we scale up and develop our technology, especially as we understand regulations here and in Australia. New Zealand has a reputation for innovation and that has also helped us recruit international expertise.
Christchurch mayor, Lianne Dalziel is excited by the Ohmio technology and what it will mean for the city's future direction.
"HMI's Ohmio is a world first which takes transport innovation to a new level.
"And they have done it here in Christchurch where we are seizing the opportunity to become a testbed for emerging technologies. We won't be swamped by disruption - we will embrace it, learn from it and turn it on its head," says Dalziel.
"I reminded people last week that the airport trial of the e-shuttle will assist central government write the regulatory framework for using autonomous vehicles on New Zealand roads. This could help write a regulatory framework for the roads and the signals that provide guidance to the vehicles. We can set the standards for NZ and the world."
With three trials underway in Christchurch, Sydney and Melbourne, HMI's Stephen Matthews says they have generated huge interest, proven demand and shown hugely positive public response for this new technology.
"The Ohmio Hop vehicles are fully electric and designed to be a last mile solution, carrying people and their luggage short distances, providing the last mile connection to or from transport hubs or mass transit options," Matthews says.
"This development will mean that people might no longer need to rely on their private vehicles, and that makes a whole community better off, by reducing congestion, pollution, and of course the cost and grief associated with traffic accidents and it is those benefits which motivated us to create Ohmio.