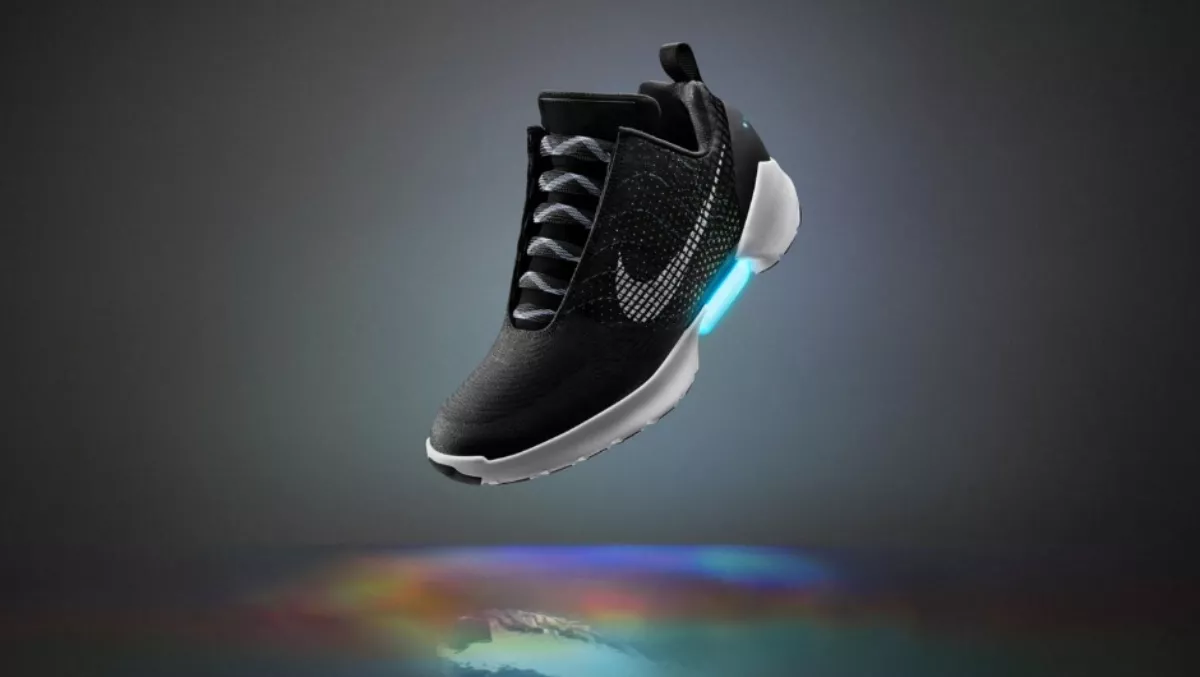 Self-lacing sneakers: Good enough for Marty McFly, and now Nike
FYI, this story is more than a year old
No longer relegated to futuristic films, self-lacing sneakers are making their way to the mainstream. Nike is arguably leading the way with the announcement of its HyperAdapt 1.0 technology - the company's platform for 'breakthrough, adaptive lacing'.
Tiffany Beers, Nike senior innovator and the project's technical lead, says, "When you step in, your heel will hit a sensor and the system will automatically tighten. Then there are two buttons on the side to tighten and loosen. You can adjust it until it's perfect."
She says the new sneakers are the result of research and developments in in digital, electrical and mechanical engineering.
Tinker Hatfield, Nike vice president design and special projects, says, "Innovation at Nike is not about dreaming of tomorrow. It's about accelerating toward it. We're able to anticipate the needs of athletes because we know them better than anybody. Sometimes, we deliver a reality before others have even begun to imagine it."
For Hatfield, the innovation solves another enduring athlete-equipment quandary: the ability to make swift micro-adjustments, such as undue pressure caused by tight tying and slippage resulting from loose laces.
Precise, consistent, personalised lockdown can now be manually adjusted on the fly. "That's an important step, because feet undergo an incredible amount of stress during competition," Hatfield says.
The sneakers are a collaborative effort between Beers, Hatfield and Mark Parker, Nike president and CEO.
Beers began the process by brainstorming with a group of engineers. They first came up with a snowboard boot featuring an external generator, and this proved to be the first step toward Beers and Hatfield's original goal: to embed the technical components into such a small space that the design moves with the body and absorbs the same force the athlete is facing.
Throughout 2013, Hatfield and Beers developed new systems, prototypes and ran trials, which lead to the creation of an underfoot-lacing mechanism.
In April 2015, Beers was tasked with making a self-lacing Nike Mag to celebrate the icon's true fictional release date of October 21. The final product quietly debuted Nike's new adaptive technology. Shortly after, the completion of the more technical, sport version they'd originally conceived, the Nike HyperAdapt 1.0, confirmed the strength of the apparatus.
"It's a platform, something that helps envision a world in which product changes as the athlete changes," Beers says.
Hatfield says the potential of adaptive lacing for the athlete is 'huge', as it can provide tailored-to-the-moment custom fit.
"It is amazing to consider a shoe that senses what the body needs in real-time. That eliminates a multitude of distractions, including mental attrition, and thus truly benefits performance," he says.
He says, "Wouldn't it be great if a shoe, in the future, could sense when you needed to have it tighter or looser? Could it take you even tighter than you'd normally go if it senses you really need extra snugness in a quick manoeuvre? That's where we're headed. In the future, product will come alive."
Nike HyperAdapt 1.0 is currently manual (athlete controlled), but Hatfield says it makes feasible the concept of an automated, nearly symbiotic relationship between the foot and shoe.
The Nike HyperAdapt 1.0 will be available only to members of Nike+ later this year in three colours.
Related stories
Top stories