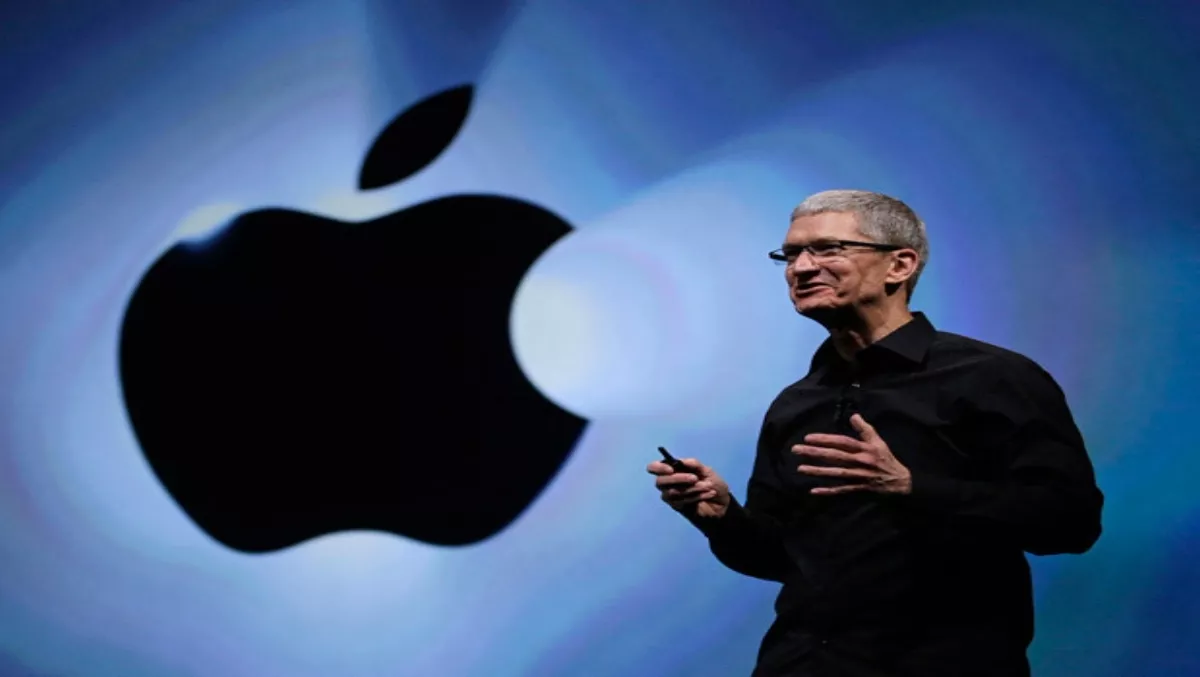 Taking a closer look at Apple CEO Tim Cook...
Mon 3 Mar 14
FYI, this story is more than a year old
Eating in Cupertino's cafeteria, Tim Cook introduces himself to employees he's yet to meet, but for the ones that already know, the Apple CEO cuts a formidable figure.
A man with an "inhuman" level of stamina, a new book has unravelled a host of details about the famously private Apple chief.
Entitled "Haunted Empire: Apple After Steve Jobs", the insightful comments are those of former Wall Street Journal Apple reporter Yukari Iwatani Kane, who discusses at length what it's like to work for the man who replaced the late Steve Jobs.
"Shortly after Tim Cook succeeded Steve Jobs as CEO of Apple in August 2011, he told a confidant that he got up every morning reminding himself just to do the right thing—and not to think about what Steve would have done," writes Kane, releasing an excerpt of her book in the Wall Street Journal.
"The new CEO was a mystery. Some colleagues called him a blank slate. As far as anyone could tell, Cook had no close friends, never socialized and rarely talked about his personal life."
After joining Apple's executive team in 1998, it sharp became clear that Cook was the polar opposite of Jobs.
Orderly and disciplined, Cook's weekly operations meetings could last five to six hours, with the mild-manner executive harbouring an unwavering obsession with "numbers".
"Meetings with Cook could be terrifying," Kane writes. "He could ask the same question of an employee 10 times in a row. He would ask, "Why is that" "What do you mean" "I don't understand. Why are you not making it clear?
"Cook also knew the power of silence. He could do more with a pause than Jobs ever could with an epithet.
"When someone was unable to answer a question, Cook would sit without a word while people stared at the table and shifted in their seats.
"The silence would be so intense and uncomfortable that everyone in the room wanted to back away. Unperturbed, Cook didn't move a finger as he focused his eyes on his squirming target.
"Sometimes he would take an energy bar from his pocket while he waited for an answer, and the hush would be broken only by the crackling of the wrapper.
A man who wakes up every morning before 5am, Cook's routine is simple according to Kane. He works out, then he heads to the office.
"His stamina was inhuman," Kane adds. "He could fly to Asia, spend three days there, fly back, land at 7 a.m. at the airport and be in the office by 8:30, interrogating someone about some numbers."
But as tough as Cook was reputed to be, Kane also claims he was generous.
"He gave away the frequent-flier miles that he racked up as Christmas gifts, and he volunteered at a soup kitchen during the Thanksgiving holidays."
Branded as a "more traditional CEO who infused Apple with a healthier work environment", Kane believes Cook proved a methodical and efficient CEO.
"Unlike Jobs, who seemed to operate on gut, Cook demanded hard numbers on projected cost and profits," Kane writes.
"Whereas Jobs had reveled in divisiveness, Cook valued collegiality and teamwork."
For more information regarding "Haunted Empire: Apple After Steve Jobs" click here