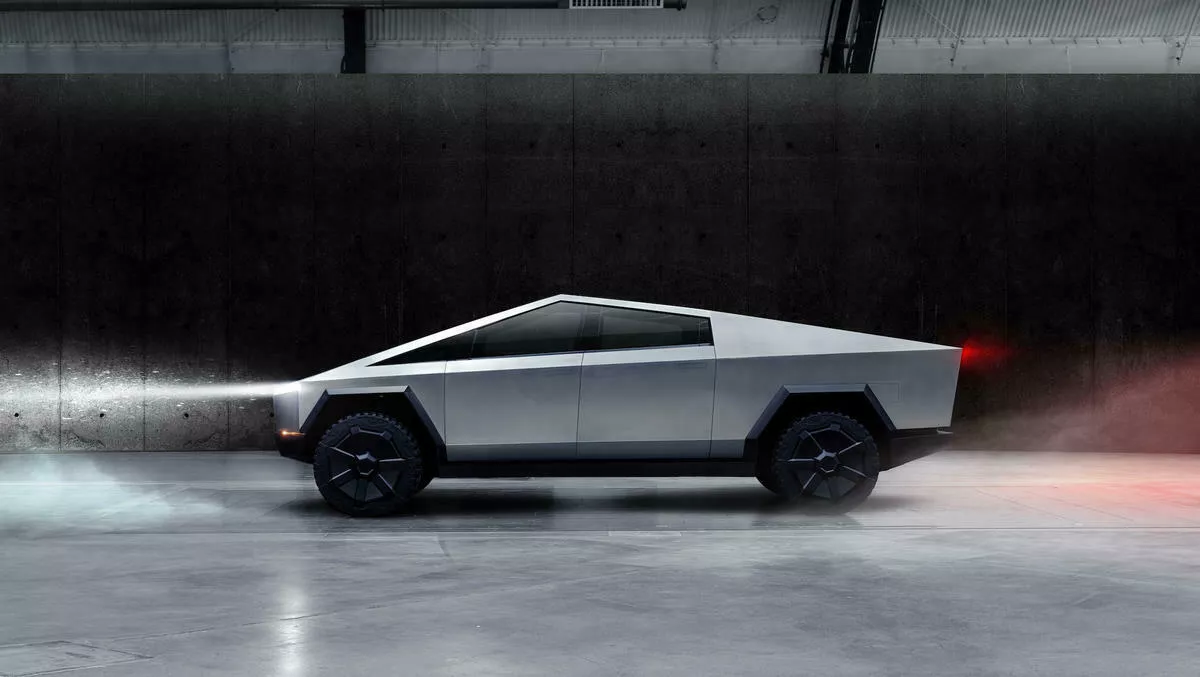 Tesla's Cybertruck shatters windows, share prices & expectations
FYI, this story is more than a year old
It's a design that's reminiscent of the blocky 80s and 90s videogames of yesteryear, but Tesla is seriously serious about its newest product, the Cybertruck.
Famously mocked over the weekend for sporting seemingly 'unbreakable' window glass that was anything but unbreakable (it shattered during a livestreamed demo), the cybertruck looks to be Tesla's latest creation.
"Cybertruck is designed to have the utility of a truck and the performance of a sports car," Tesla explains.
"The vehicle is built to be durable, versatile and capable, with exceptional performance both on-road and off-road. Cybertruck will come in three variants: Single Motor Rear-Wheel Drive, Dual Motor All-Wheel Drive, and Tri Motor All-Wheel Drive.
Despite a massive crash in share prices on the same weekend (it seems shareholders were also feeling 'shattered' about the failed livestream demo), Tesla's Elon Musk acknowledged the failure on Twitter and even posted a video of how it was supposed to go.
"Guess we have some improvements to make before production haha," Musk wrote.
Perhaps Tesla should have struck up a deal with an infamous Tesla owner Simone Giertz, who converted her Model 3 into a ute called Truckla...
Cybertruck production is expected to start in late 2022, so Tesla does have some time up its sleeve to get things right.
Cybertruck pricing:
Single Motor RWD: US$39,900 (approx. NZ$62,114)
Dual Motor AWD: US$49,900 (approx. NZ$77,682)
Tri Motor AWD: US$69,900 (approx. NZ$108,817)
Self driving functionality: US$7000 (approx. NZ$10,897).
Tesla is now taking preorders.
Range: 500+ miles (804+ kilometres)
0-60 mph (0-95.5kph) acceleration: <2.9 seconds
Towing capacity: More than 14,000 lbs (6350 kilograms)
Payload: Up to 3,500 lbs (1587 kilograms)
Vault length: 6.5 feet (1.98 metres)
Storage capacity: 100 cubic feet (2.83 metres) of exterior, lockable storage including the vault, frunk, and sail pillars.
Suspension: 4" in either direction
Touchscreen size: 17"
Body: Ultra-Hard 30X Cold-Rolled stainless steel. "If there was something better, we'd use it," Tesla says.
Seating capacity: Up to six adults
Charging: Can be charged at home, at Destination Charging locations, and with Tesla's network of more than 14,000 Superchargers, including on our newest V3 technology, which is helpful for long hauls and towing.