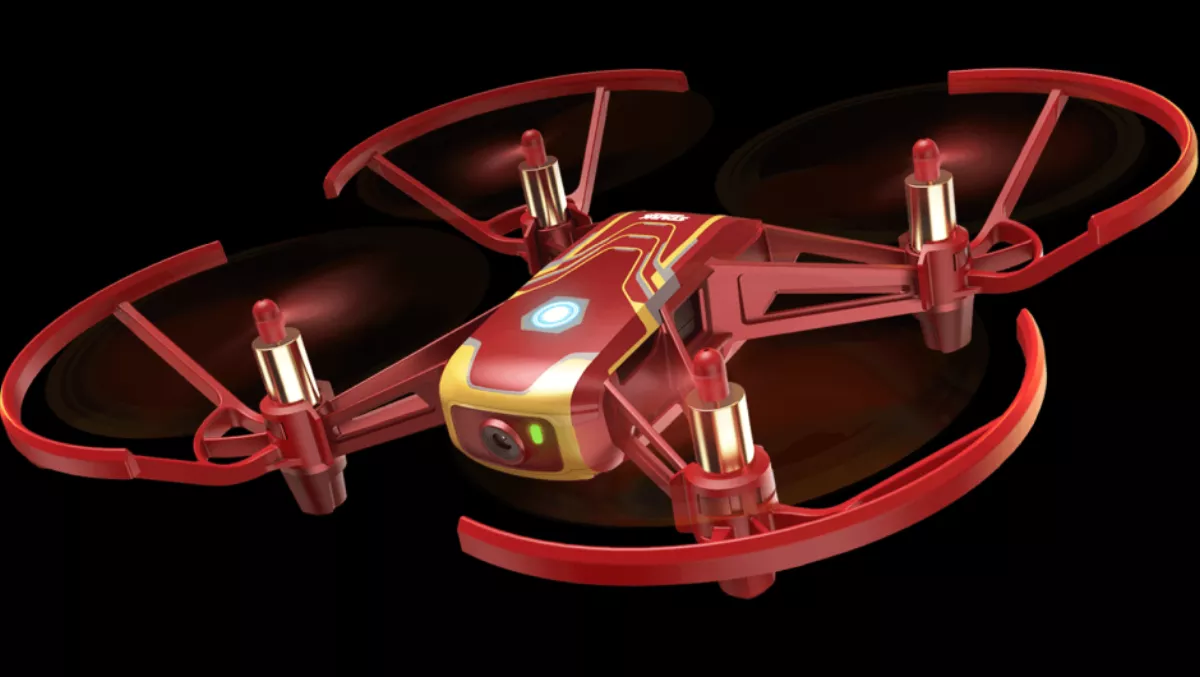 This Iron Man drone wants you to fly like a superhero
FYI, this story is more than a year old
Iron Man must be one of the most popular superheroes of 2019 – because this year he has been transformed into a robot, and now he's styled as his very own drone.
Drone startup RYZE Tech scored a collaboration deal with Marvel and Disney to release the Tello Iron Man – a lightweight drone that literally flies like a hero.
Coupled with the Tello Hero app on Android and iOS, you can actually learn how to fly the drone – and it has a a storyline to boot.
"Learn the fundamental skills of flying through training missions as a new recruit of Stark Industries' PILOT program with the help of FRIDAY, Iron Man's AI assistant. With guided voice instructions for each mission, FRIDAY will teach you how to fly, operate the camera and use intelligent flight modes to dodge incoming missiles and track potential suspects."
While the Tello Iron Man doesn't have the 'real' Iron Man's super powers, it does come with an HD FPV camera that transmits at 720p and takes 5MP photos. It's also supported by EZ Shots, stabilisation, and an Intel processor.
Tello Iron Man features intelligent flight functions (360, Throw & Go, and 8D flips), aerial safety features, the Tello Hero app.
The drone is programmable with Tello EDU and Swift Playgrounds as well as programming languages Python and Scratch, and of course it features Iron Man's signature red and gold colour style.
However, the drone won't spend too long in the sky, though – it has up to 13 minutes of flight time and a maximum distance of 100 metres.
Renowned drone kings DJI have also played a part in making Iron Man fly – the drone is supported by DJI flight technology like low battery protection and propeller guards. "These and other elements allow you to take on missions without fear," says Tello.
So, Tello Iron Man is not quite a drone that's made for the high-end professionals – think of this as a reasonably cheap starter drone that looks cool. In New Zealand it will retail for $229 – which is about at the entry-level starting point.
Specs:
• Weight: 87 g (Propellers and Battery Included)
• Dimensions: 98×92.5×41 mm
• Propeller: 3 inches
• Built-in Functions: Range Finder, Barometer, LED, Vision System, 2.4 GHz 802.11n Wi-Fi, 720p Live View
• Port: Micro USB Charging Port
Flight Performance
• Max Flight Distance: 100 m
• Max Speed: 8 m/s
• Max Flight Time: 13 min
• Max Flight Height: 30 m
Battery
• Detachable Battery: 1.1 Ah/3.8 V
Camera
• Photo: 5 MP (2592×1936)
• FOV: 82.6°
• Video: HD 720P/30fps
• Format: JPG (Photo); MP4 (Video)
• EIS: Yes
Related stories
Top stories