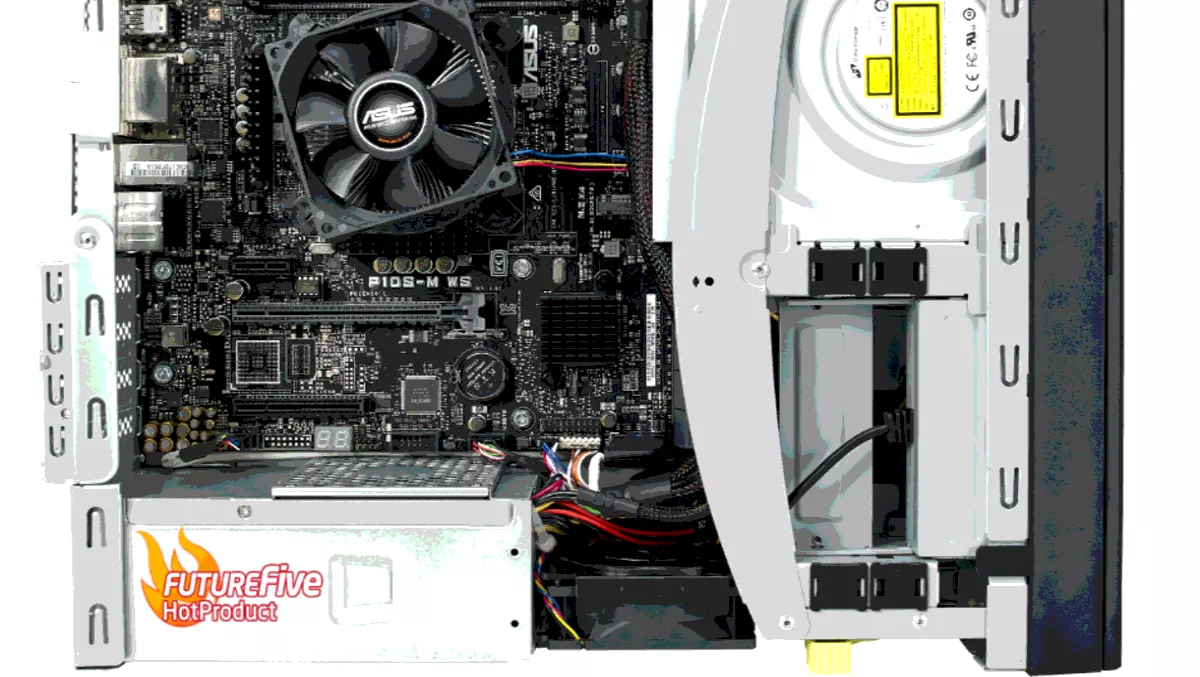 This PC has all of the processing power a designer will ever need
By Jacques-Pierre (JP) Dumas,
06 Nov 2017
FYI, this story is more than a year old
If there is anything that stops a designer from working in an ideal work environment, it will have to be the workstations where their creative works took placed.
Despite often not preferred, the creative works often has to be completed on large cold and bulky workstations, in order to receive adequate processing power needed to get the job done. For decades, computer manufacturers have attempted to downsize traditional desktops, leading to the product we have in our lab today, the ASUS ESC510 G4 SFF workstation.
For the first glance, it is not hard to see how ASUS attempts to impress the designer society with their new diamond-plate finished bezel. The well-designed ventilation route and fan curve keep the workstation running cool and quiet at the whole time. This helps to easily hide the workstation in the work environment to reduce unwanted distractions.
At the heart of its small sub 13-Liter body is a powerful Intel Xeon E3-1245 V6 processor, a powerful server grade processor that handles up to 8 critical tasks simultaneously.
Featuring native support for popular APIs such as DirectX 12, OpenGL 4.4 and OpenCL 2.0, and a hardware transcoding accelerator, it has the power to handle critical tasks including CAD and audiovisual transcoding. By default it can drive up to two independent 4K UHD display, or up to three independent displays at 2160p, more when utilizing the two additional expansion slots with more graphics cards.
Apart from being ISV (Independent Software Vendor) certified for professional work, it also equipped with 16GB of dual-channel DDR4 memory, the perfect size for the Xeon processor to perform at its fullest.
Having 256GB of M.2 storage and an additional 2TB of 3.5" HDD assures lag-free user experience with massive room for storing both source material and finished contents. There is also one extra 3.5" for further expansion if desired.
Standard USB 3.0 and DVD-RW is included for the convenience of accessing contents on the go. Bundling with Microsoft Windows 10 Professional enables system virtualization and company domain support if required.
Network connectivity wise, the ESC510 G4 SFF workstation is equipped with a pair of the latest server-class Intel Gigabit LAN. This ensures minimal CPU utilization with high throughput, leaving the CPU to focus on the tasks that are critical for the designers. The user can also choose to team them together to form a large network pipe for either higher throughput or redundancy needs.
The workstation is driven by a 300W 80Plus certified power supply, making sure optimal energy efficiency.
The ESC510 G4 SFF workstation is also equipped with its own centralized IT-management suite, the ASUS Control Centre (ACC), making IT management a breeze; whether that is BIOS or software update, hardware monitoring or even remote desktop, all within one friendly HTML5 user interface.
Under the pretty face of the small ESC510 G4 SFF workstation is the massive powerhouse ready for design works. Starting at AUD$1699.00, we highly recommend our readers to consider it.