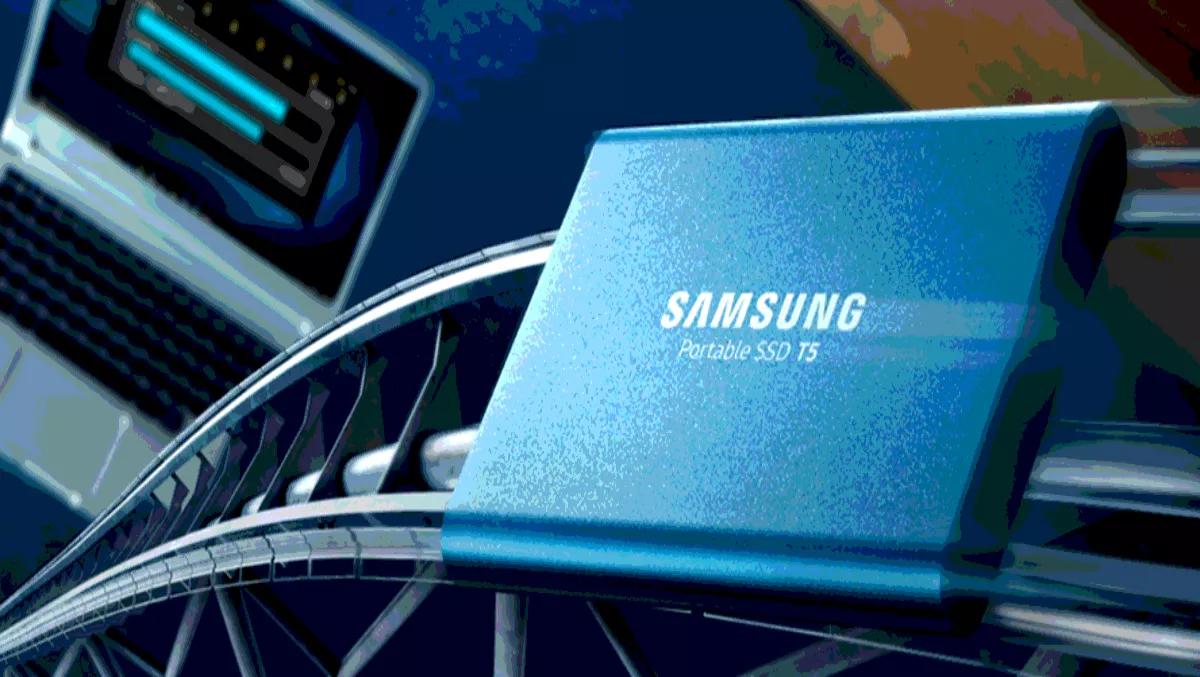 Transfer data at light-speed: Samsung's portable SSD T5 is here!
FYI, this story is more than a year old
The Samsung Portable SSD T5 is meant to elevate data transference while still remaining relatively cost-effective.
With Samsung V-Nand flash memory and a USB 3.1 Gen 2 interface, the T5 provides transfer speeds of up to 540 mbs, that's up to five times faster than traditional external HDDs.
Samsung promises transfers and backups of large-sized data including 4K videos and high-resolution photos will be much quicker.
Visually the drive is nothing spectacular, it uses a metal design and rounded unibody.
It comes in two distinct aluminium finishes, a blue and black version, again nothing extraordinary.
Yet, the way it looks is not what makes this drive a cool piece of technology.
The drive is smaller than the average business card, weighing just 51 grams, and only its only 10.5 mm thick.
Samsung saying that the compact, light and slim T5 is the perfect portable storage.
There are four capacity sizes for the drive, ranging from 250GB to 2TB of storage.
The T5 comes with optional password protection, with AES 256-bit hardware encryption, this is meant to keep your personal and private data more secure.
Interestingly you can manage this device via an app for your Android or iOS device.
The T5 can be connected to the standard range of devices including PCs, Macs, smartphones and other devices.
The device comes with both a USB Type-C to C cable and USB Type-C to A cable which promises to give users seamless connectivity without the hassle of purchasing additional adapters.
Yet, in a few years, these connectors may not be relevant anymore, especially at the rate that Apple 'innovates'.
Samsung aims to give users simple and efficient access to massive data so they can complete tasks quickly and on the move.
T5 overview
Compatible with USB 3.1 Gen2, backwards compatible.
Four versions, 250GB, 500GB, 1TB, 2TB.
Transfer speeds of up to 540 mbs.
Super low-weight.
AES 256-bit hardware encryption.
Overall the T5 is a part of the massive SSD revolution and won't set consumers back too much for what they get.
If the device delivers on all of its promises, (while not blowing up), it could really be a benchmark for affordable SSD technology.
Related stories
Top stories