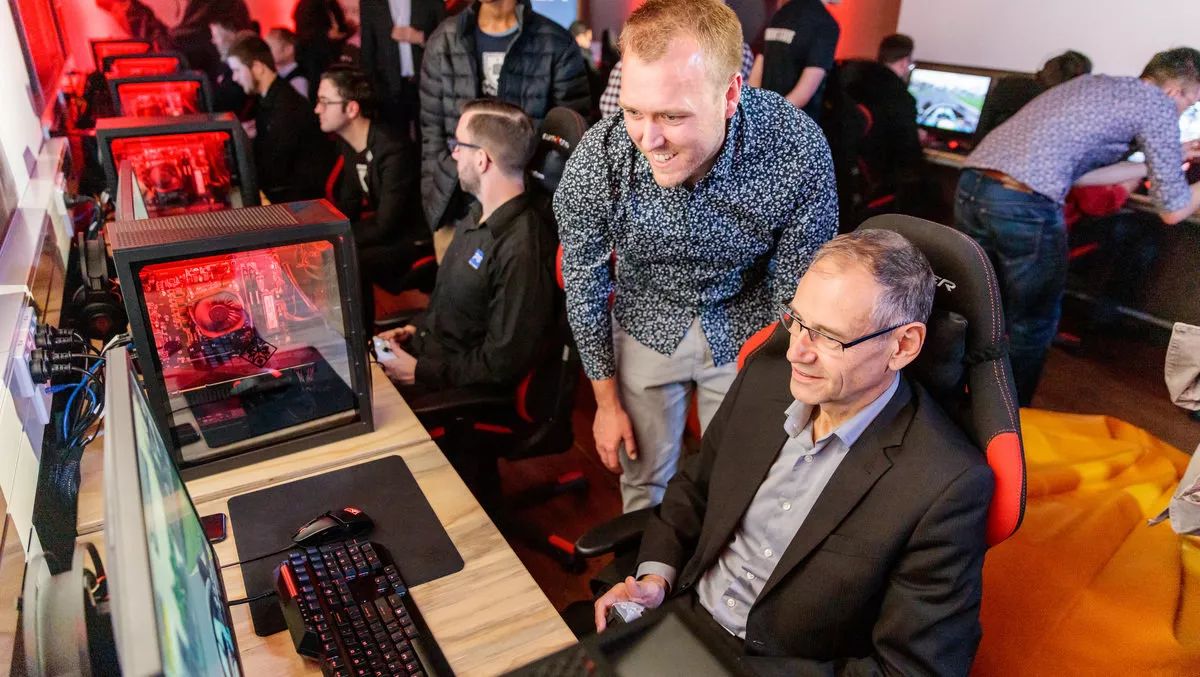 Waikato Uni opens NZ's first esports arena
FYI, this story is more than a year old
Hamilton finally has something to offer dedicated esports gamers. In a city that's quietly working towards becoming a tech hub, The University of Waikato has opened the country's first university esports facility called the OMEN Esports Arena.
The facility has high-end gaming computers, gaming chairs, and a massive TV for streaming and console gaming.
The facility also ties in with the university's goals of helping New Zealand students gain headway into the steadily growing esports industry.
"Esports is a global phenomenon and is one of the fastest growing industries," says the University of Waikato's director of student services, Mike Calvert.
"With more than a million participants in New Zealand, and more than 300 million participants worldwide, it makes sense from a strategic perspective to move into this space."
In partnership with sponsors OMEN and PB Tech, the university now offers a way for students to play esports in a socially inclusive environment with like-minded people, and perhaps even discover future esports opportunities.
There's also plenty of opportunity to bring esports and academic research together. Calvert says that's something the university is currently developing.
PB Tech Central North Island business development manager Brian White says gaming can be more than just a hobby.
"One billion dollars is the estimated revenue generated by esports worldwide in 2019," he says.
"For a major university to be so involved with development pathways and scholarships for competitive gaming is just amazing. People are still of the opinion that gamers are the nerds in the corner who have no social skills, doing something that won't take you anywhere in life. But this initiative is a step towards showing people that esports can lead to many opportunities in a billion-dollar industry."
HP's gaming, esports and immersive technologies marketing manager Jason Spiller says the OMEN Esports Arena provides new opportunities for the region.
"Esports is growing. It's not only growing as a career option for those wanting to turn pro, but it's growing in myriad ways. From future careers and game development, to coding and tournament operations, there are so many other aspects that go into what is now a massive industry."
Some people may make an association between gaming and violence, or how gaming affects study time. Calvert says the university has put serious thought into how to deal with those risks.
"Violence in esports is something we've put careful consideration into. This is why we only offer a certain catalogue of games in the arena. We're also aware of the risks associated with gaming and the effect that could have on student's study, which is why we expect a certain level of academic achievement from those who are part of the esports team."
As part of the arena, the University of Waikato offers a school-leaver scholarship for students who excel in esports. The 2degrees Esports Scholarship for School-Leavers awards $5000 to students who demonstrate excellence in esports, exhibit leadership experience or potential, and who carry values in health and wellbeing.
This year's scholarship recipient, Ryan Holt is the 2019 scholarship recipient. He says the esports scholarship has allowed him to combine his passion for video games with his love of a challenge.
"Esports is a new and emerging field – the viewership is steadily climbing, and the financial backing is growing, so it's great to see the University of Waikato leading the way in this exciting industry."
OMEN supplied 12 top-of-the-line gaming computers for the arena, and PB Tech supplied the big screen TV as well as partial sponsorship of the DX Racer gaming chairs.
Related stories
Top stories