Game review: F1 2019 (PC)
FYI, this story is more than a year old
Codemasters brings us this year's iteration of their Formula One Championship racing game.
Formula One is the most prestigious motor racing championship in the world. Glitz, glamour and ridiculously fast oversized go-karts, only outdone by the lunatic drivers with nerves of steel that pilot them.
Since 2010 veteran UK developer, Codemasters, has taken on the challenge to bring all the excitement of this most celebrated motor racing event to our game consoles and PCs. Building on knowledge gained from creating their celebrated TOCA Touring Car, Race Driver, Dirt and Grid motor racing games, the developer knows what works - and what doesn't - in a racing game.
For nearly a decade I've been following Codemasters F1 games, and I've got to say, F1 2019 is the best one yet. Franchises with annual iterative releases can easily be the same game, year after year, with no more that a new frontend and a stats update. Is there a massive change from last year? No, but what you get is a more refined game with a few notable additions.
But first the visuals. Running the game on a decent-spec PC I'm getting practically photo-real visuals. The lighting, especially during bad weather and when racing at night, is superb. There's not a better-looking racing game out there.
New for this year is the 2018 F2 season. For the first time players can take part in an F2 championship. Formula 2 features as the prologue to the game's career mode. This year we also have a section of classic Formula One cars, one for each year, stretching right back to 1970 with the iconic Lotus JPS livery - although, sadly, without its real John Player Special cigarette advertising.
From the menu, players can jump right in to the mildly-narrative career mode or opt for a straight championship. There's also a multitude of time trial, multiplayer and challenge options. This year there's a special Legends: Senna vs. Prost mode whereby players race as either the late Ayrton Senna or Alain Prost in their classic F1 cars across a series of challenge events.
For solo players, the career mode is the best place to start. After making a custom driver and a brief bit of F2 racing, players are thrust into the 2019 Formula One Championship season.
Race weekends consist of three practice sessions, a one-shot qualifying session and a 14-15 lap F1 Grand Prix. To get the most out of the game, learning the circuits is a must. In the past I always found practice sessions a bit of a chore, but last year's introduction of the testing mini-games during sessions injected a bit of fun into the necessary task of memorising each turn.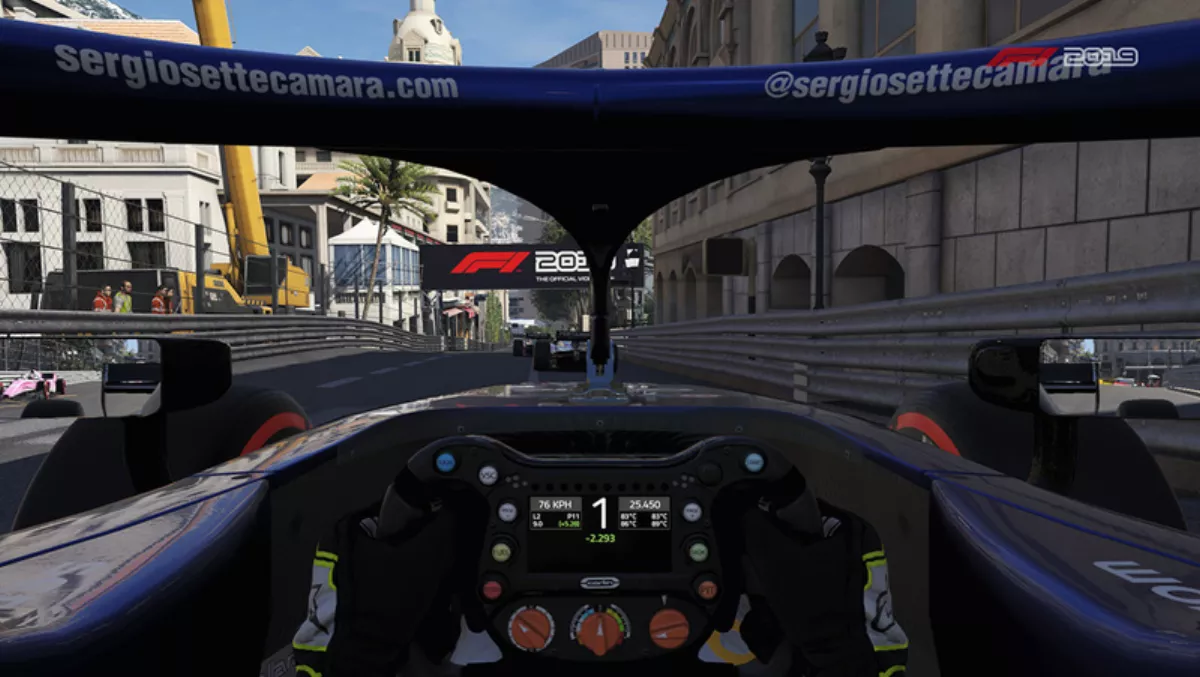 As with the real competition, car technology is continuously being researched and refined during the competition. The car that teams start the championship with are not the same as the ones that they finish with. In the game this translates to R-D points that are earnt during the game.
During practice sessions players can select from a number of test the earn R-D points at the same time as refining their driving. Track acclimatisation research rewards players that can demonstrate a clean line around each turn, by passing through gates over three laps.
There's also a fuel efficiency test that gets players to ease of the throttle on the approach to a turn rather than stamp on the brake to lose energy. Not only do these challenges make you a better driver, at the end of the weekend the points can be allocated to research augmentations for delivery in a few races' time.
Any part of the weekend can be simulated, so you don't have to do any practice, qualifying or even the grand prix race, itself. I found two practice session was enough to get my head around the circuits and get a good qualifying position for race day. Fifteen laps of a GP is a nice sweet spot. It gives players a nice taste of the skirmish away from the starting positions into turn one, the drama post-pit-stop and the drive to the finish, but without being a test of endurance.
Of course, players wanting the full GP can find that in the championship section of the game.
For a bit more competition, there's a load of multiplayer options, including events, ranked, unranked and even a LAN mode. There even an esports section where you can find out all the latest information on the official F1 esports tournament, check the rules and watch the races.
As before, F1 2019 caters for players that want an arcade racing experience and those that prefer a more realistic racing simulation. There's a range of assists, such as automatic braking and the racing line to ease players into the game. As with Codemasters' other racing games, there's a rewind function to remove the frustration when you make a slip-up. By playing with the option, F1 2019 is a very entertaining racing game for the casual player. But that's not how it's supposed to be played.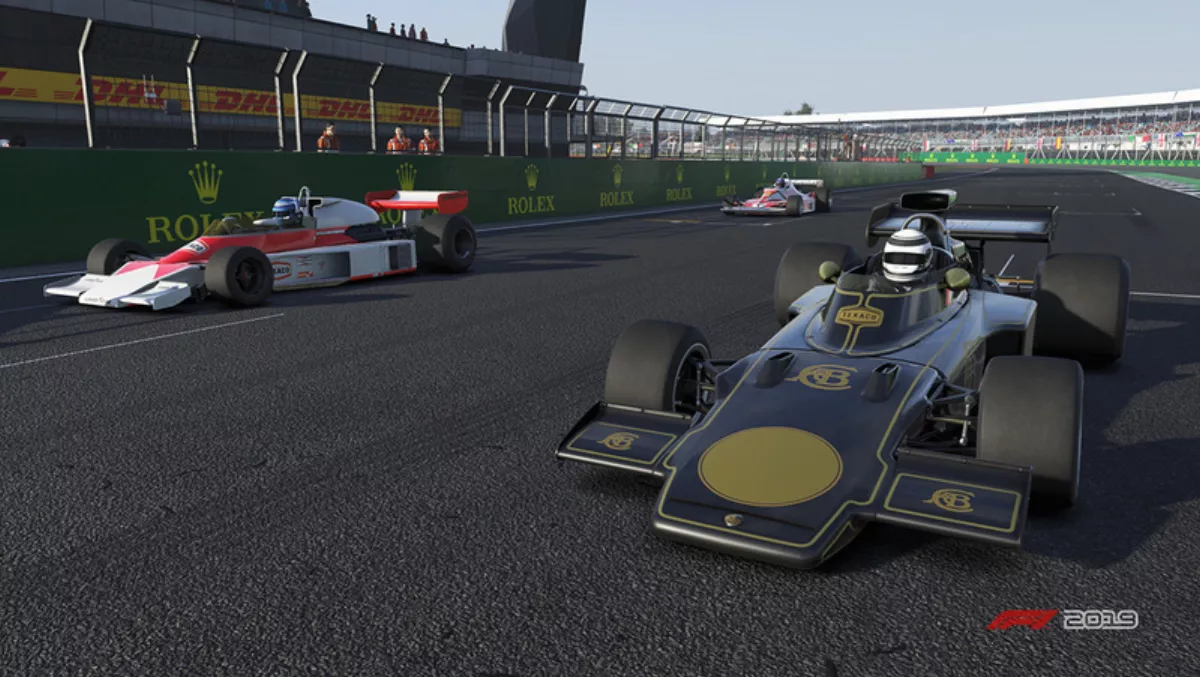 Under the hood, F1 2019 is a very complex Formula 1 simulator, build upon a pedigree that goes back almost a decade. The game models tyre wear, fuel efficiency and aerodynamics among other physical attributes of the cars. Expert players can tune cars with more efficient set-ups and even make adjustments on the fly - whilst racing. The game also adapts the F1 rulebook allowing for proper DRS activation and awards penalties for poor driving.
Same goes for racing with a controller. You can, and it works perfectly. But if you plug in a racing wheel and pedal kit and you have a completely different game. You can feel very pumped on the track and even detect the most minute changes in vehicle handling as tyres heat up and wear. If you really want the most out of the game, I wholly recommend a racing wheel. Most makes of wheel are supported out of the box. I did have to adjust the in-game steering sensitivity to match my Thrustmaster T300RS.
Whilst it's easy to dismiss a yearly franchise addition, F1 2019 is just so well done. Whilst playing we only get a whiff of the visuals, the detail on in the circuits and the amazing amount of simulation going on. It makes all the difference and it's a credit to the developers, even after so many iterations. The game is packed full of modes and challenges to keep you going for months.