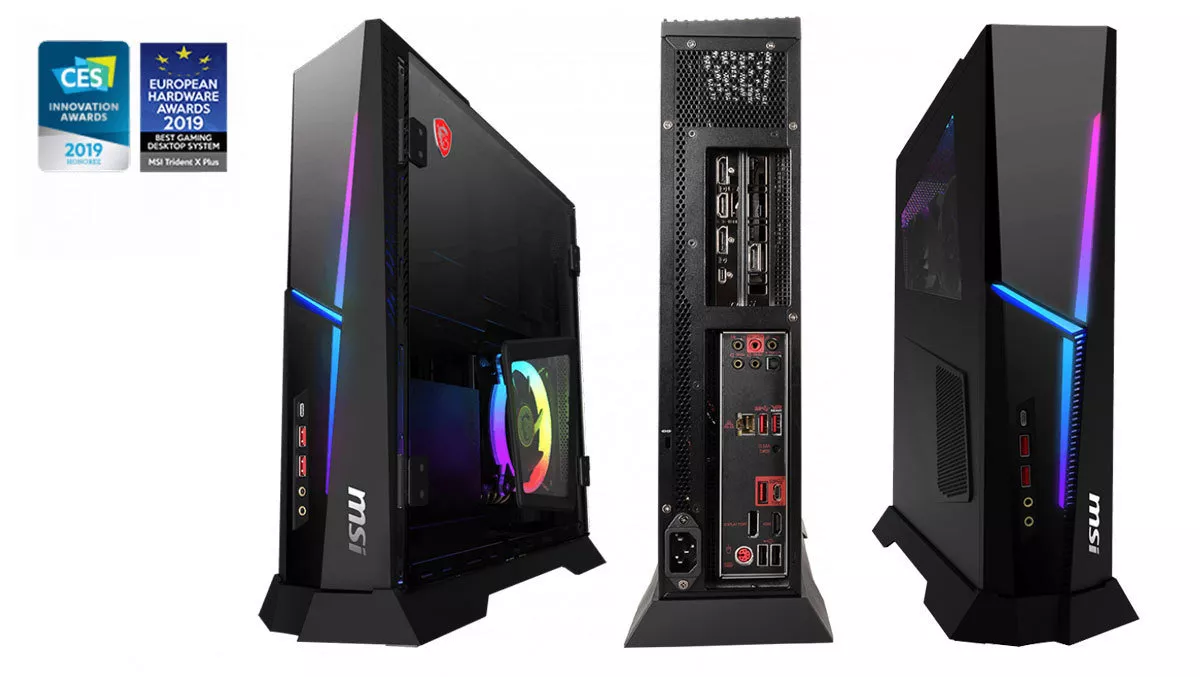 Hands-on review: MSI Trident X Plus 9SD-074AU gaming PC
FYI, this story is more than a year old
We got our hands on an MSI Trident X Plus gaming PC.
The first thing you notice is the form factor. It's got a compact upright design. It's the perfect size with the advantages of a desktop PC, but also portable enough to take to LAN parties. In addition, a stand at the bottom of the unit makes it feel really steady.
On the front, you have a USB-C port, two USB-A ports, as well as a microphone and headphone jack.
You turn the PC on with a sizeable triangular button on the top of the PC.
The case has a stunning design with a tempered glass side window, which is inside a door-like side panel. The hinge is at the front of the unit, with the door opening easily for quick upgrades.
You can swap out the side panel with a transparent window for a class black side panel.
You can customise the bright LED's that are spread throughout the case, with MSI's Mystic Light software. Almost any colour combination is possible. Your gaming rig will be entirely unique for you.
MSI's Silent Storm Cooling 3 system keeps your rig fresh. With different chambers for the CPU, VGA and PSA to optimise airflow.
With the latest Intel 9th 8 Core Processor your gameplay is set to be very fast. The model we tested had an i7-9700K processor running at 3.6GHz and up to 4.9GHz.
The blazingly fast NVIDIA RTX Ventus 2070 graphics card is installed with a dual-fan design. It has 8GB of GDDR6 video RAM.
A 512GB SSD drive was included plus a 2TB traditional hard disk drive. This gives you the best of both worlds, speed as well as massive storage.
The motherboard has two RAM slots with up to 32GB of RAM. It comes with 16GB of RAM installed, in the form of 2 x 8GB DDR4 2666MHz.
While some units of this compact size have external power supplies, everything is built into this model with an SFX power supply built-in, which is well cooled.
On the back of the unit, you have a bunch of different ports including a PS/2 Combo port, 2x USB 2.0 ports, a DisplayPort out port, an HDMI out port, a USB-A port, a USB-C port, 2x USB-A port, an RJ45 port, 5x Audio jacks and a Optical S/PDIF out jack.
The RJ45 for connecting to your network is fully Gigabit enabled.
Included with the package is an MSI Gaming Keyboard DS4200 and a Gaming Mouse GM10.
We found the Trident X Plus a very impressive Gaming PC, with a small size but powerful features. They include a 2-year warranty and stock is expected in ANZ in mid-September.