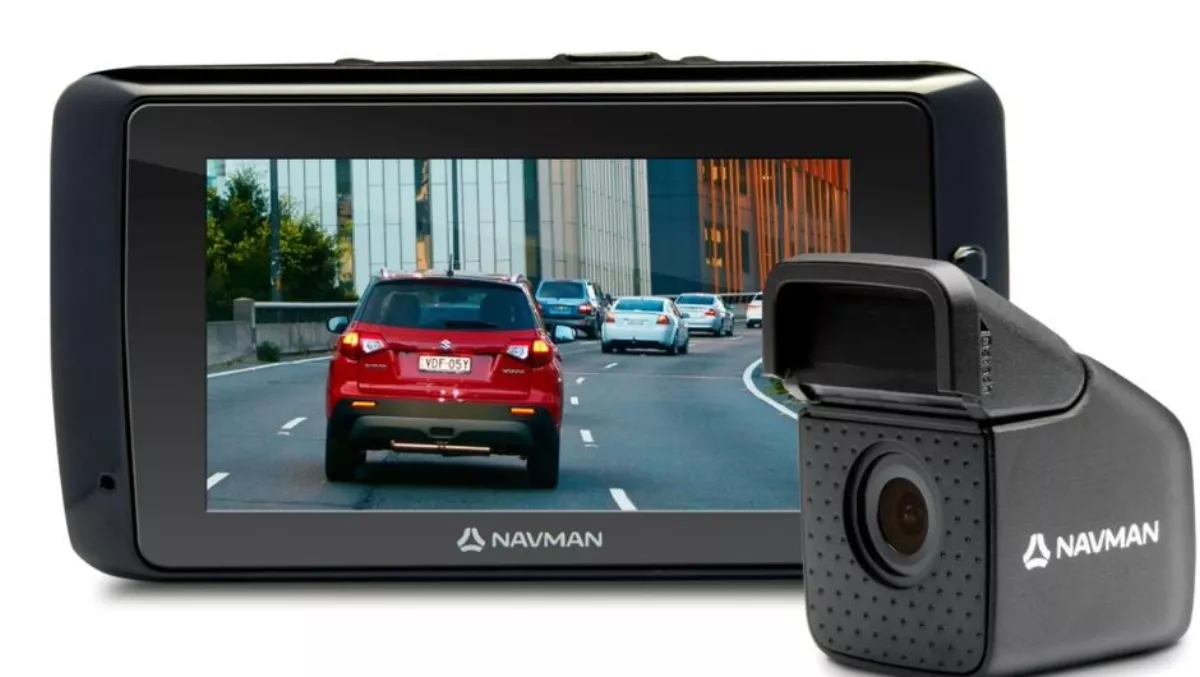 Hands-on review: Navman MiVUE 800 dual camera dashcam
FYI, this story is more than a year old
Dashcams are popular overseas and they're now gaining traction in New Zealand. Even local authorities are starting to take crash footage seriously.
The Navman range of cameras is one of the options available to Kiwis, so I put the Navman MiVUE 800 dual camera to the test. Retailing at around NZ$250-300, it's a mid-range dashcam that offers a decent bang for its buck.
Before I started this review, I'd hoped the cameras wouldn't catch anything of interest. Why? Because it would have meant that everybody is a safe and attentive driver. It took just four days for that dream to be shattered. But before we get to the juicy bits, let's look at the camera's performance.
In the box:
The kit includes a front and rear camera that continuously record in 1080p. The 2.7" front camera features 140 degree wide angle glass lens. It's also built with a 3-axis G-Shock sensor. The rear camera is an additional no-fuss camera with glass lens.
The front camera attaches to the windscreen with a suction mount. After a few false starts, the mount was secure and stayed on the windscreen for the entire four week testing period. I positioned the front camera quite low down the windscreen for my own reasons, but the best place is generally high and near your rear vision mirror. The rear camera has a sticky mount that you can attach wherever works best for you.
Both cameras use chunky cables to connect to the main camera and power adapter. There's a five-metre rear camera connection cable so you have plenty of room to manoeuvre the cables into out-of-the-way spaces.
The cameras are powered through a single adapter that plugs straight into your cigarette lighter/12V socket. The front camera has less than 30 minutes internal battery life, so you must keep it plugged in whenever you're driving. If you're planning to wire the dashcam into your car permanently, you will need the MiVUE SMARTBOX power cable that can be installed by an auto electrician.
The MiVVUE 800 has been on the market since at least 2017. I've seen older reviews that mentioned issues with the rear cable not transmitting info back to the main camera – my kit was fine so hopefully this means the issue has been sorted out.
Features:
The main camera controls all features through menus. You will find options for video/event/parking recording, GPS positioning, speed information, and others.
You will need a Micro SD card in order to capture all of the events. The cameras will keep recording over older material unless you press the blue button on the right hand side of the camera to save a specific recording.
In the event of a collision the camera will start emergency recording, while the G-Shock sensors figure out which direction the collision came from (I can't verify this as my testing didn't involve any crashes..)
You can review footage in-camera, or you can transfer the files from the Micro SD to your computer for the full viewing experience.
If you have driver fatigue alerts switched on, a voice will periodically remind you to take a break – useful if you're taking long trips. You can also turn headlight alerts on, just in case you forget to switch on your lights in darker conditions.
Footage
As mentioned, both cameras record at 1080p and use H.264 compression. They both do a pretty good job in most weather conditions. Perhaps the images are a little too sharp when viewed later on the computer, and I found night driving on rural roads to be wanting.
So what silly things did we catch on camera? A white car that pulled out of an intersection in front of me; an inattentive 4WD driver who jumped the kerb and swerved back onto the road; a souped-up wannabe Porsche tailgating and then overtaking on winding hills; a station wagon overtaking on the double-yellows; and a 4WD that had the lane wobbles for a second.
Screenshots from this white car's dangerous manoeuvre. Plate details have been blacked out for privacy reasons.
Check out this little kerb jump:
When you're capturing events like these, you (or your passenger) has to be quick to press the blue button. If you leave it too late, the footage is soon swallowed up by newer videos.
The cameras' ideal focal point is around 4-6 metres in front and behind the car, which makes sense in the event of a collision with a car that is immediately ahead of you, behind you, or close by.
But it comes with a small downside. Even though they are filming at decent quality, any incident that happens outside of that ideal range may not be able to capture number plate details. Luckily if you have in-car audio recording turned on, you can just read the plate details aloud and the camera will record it.
It depends on the lighting at the time. I found that at dusk on rural roads at 100km/h, it's difficult to get enough light to capture number plates from cars coming towards you. In the event of an accident though, it would still be clear enough to give an idea of which car made the mistake and how the events unfolded.
Overall the Navman MiVUE 800 is decent dashcam kit for its price range and it provides a certain peace of mind when travelling on NZ's roads. I'm looking forward to seeing what Navman comes up with next.