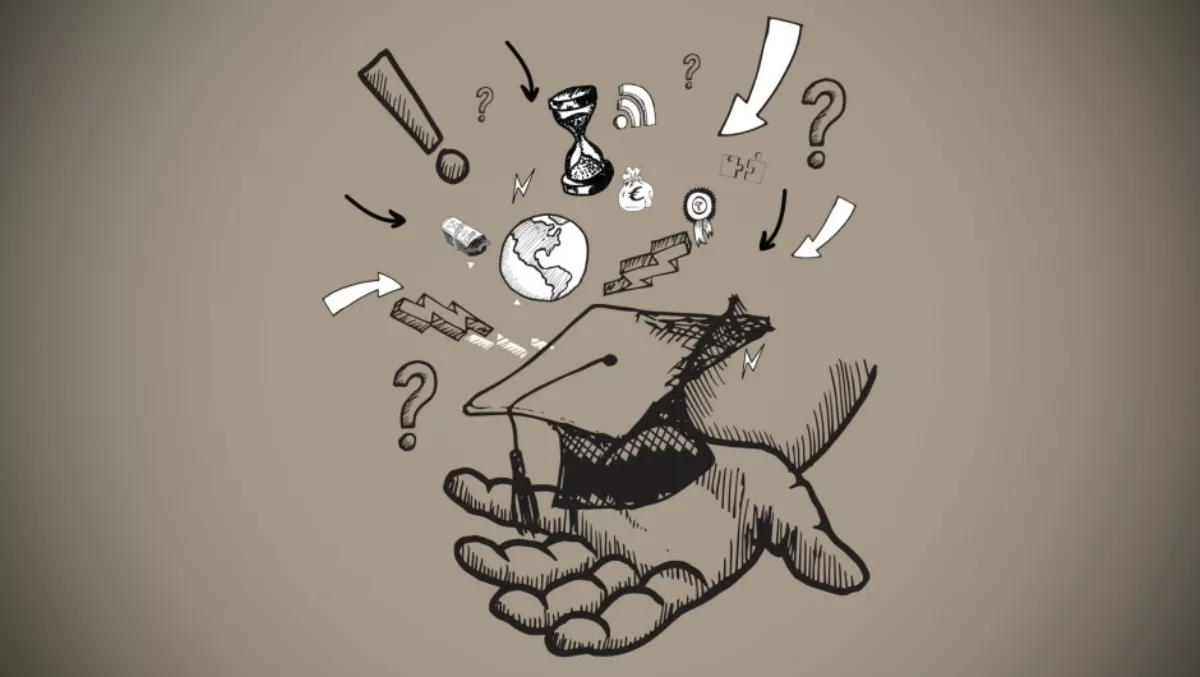 Kiwi teacher recognised for digital learning
FYI, this story is more than a year old
Unitec has held its graduation ceremony, which saw the celebration of course completion for the Postgraduate Certificate in Applied Practise (Digital & Collaborative Learning) at the Mind Lab by Unitec.
The ceremony saw 164 teachers of the March 2015 cohort of The Mind Lab by Unitec's Postgraduate Certificate in Applied Practice (Digital and Collaborative Learning) graduate.
Aorere College teacher, Gareth Haddon was one of the graduates and was awarded the NEXT Foundation Expert Teacher Award at Unitec's graduation.
As the NEXT Foundation Expert Teacher, Haddon was awarded a $5000 cash prize. Runners up Wayne Widdowson from Gulf Harbour School and Savelina Lepou of Mt Roskill Primary School were also recognised.
Haddon says he was thrilled by the win and says the award is a real confidence boost to his teaching practice.
"I've only been in the teaching game for three years, so to win this award is a fantastic acknowledgement that I'm on the right track and playing an active role in passing on relevant and practical skills to my students that will help shape their future success," he says.
"Because of my relative lack of experience, I've often thought it's best to let others who have been in the game longer pave the way," Haddon says.
"But the reality is there's so much reform happening now in education, everyone has a part to play in embracing fresh ideas and new approaches."
The finalists went through an interview process where they talked about key learnings from the Postgraduate Certificate and implementation of their studies into their teaching. This process was led by Frank Janssen of the NEXT Foundation, before the winner was determined.
Janssen says Haddon's high level of self-reflection and openness to new teaching and learning philosophies are key factors in his academic success.
"Through his studies with The Mind Lab, Gareth saw a real change in his approach to teaching. He is now implementing new thinking in his planning, and trying to embed 21st century skills in his day-to-day practice," he says.
"We're delighted that Gareth has been awarded the NEXT Foundation Expert Teacher Award. He displays a real passion for digital and collaborative learning, and is more than deserving of this accolade," Janssen says.
Frances Valintine, founder and chair of The Mind Lab by Unitec, says the graduation is an important opportunity to celebrate and recognise the achievement of the latest group of teachers to complete the Postgraduate Certificate in Applied Practice (Digital and Collaborative Learning).
"It's great to see another cohort of teachers develop their digital and collaborative learning skills through our postgraduate certificate," says Valentine.
"I want to take this opportunity to thank NEXT Foundation for their on-going commitment to shaping the teachers, students and innovators of the next generation of Kiwis."
NEXT Foundation provided 800 teacher scholarships in 2015 to allow public primary and secondary teachers to access and undertake The Mind Lab by Unitec's postgraduate programme in digital and collaborative learning.
Launched in March 2015, NEXT Foundation has a goal of investing $100 million over the next ten years to create a legacy of environmental and educational excellence for the benefit of future generations of New Zealanders.
Bill Kermode, CEO of NEXT Foundation says the organisation is proud to support The Mind Lab by Unitec and its commitment to increasing digital literacy skills into schools' curriculums.
"The Mind Lab by Unitec is an innovative project that fits in with our core educational philosophy of supporting projects that are collaborative, promote teacher excellence – and technology," he says.
In 2016, a further 1350 scholarships were established by NEXT Foundation. Frances Valintine explains the partnership with NEXT Foundation is now part of The Mind Lab's long term strategy to achieve New Zealand education success.
As well as professional development for teachers, The Mind Lab by Unitec teaches school students from year 1-13 who attend education workshops in its four New Zealand locations in Auckland, Gisborne, Wellington and Christchurch.
Over the next five years, The Mind Lab has a goal of teaching 10,000 teachers and over 180,000 school students.
Related stories
Top stories