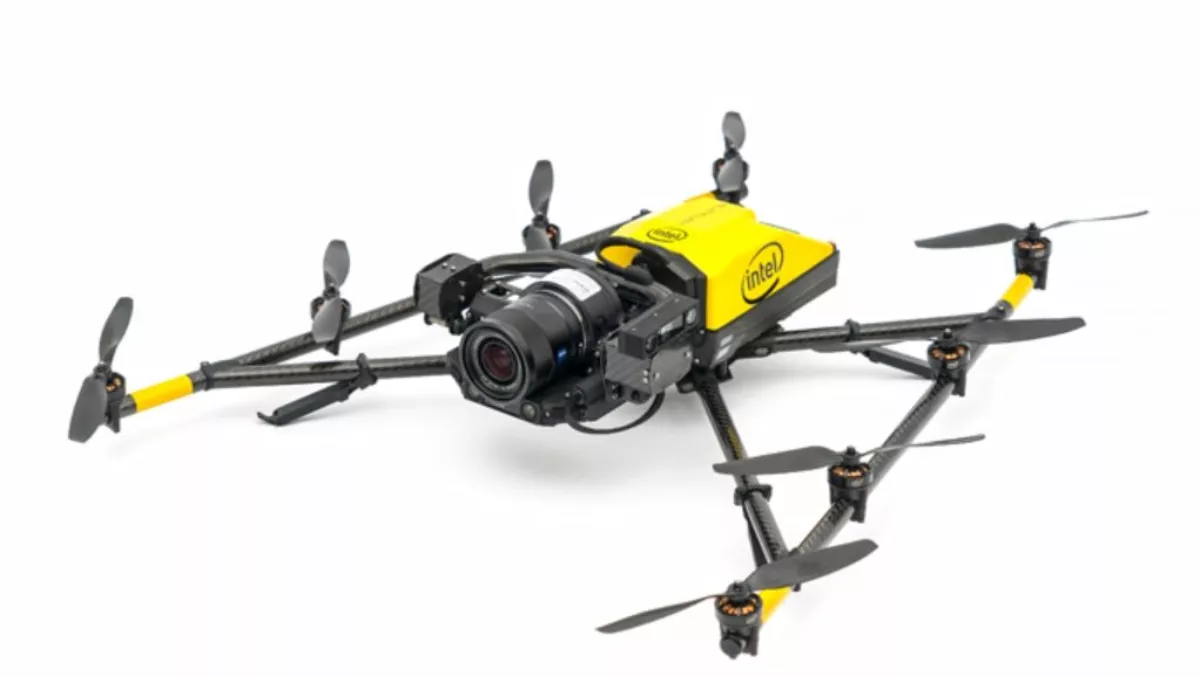 There is more to Intel's new drone than meets the eye
FYI, this story is more than a year old
At AUVSI Xponential 2018, Intel disclosed details of Intel Insight Platform, a digital asset management system enabling effective aerial data management and analyses.
It also demonstrated Intel Mission Control, next-generation flight planning software and new updates for the Intel Falcon 8+ system: additional payloads for greater data capture, as well as distance hold and distance guard, both features of obstacle avoidance.
Here's everything you need to know about Intel's advanced drone system:
How It Plans Flights
Intel Mission Control Software is the next generation of flight planning, project management and data handling for the Intel Falcon 8+ system.
It is designed to increase workflow efficiency and enhance automation of drone flights for commercial missions.
Intel Mission Control enables Intel Falcon 8+ drone operators to create 2D and 3D flight plans for commercial surveying, mapping and inspection missions.
Flight planning is automated with advanced preset mapping modes.
Multiple layers of airspace information are integrated to support flight safety and compliance.
Automatic pre-flight safety and system checks help validate the flight plan before the mission is executed.
After the mission is completed, the software provides a quick preview of the collected data, so the UAV operator can check and verify for adequate area coverage and overlap and even inspect the quality of individual images in a 3D format.
Intel Mission Control Software is currently in beta testing with customers as Intel continues to improve upon the advanced features and capabilities.
What It Carries
Intel announced three new payloads designed for inspection, surveying and mapping applications for the Intel Falcon 8+ system.
The Intel High-Resolution Imaging Payload captures 42MP images.
It is based on the full-frame Sony RX1R II camera and generates detailed inspection data.
The Intel Imaging Payload and Intel Dual Imaging Payload each support obstacle-avoidance capabilities to help enable safer missions and feature the 20MP Sony UMC-R10C camera.
The payloads deliver real colour, time-stamped and geo-referenced images for mapping, surveying and inspection.
The Intel Dual Imaging Payload has two cameras mounted on one gimbal for simultaneous RGB image capture and thermal imaging.
What It Sees
The Intel RealSense technology includes depth-sensing modules that compute raw image streams into high-resolution 3D depth maps.
The obstacle-avoidance feature on the Intel Imaging and Intel Dual Imaging payloads enables the Intel Falcon 8+ drone to detect and avoid potential obstacles or hazards and has the ability to maintain and hold a set distance from an asset during an inspection.
Within a mission, objects are continually identified in real time and a 3D depth map of the environment is maintained in memory.
Related stories
Top stories