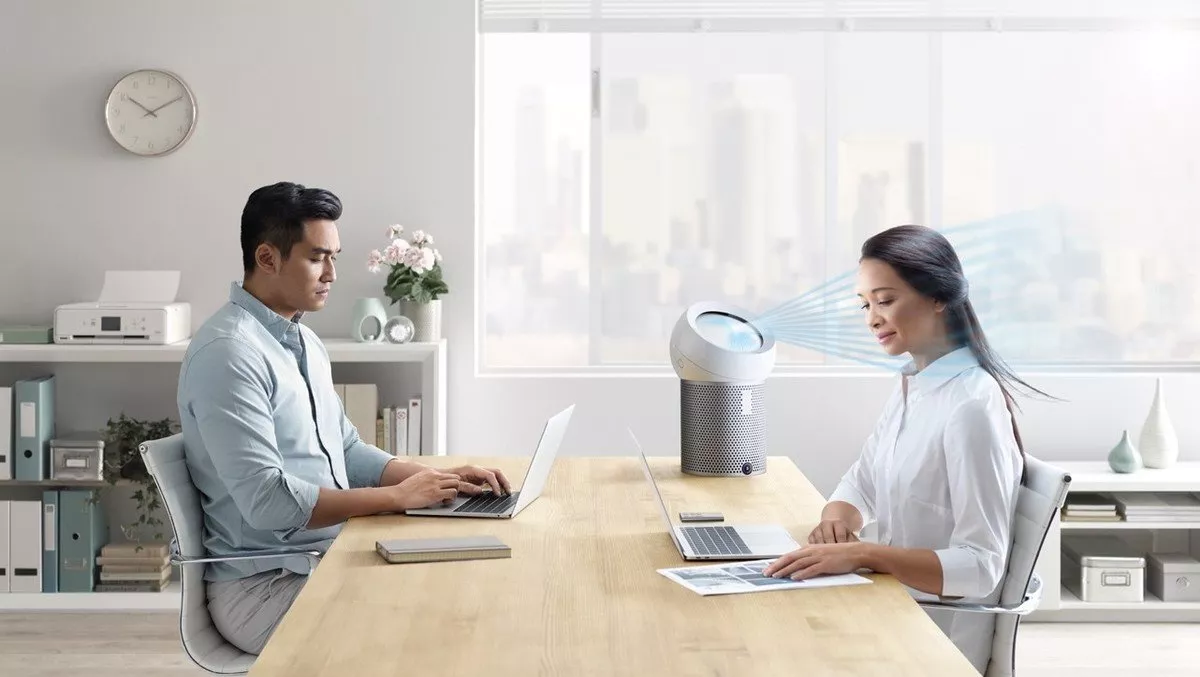 Sneak peek: The Dyson Pure Cool Me
FYI, this story is more than a year old
This time of the year is when we are inundated with several allergens, including my personal favourite, pine pollen. Those of you who've wondered at the yellow dust that clings to your car now have a clue to the culprit. Irritated itchy eyes, runny nose and a congested chest are just some of the symptoms.
Dyson's Pure Cool range of air purifiers have made my life much more bearable. When I was invited to the launch of a new product, the Dyson Pure Cool Me, I was curious to see the direction they were taking. I was in for a surprise.
Tom, an engineer from Dyson UK, spoke to us about the concept behind the Dyson Pure Cool Me, and I also had a long chat with Eleanor Ozich, an author and wellness expert. She was fortunate enough to trial the Dyson Pure Cool Me. With a husband and a daughter who both suffer from hay fever and asthma, she was impressed with the effect it had for both of them, as well as the peace of mind it gave her.
"I love how this technology enables my family to take control of their personal environment, wherever we are in the home," says Eleanor. And that, my friends, is the big difference!
The concept is a pretty straightforward one. We can spend our days in a variety of environments where we have little to no control over the quality of the air we breathe.
Considering the fact that we breathe in around 9000 litres of air a day, our lungs have to cope with a variety of factors like pollen, dust, fungi, and volatile organic compounds (VOCs) from chemicals we use in our home.
I discussed Volatile Organic Compounds and other minute particles in earlier reviews on the Dyson Pure Cool and Dyson Pure Hot and Coollink.
Anyway, we are bombarded with these pesky particles, and one in six Kiwis have their respiratory conditions exacerbated by them.
Dyson Core Flow technology is a transformation in air projection technology.
Dyson's earlier products focus on the environment they are operating in, but the Pure Cool Me is all about the personal user. Using some very impressive technology, developed by Tom and several other engineers, the Pure Cool Me will ensure cool air that has been purified of 99.95% of particle pollutants.
The focussed stream of air is delivered by Dyson Pure Flow technology, and it is so precise that Tom was able to direct a stream of filtered air in my direction from across the conference table.
In their press release, Dyson comment, "For a personal purifying fan, a focused stream of air is crucial. Dyson Core Flow technology revolutionises the way we deliver cleaner air to your personal space. Inspired by the aerodynamic properties in the Harrier Jump Jet, Dyson engineers discovered that when two jets of air meet on a convex surface, they converge to create a high-pressure core and a focused stream of air."
"By harnessing this phenomenon, they developed a way to project a stream of precise and focused air to cool you and deliver cleaner air all year round."
"Adjusting a dome at the top of the machine allows you to precisely control the angle of the airflow. The Dyson Pure Cool Me personal purifying fan also features 70 degree oscillation for even more customisation."
Tom showed us how the user manipulates the convex surface, which is the conical white piece you see in the photo. It allows precise direction of the air. From across the conference table he managed to direct a cooling blast of freshness that was quite a wake-up call, (or it would have been if I'd been dozing, which I wasn't!)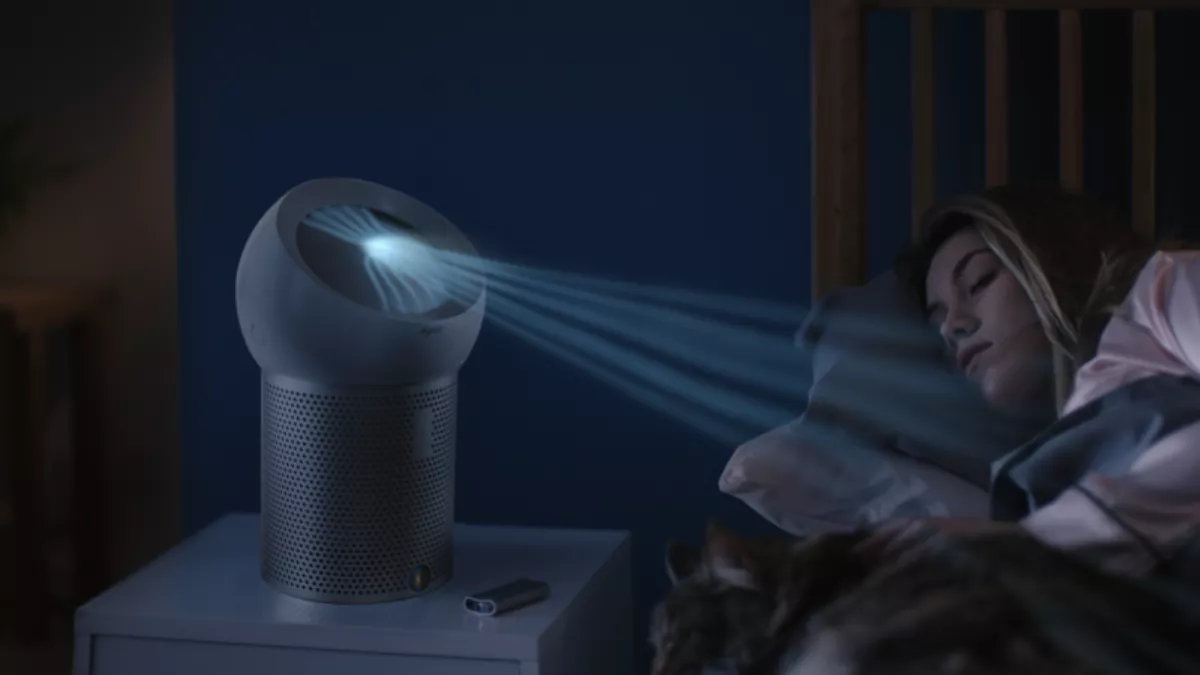 Discussing the rationale behind a personal supplier of cool air, I was reminded of an office I recently visited. With more than 200 people in a large open-plan space, one side of the office was cool and comfortable. Closer to a long bank of windows, the sun shone in and the perspiration poured. One couldn't help but notice that some people seemed quite comfortable while my host and I both had quite a glow on.
We discussed how modern air conditioning will only be partially effective in today's modern open-plan offices. That doesn't take into account the fact that air conditioners were traditionally designed for the male-dominated office environment, a point I was reminded of yesterday when I attended a meeting where some ladies were fanning themselves while I basked in the arctic blast of the air-conditioned meeting room.
The Pure Cool Me allows the user to take control of a micro area around them. The blast of cooling air will ensure that you breathe easily while keeping your cool – and while those around you are losing theirs. With a tiny footprint about the size of a desk-mounted fan, and a nifty remote control, you can adjust the air flow to suit your personal needs.
When it's time to seek some zzzz's at home, the Pure Cool Me will automatically dim the LCD display, ensuring your melatonin levels won't be affected by that dastardly enemy of sleep: ambient light.
On top of that, the Dyson Pure Me will ensure you sleep the sleep of the innocent, with noise-reducing acoustic attenuation foam absorbing any excess noise.
A spokesperson from Dyson NZ announced, "The Dyson Pure Cool Me personal purification fan will be available for purchase online at dyson.co.nz from October 7th. The Dyson Pure Cool Me personal purifying fans are available in a White/Silver colour and Gunmetal/Copper colour."
With an RRP of $549, I suspect I won't be the only asthmatic Kiwi with allergies who'll be rushing to purchase one. Keep watching for the upcoming hands-on review.
Related stories
Top stories