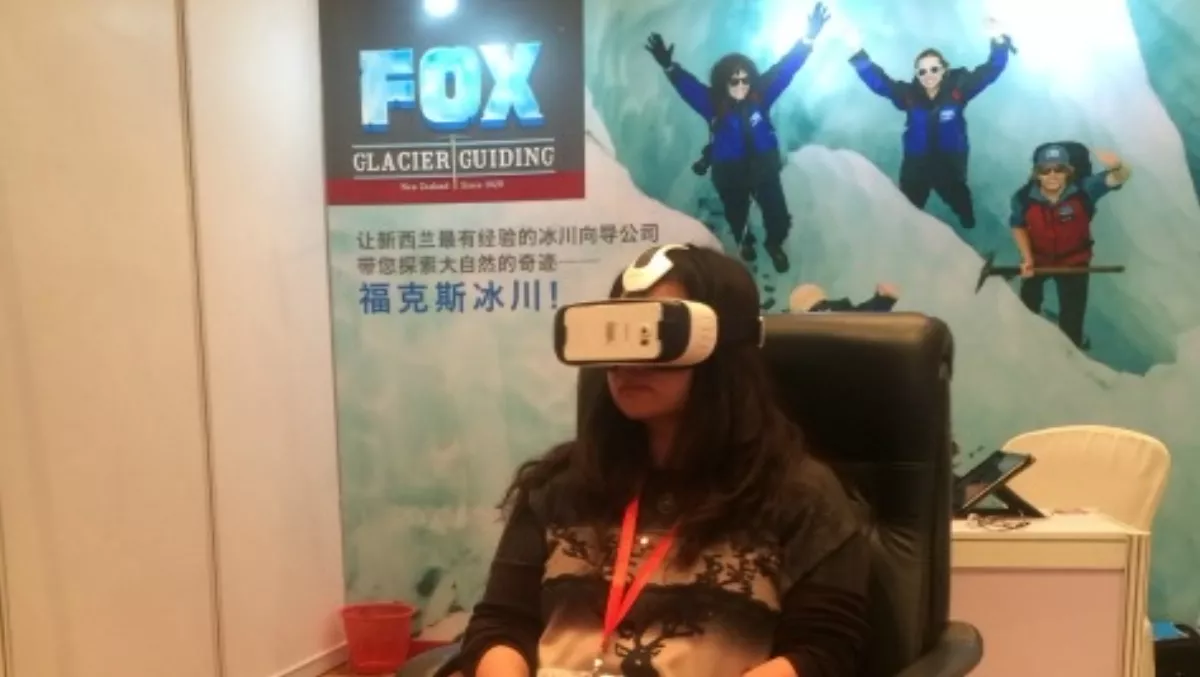 Virtual reality selling New Zealand to the world
By Heather Wright,
06 Nov 2015
FYI, this story is more than a year old
A South Island glacier guiding company's cutting-edge visual reality technology has proved a hit at Kiwi Link China trade evening in Beijing.
Fox Glacier Guiding, in conjunction with virtual reality specialists Creative Coast, has produced a 'bite-sized' taster of its Flying Fox: Heli Hike experience – delivered via the Samsung Gear VR headset using Oculus Technology.
The company is using the virtual reality technology to take its product to the overseas market, providing a one-and-a-half minute taster of the Fox Glacier trip, and believes the development is a New Zealand tourism marketing first.
Rob Jewell, Fox Glacier Guiding chief executive, says the headset has been a huge hit with everyone who tried it at the Kiwi Link China show, a trade show promoting New Zealand as a destination.
"It's well and truly out now as agents and other New Zealand exhibitors heard about it and came by our stand to check us out," Jewell says.
"Fox Glacier Guiding was the first New Zealand company to bring this medium to the event.
"Most of the Chinese agents had not previously experienced VR before and were amazed at how real it was and left wanting more.
"The agents described it variously as cool, awesome, incredible and beautiful, and many of them said it was so 'real' it was just like being there," Jewell says.
He says virtual reality provides a taste of the experience by using new technology in a powerful way to deliver a new marketing message that's so real, it's a 100% truth."
Brendon King of Kapiti Coast collective Creative Coast says a footage was taken from a helicopter and on Fox Glacier and then converted into a format that enables the goggles wearer to be completely immersed in the glacier environment.
"It literally replaces the real world with a virtual world," King says. "Its real footage edited together just like a TV advertorial but in 'surround vision'.
"The wearer can turn their head around and see what they would really see if they were standing on that very spot."
Fox Glacier Guiding staff member Sophie Chen, a fluent Mandarin speaker, narrates the Chinese-speaking introduction to the footage, and there is also an English-speaking version.
The introduction is an overarching welcome to Fox Glacier Guiding Heli Hike experience while the visually-strong images tell the story to background music.