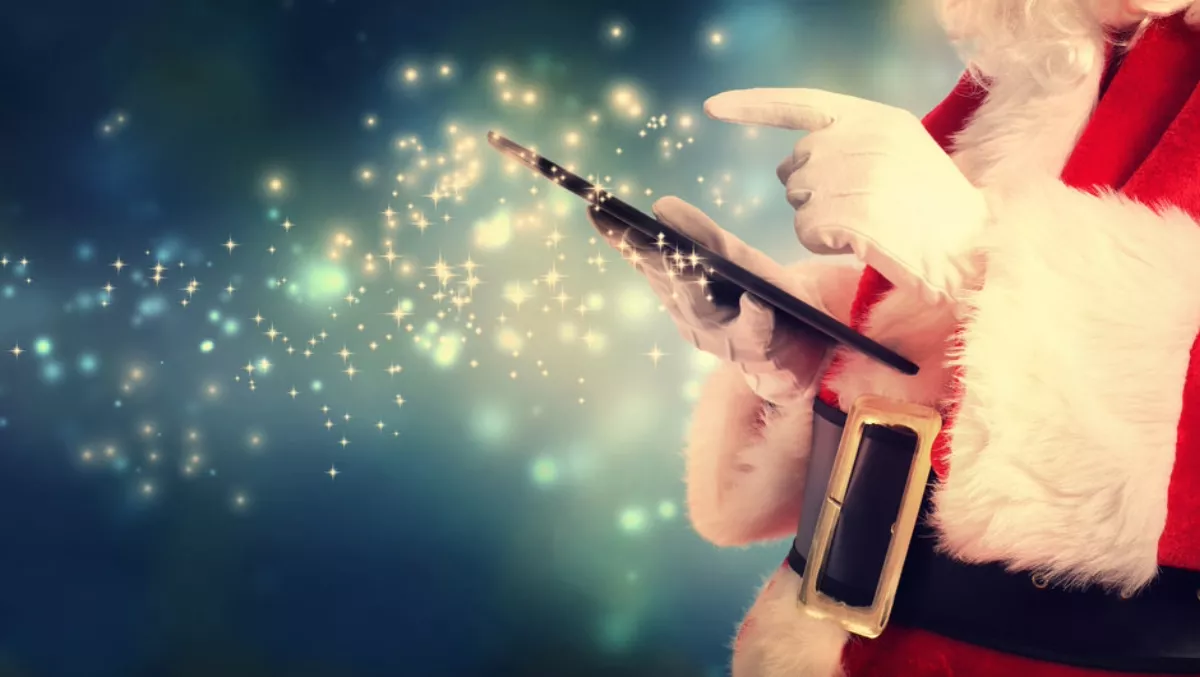 A hands-on guide to Christmas shopping by Santa's IT elf
By Owen McCarthy,
Wed 5 Dec 2018
FYI, this story is more than a year old
Ho, ho, ho! So you're back again for more inspiration for that hard-to-buy-for person in your life? I've found that drooling over FutureFive's reviews provides me with an abundance of inspiration for my Christmas wishlist.
Have a read before I email it off to Santa.
Sound & vision
The Sonos Beam Soundbar: Ben Moore had me drooling with anticipation, with visions of sound bouncing off the walls, adding to our living-room experience. For around $700, it promises to add to your viewing and listening experiences. I've been very good this year, Santa.
The JBL Pulse 3 and JBL Charge 3: For sound on the move, I was turned on by the sound of these back in March. They are a great option for those of us who need sound on the go, with great design and a handy app for your mobile device.
The Samsung Q9F 65" TV and N650 Soundbar: This Smart Television ruined me for other telly devices, and the N650 Soundbar had us feeling as if we were living in a movie theatre. From its voice activated remote to the incredible QLED screen, I still dream of Santa dropping this in my stocking.
Gaming
Star Wars: Jedi Challenges: Much anger did I sense in Sara Barker as to the Dark Side she ventured in this game overview. From holochess to Light-Saber battles, Jedi Challenges promises to keep gamers entertained. The Dark Side expansion is available through the App Store and Google play as a free download. The starter kit can be purchased through retailers, accessible from jedichallenges.com.
Hitman 2: Agent 47: Last month Damian Seeto made me very envious. As a long-time fan of both Hitman movies, I'd been aching at the opportunity to don the suit and take up the guns and swords. While Damian had some reservations about the graphics quality, I'm still keen to play due to its almost infinite variety in replaying scenarios.
Wearable devices
Ben Moore predicts that wearable devices will continue to grow, with 225 million units predicted to be worn around the world by the end of next year.
Fitbit: As for me and my house, we embraced the Fitbit revolution, now with the Versa and Ionic gracing our households. Full of features, I still have more to explore on the Ionic but have enjoyed using the breathing app as a means to relax before bedtime.
Smartphones
Alcatel 1X: Tom Richmond recently reviewed Alcatel's 1X, and while underwhelmed at its laggy performance, it is another device aimed at the Android sector of the market.
Blackview A20: I was impressed with the Blackview A20, an entry-level smartphone with dual sim capability. While the 3G capability does limit it somewhat, it's a low-cost alternative to its more expensive smartphone cousins.
Earlier this month we were reminded of the growth of Chinese brands Huawei and Xiaomi as they continue to capture more of the global market, and driving growth in what could otherwise be a declining market.
Gaming hardware, components and peripherals
HP Omen X PC 900-070a: In August I described this as "a gamer's dream" with a very clever design and power to burn.
Logitech G1: Over the year I've had the opportunity to try some excellent gaming peripherals, and was most impressed with Logitech's G1 Gaming mouse and the Logitech Pro headphones.
Corsair everywhere: Corsair have impressed with their gaming products and James Fraser wrote about his ultimate gaming experience in May, with a delectable line up that included using a range of Corsair products, including the K63 wireless keyboard, Dark Core SE wireless mouse, MM1000 QI wireless charging mouse pad, and the Void Pro wireless 7.1 headset.
HP's Elitebook 840 G5: A laptop or a tablet? Yes, it's quite a conundrum, but sometimes it's great to have both! HP's Elitebook 840 G5 was one of several outstanding laptops to pass my way, and I was impressed enough to go out and purchase one.
Apple's new 9.7' iPad was so impressive, I required two articles to do it justice. Read part one here and part two here.
The Nanoleaf light panels and Rhythm lit up my life earlier in the year. The light panels will light up any room and with the Rhythm will add ambience as you listen to music. I'm going to see how they cope with Snoopy's Christmas shortly.
I've barely scratched the surface on what is out there, but hope that for all you frazzled shoppers frantically trying to find that perfect gift for the significant geek in your life, I hope you're feeling slightly more motivated.
Don't forget to peruse the rest of our reviews on FutureFive for inspiration, and have a happy and blessed Christmas.